Forget the gym! Our Spirits Team is here to inspire resolutions for the New Year that you can actually stick to.
---
As another year swiftly comes to a close, the Skurnik Spirits Team turns to thoughts of what comes after the holiday gatherings, gift exchanges, and midnight toasts, setting intentions for the next twelve months that reflect everything that spirits do best— cultivating education, exploration, conviviality, and above all, the enjoyment of a mighty fine drink.
Here's what the team looks forward to drinking in 2023….
Brian Tasch — Spirits Content & Education Coordinator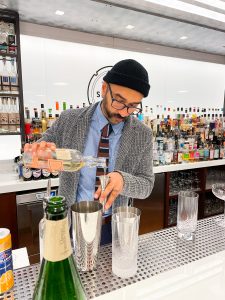 For the last decade, my entire ethos in the hospitality industry has been to make the world a little smaller one Daiquiri at a time, and the addition of Foursquare Rum Distillery to the Spirits Portfolio makes that goal a heckuva lot easier. Probitas Blended White Rum—a union of aged pot still and unaged column still Foursquare rums with unaged pot still rum from Hampden Estate—has been my favorite Daiquiri rum for years. And while a Daiquiri with some rare Exceptional Cask Selection rum may still be the stuff of dreams, independent bottler Rolling Fork Spirits offers all the well-aged, cask strength Foursquare rum I need!
Everyday Daiquri
2 oz Probitas Blended White Rum
1 oz lime juice
1.5 tsp cane sugar
Stir/swirl lime juice and cane sugar in tin until sugar is integrated and add rum. Shake hard with 1 large ice cube and 2 standard cubes until the tins are frosted. Strain into a Nick & Nora or coupe, drink, repeat. 
Dillon Mafit — Spirits Specialist
I'm not a big whiskey bro, especially Irish Whiskey, but lately I've been obsessing over the High N' Wicked releases—specifically the Wild Rover and the 18 Year Saints & Scholars. To me these whiskies are more reminiscent of elder Cognacs and Armagnacs than Jameson or Paddy's. Bottled at cask strength, these Irish whiskies have serious gravitas. On the palate, they have an almost chewy, savory-nuttiness, or "rancio" quality from their long maturation time in oak & ex-sherry barrels. Aromas of treacle and black walnut waft from the glass, and as they open up, there's this tropical fruit vibe that goes full Kasugai Muscat gummie on your mouth. I want these with a salty-sweet, after-dinner cheese plate (think French Alpine vs. your clothbound cheddars).
Anne Robinson — Spirits Specialist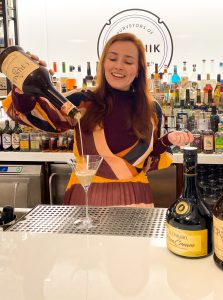 'Tis the season for creamy decadence à la buttered rums, egg nogs, and whipped-cream-topped everything. Instead of taking the time to responsibly prepare these beautiful concoctions myself (I would give myself salmonella for Christmas), I will happily lean on the yummy, bottled (and refrigerated after opening, because it's real dairy) rum creams that we get to work with at Skurnik: El Dorado Rum Cream Liqueur comes through with purely indulgent vanilla and milk chocolate notes thanks to its cask-aged, 5-year Demerara rum base, while Rum-Bar Rum Cream brings the funk, tropical fruit, and caramel lusciousness with its single-estate-grown and 100% pot-still Jamaican rum from Worthy Park Estate. Newest to the portfolio is Crisma Barbados Rum Liqueur from Foursquare Distillery, boasting 3-year-old Bajan rum, Jamaican coffee, and cream from Holland in its recipe.
Rum cream really sings over crushed ice with nutmeg or cinnamon grated on top, but I like to tap into my inner shot lover and dose one of them with a touch of Vecchio Amaro del Capo's Calabrian Chili Liqueur or a lil' Reisetbauer Carrot Eau-de-Vie. I don't measure and I certainly don't judge, so hopefully neither will you…
Jake Cahill — Spirits Specialist
I have recently re-connected with an old dear pal of mine: Hamilton Distillers' very own Del Bac Dorado…This ever-lingering and unmistakable American Single Malt stole my heart many years ago and has found its way into my glass on a weekly basis as of late. I don't see that stopping in 2023. 
This single malt is the perfect balance of Scottish process and American flavors. I've always loved American bourbon and rye. But it wasn't until I found Peated Islay Single Malts that whiskey truly interested me in an awe-inspiring way. And for the longest time, I never found a way to combine my two favorite categories in a harmonious way. But the folks at Hamilton Distillers in Arizona did! Del Bac Dorado is distilled entirely in-house from 100% domestic two-row barley that has been dried using Mesquite wood from Arizona's Sonoran Desert. This is the same way the Scottish would use peat moss as the fuel source to give Scotch its classic flavor. Ingenious!
This whiskey makes me so very happy. I love smokey flavors like BBQ. I love smokey smells like my neighbor's pipe tobacco that wafts over the hedges when he's doing yard-work. And boy do I love Whiskey. This whiskey hits a certain balance of olfactory, sensational and sentimental notes for me. 
I have it in a glass with a big cube. Or in my favorite application, an Old Fashioned variation that I simply make in the glass, just before heading out to my grill. 
Cheers to a new year…with old pals…
And just like any good pal would, this one provides me a great cocktail. 
Cactus Casket 
2 oz New Riff Bottled in Bond Bourbon
.5 oz Del Bac Dorado Single Malt American Single Malt Whiskey
Barspoon rich simple syrup 
2 dash Angostura Bitters
2 dash orange bitters
Build in a rocks glass over ice and stir briefly to incorporate. Garnish with a piece of driftwood that you whittle into the shape of a cactus. Or an orange peel if you're all out of driftwood. 
Justin Lane Briggs — National Spirits Specialist & Spirits Portfolio Manager, Mexico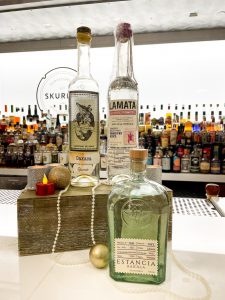 In 2023, I'm excited to drink more agave spirits from across Mexico. I'm obsessed with agave spirits from Oaxaca, of course, and basically everyone on the continent loves tequila at this point, but the more we explore the unique traditions of heritage agave spirits from other parts of the country—within the Mezcal D.O. and beyond—the more exciting and diverse it becomes! The range of flavors and experiences possible in this one category can be as broad as the flavors offered on some entire backbars. With suppliers like Pal'alma, Estancia, Lamata, and Tlamati already in our arsenal (and new ones like Mezcasiarca from In Situ and Cumbrita de la Sierra from Chihuahua coming online in the new year), I'm excited to see how 2023 continues to challenge my expectations and my palate! The more you know, the more you know you need to learn…. 
Also, I'm going to drink more daiquiris—but I think I say that every year?
Charanda Daiquiri
.75 oz lime juice
.75 oz rich cane syrup
Combine ingredients in a mixing tin and shake with ice. Serve up in a chilled coupe. No garnish.
Jared McGuire — Spirits Portfolio Manager
"GlenAllachie 12 Year Single Malt: A Winter Poem"
Fat roasted plums, the ooey-gooey kind
Caramel drizzle on shortbread crumbles
Come and hear the pudding singing in the copper!
Or bend an ear from your armchair, huddled close around the hearth.
Adam Schuman — Spirits Portfolio Director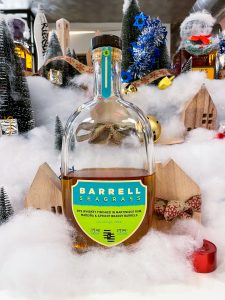 At the moment (and for the past six months), I have been crushing Barrell Craft Spirits' evergreen rye expression, Seagrass.  Seagrass's innate spiciness and 59% ABV are masterfully juxtaposed against rhum-, Madeira-, and apricot brandy-barrel finishes. The resulting spirit is exotic in bouquet, endless in arc, and deceptively approachable. Save the ice for the igloos; I take it neat and sweet, flamboyantly fruity and packed with heat. 
Before & After 
1 oz Barrell Craft Spirits Seagrass
.5 oz Stellare Primo Aperitivo di Vino
.5 oz Antica Torino Amaro della Sacra  
Build in a rocks glass over a large ice cube. Stir briefly to incorporate. No garnish.
Tim Miner — Spirits Specialist
This year I'm looking forward to the return of drinking simply. I love the rise of the RTD. The Yuzu Whisky Highball from Akashi is a great anytime crusher and the Amaro Pop! from Eda Rhyne is a delightful digestif. But one cannot exist on RTD's alone, though that still doesn't mean you have to overthink it…grab a bottle of Stellare Primo from Antica Torino and make a classic spritz or pour some Vermouth di Torino Bianco over some ice and drop in a lemon twist. Either way, you have a delicious, low-ABV sipper that's perfect for any time of day.
Stellare Spritz
Build in a wine glass over ice. Garnish with an Orange Crescent. Enjoy!
Noah Margolin — Spirits Assistant Portfolio Manager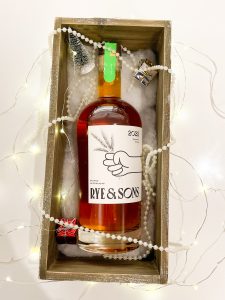 This holiday season, I have not been able to stop myself from drinking Rye & Sons blended straight rye whiskey. This subtle but spicy, wheated expression will leave even the "strictly bourbon" fans like myself lost for words. Founded by winemaker André Mack and aged for a minimum of 2 years, this collaborative and young whiskey is great for sipping or cocktailing and sets itself apart by presenting a smoother, softer palate while still carrying the sharp, rye-like characteristics everyone knows and loves!
Afforable, delicious, and versatile—you may find your new favorite rye whiskey with this one!
Pete Stanton — Spirits Specialist
I'm looking forward to drinking SG shochu and Abrojo Gin this year!
SG Shochu is a true bartender's shochu—not surprising as this project comes to us from legendary bartender Shingo Gokan. Three classic Honkaku expressions made from rice (Kome), barley (Mugi), and sweet potato (Imo) show off a broad range of koji-driven aromatics with a heartier proof that delivers a vast color palette for bartenders to draw from. SG Shochu works effortlessly in sours, stirred classics, tiki variations, Bloody Marys, or simply on the rocks.
Abrojo brings together a wild range of flavors that stretch beyond the expected boundaries of mezcal or gin. Using only botanicals harvested from Tlacolula, Abrojo offers both artisanal (copper pot) and ancestral (clay pot) versions of this unique spirit made from the spent agave fibers from mezcal production. Abrojo is a generous and full-bodied gin with the push and pull of bright herbs and lime peel against savory, roasted earthiness that make a compelling candidate for your next 50/50 martini with Bianco vermouth. Probably the only gin you will catch me drinking neat.
Abrojo Bijou
1.5 oz Abrojo Artesanal (Green Label)
.5 oz Apologue Saffron Liqueur
.25 oz Bigallet China China Amer
3 dashes orange bitters 
Combine ingredients in a mixing glass and stir with ice. Strain into a rocks glass over a large ice cube and garnish with a large grapefruit peel. 
Krista Farrell — Spirits Specialist & Sales Manager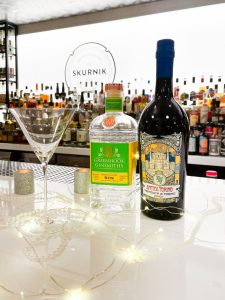 In 2023, I am excited to continue my current gin martini habit, but I'm dialing it down a notch in terms of ABV by pivoting to a 50/50 martini. This variation first appeared in Harry Craddock's 1930s The Savoy Cocktail Book, and experienced a resurgence in NYC cocktail culture in the early aughts. The 50/50 martini traditionally employs equal portions of gin and dry vermouth (with an optional dash of orange bitters), resulting in a lower-ABV martini that hits all the right notes and arguably makes the drink a more sessionable cocktail.
50/50 Martini 
Combine ingredients in a mixing glass and stir with ice until well incorporated and ice-cold. Strain into a coupe and garnish with an orange peel, expressed over top and discarded. 
Amanda Elder — Spirits Content & Education Manager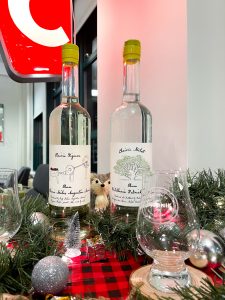 In 2023, I'm leaning into the idea of spirits as a gateway to places and cultures I know little about. Particularly, I'm looking forward to drinking more clairin! These expressive rums distilled from sugarcane juice (sometimes combined with cane syrup) are the heritage distillates of Haiti. Skurnik brought on its first clairins in 2020, and just as I was beginning to explore the geography and traditions of the country through these beautiful rums, Haiti experienced a surge of political and humanitarian crises. My excitement for the spirits made me more invested in what was happening there. This type of global connection nurtured through the food and spirits we share is a powerful idea, and it seems more important than ever to celebrate and support a country as rich in artisanship and tradition as the rums it makes and that we are so privileged to enjoy.
This year, I'll be sipping neat pours from Ak Zanj, Patrick St. Surin, Augustin Meles, and St. Benevolence (carried by Skurnik in CA!) while I try to wrap my brain around these terroir-driven spirits and the beguilingly idiosyncratic methods and stills used to make them.
(And if I'm really showing off, I'll pair my neat pour with a glass of Lemorton Poiré—sparkling pear cider from Normandy that perfectly complements a bright and funky rum with its juicy and acidic verve. Such a fancy—but affordable!—boilermaker, of sorts, is begging to be enjoyed with friends while you marvel at these potable gems.)
Whatever you choose to drink, we hope you had a wonderful 2022 and an even better 2023
---