The holidays are finally here! For many of us, this is a time of socializing, seeing loved ones, cooking, overeating, giving gifts, and having a merry time. With that said, maybe you can take time to sneak away, find a cozy nook, and settle in with a delightful diversion and delicious drink.
We tapped our favorite cocktail creators and avid readers again for recommendations. These books with cocktail pairings will take you to faraway lands, back in time, to another realm– or just make you think!
One of Stephen King's latest of over fifty novels is The Outsider, an easy escape and total page-turner. The first few pages are a little difficult to stomach so we recommend this easy-drinking spin on a classic daiquiri:
Fino Daiquiri
Build in tin, shake with ice, strain and serve in a coupe or nick and nora with a lime wheel garnish.
As you get further in, the plot thickens and a new character emerges… our protagonist's doppelganger. Stephen King takes a few moments to reference other infamous doppelgangers throughout the ages. As you, dear reader, get deeper into the workings of King's fantastical mind, we recommend switching to a darker (pun intended!) version of the classic daiquiri:
Doppelganger Daiquiri
Build in tin, shake with ice, strain and serve in a coupe or nick and nora, no garnish
No spoiler alerts here, but The Outsider won't disappoint.
Is there anything better than having nothing at all to do except drink your coffee and catch up on the latest news? If you have some time to spare, we recommend enjoying your morning ritual (whether you prefer to read or listen to music) with a little something extra in your coffee: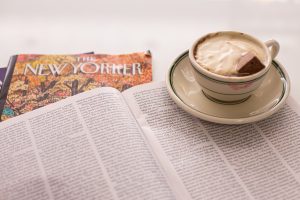 Caffé alla Roscone
Combine ingredients in your favorite mug and enjoy hot!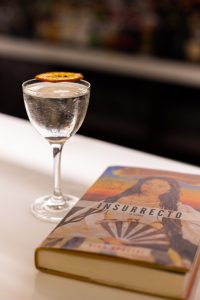 Next Gina Apostol takes us to the Philippines in Insurrecto where we meet two women: a Filipina translator and an American filmmaker. The novel follows them on their journey as they try to tell two sides of the same story. This cocktail of the same name, the Insurrecto, features flavors that also take us to the Philippines: coconut, lemongrass, and ginger root. Insurrecto will make you think and ask questions about representation and identity. Enjoy this layered cocktail as you discover the culture clash in this novel.
Insurrecto 
Stir in a mixing glass serve up with a dehydrated mandarin wheel garnish
(2019 @ The Cabinet, NYC)
PRO TIP: If you don't feel like making this yourself, take your novel and grab a seat at The Cabinet in New York City's East Village — the bartender will gladly fulfill your request.
REFLECTIONS UPON A SINKING SHIP
Gore Vidal's collection of essays on literature and politics Reflections Upon a Sinking Ship, pairs nicely with our riff on a Remember the Maine cocktail (named for an American ship that went down off the coast of Cuba leading to the outbreak of the Spanish-American War.)
We've reframed the original call to arms name for the drink and instead consider the disasters that countries have wrought.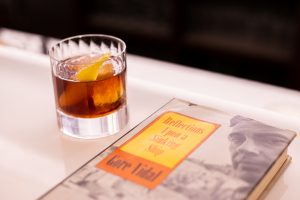 Reflections Upon A Sinking Ship
Stir in mixing glass, serve over a big rock and garnish with a lemon twist.
If reflecting upon our sinking ship is a little too heavy for you then consider a trip down memory lane. We're retreating under our childhood beds to escape to another world in which Gremlins reside. In Gremlins, a teenager receives a mysterious pet, a mogwai named Gizmo, from his father for Christmas. When the three simple rules regarding its care are broken– avoid bright lights, never get him wet, and don't feed him after midnight– chaos ensues in the small town of Kingston Falls.
The original movie was released in 1984 and was meant to be a Christmas box office selection, but when the studio realized it had no competition for a summer release, they pushed the premiere up to June. In the same year, George Gipe was enlisted to write a novelization of the story, but never actually saw the movie before he started writing the book. He took some healthy liberties with the material, gifting mogwais with the ability for rather eloquent speech and an origin story based in outer space. Enjoy this delightful read with a whimsical and delicious cocktail: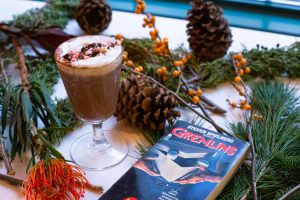 Mogwais in Space
Combine in mug with approximately five ounces of high-quality hot chocolate.
Top with the following whipped cream:
Per serving:
Shake in tin until whipped with soft peaks. Garnish with crushed-up, Neapolitan Ice Cream Sandwich-flavored Astronaut Ice Cream.
Take a trip to Jamaica via the Adirondack Mountains in Rule of the Bone, a coming of age tale following the exploits of a rudderless boy named Chappie. The story starts with Chappie in the Adirondack Irons a motorcycle gang, but Chappie's fate takes a twist as he finds himself in Jamaica — folded into the local drug trade.
"Adirondack Iron" is the name of a motorcycle gang in the Adirondacks whose leader served as a positive, formative figure in Chappie's early years. Our take on this cocktail is the marriage of the evergreen flavors of the beautiful Adirondacks using Argala Alpino Amaro and the fruity, ripe notes of Jamaica with Rum-Bar Gold. Add a little dry vermouth and a dash of green walnut liqueur by Vicario for a hint of sweet nuttiness and depth of character. The bright orange bitters and orange peel garnish are a subtle nod to the agricultural roots of Jamaica and the melting pot of cultures of this vibrant island.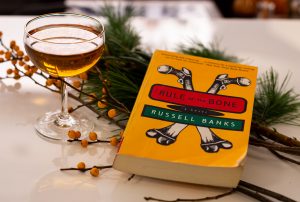 Adirondack Iron
Stir in a mixing glass, strain into coupe express and discard an orange peel
---
In case you finish these and need more cocktails and reads pairings, check out our summertime suggestions at Delightful Diversions and Delicious Drinks – A Labor Day Weekend Tribute!
Happy Holidays and happy reading!