---
In July 2019, we announced our acquisition of Vintner Select, a Cincinnati, Ohio-based fine wine distributor.
With this acquisition, we have increased our direct wholesale distribution network to eight states, adding Ohio, Kentucky, and Indiana to our existing stable of New York, New Jersey, Connecticut, Pennsylvania, and California.
---
Established in 1989 by Gordon and Doris Hullar, Vintner Select has a long and successful history of bringing quality wine to their home state of Ohio, as well as to neighboring states Kentucky and Indiana. The company is well respected and has an extensive portfolio of top wine estates. In addition to the entire Skurnik portfolio of course, the company represents a venerable list of importers such as Marc de Grazia, Indigenous Selections, Rosenthal Wine Merchant,  Alain Junguenet, and Grapes of Spain. In addition to the company's import book, we offer a bevy of top USA wineries such as Harlan, Corison, and Colgin– as well as many others.
Skurnik Wines Vintner Select, as the new company is now known, has a temperature and humidity-controlled warehouse, and a fleet of trucks delivering throughout all three states on a regular basis.
Michael Skurnik, CEO, adds,
We have known Gordon and Doris for a long time, and now that they are preparing for a well-deserved retirement, we are happy they have entrusted us with their legacy. We plan to build on this legacy and create an even better company now and into the future.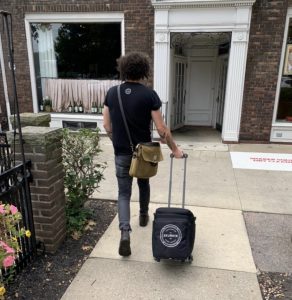 "Ohio, Kentucky and Indiana are excellent wine markets," says Harmon Skurnik, President. "We're thrilled to be able to offer suppliers excellent distribution options on the east coast, west coast, and now the Midwest as well."
Headquartered in NYC, Skurnik Wines & Spirits is an importer and distributor of fine wines and spirits They offer for sale (to the trade only) a high quality, diversified portfolio of wines and spirits from around the world. The company began with just a handful of relatively unknown estates in 1987 and has since grown to represent over 500 estates. They are a national importer and also have direct wholesale operations in eight states (New York, New Jersey, Connecticut, Pennsylvania, Ohio, Kentucky, Indiana and California).