Rum is broadly defined by the Alcohol Tax & Trade Bureau (TTB) as:
. . . spirits distilled from the fermented juice of sugarcane, sugarcane syrup, sugarcane molasses or other sugarcane by-products at less than 95% alcohol by volume (190 proof) having the taste, aroma and characteristics generally attributed to rum and bottled at not less than 40% alcohol by volume (80 proof). . .
Many consumers and bartenders alike are surprised to hear that only ~2% of the world's rum is distilled from sugarcane juice while the lion's share of production comes from molasses, the byproduct of refining sugar. This creates two vastly different categories: rum from sugarcane juice, often referred to as "agricole" (French for agriculture), and rum from molasses, commonly described as "traditional" rum. Styles run the gamut even within these disparate distillates, giving credence to the argument that terroir can indeed exist in a spirit and allowing for the further categorization.
Skurnik Spirits is fortunate to have three distinct styles in our portfolio, all hailing from historic and craft distilleries. These distilleries all possess their own regulations that protect and define their production standards, resulting in unique organoleptic qualities and speaking to their specific place and practices. These three styles include the molasses-based "traditional" style represented by brand icons El Dorado (Diamond Distillers) and Chairman's Reserve (St. Lucia Distillers), the Jamaican style of Rum Fire (Hampden Estate) and Rum-Bar (Worthy Park), and finally the sugarcane juice style showcased by Uruapan Charanda, Novo Fogo Cachaça, and Rhum J.M. Each highlight nuanced and varying profiles both directly off the still and in their barrel-aged states. The argument for how to more precisely classify these styles may rage on in some circles, but most enthusiasts would likely agree that Jamaican, molasses-based, and sugarcane juice rums are each so distinct that a relative rum rube could pass the sniff test.
What these producers do have in common is that they all reside close to the equator and share a commitment to quality. The geography provides not only a hot and humid climate but the lack of winter allows barrels to age year-round unlike many whisk(e)y or brandy producing regions. Combine this with awesome diurnal temperature ranges and high altitudes, and you get a ripe environment for hastening the barrel-aging process. Relative deals can be found in aged rum as it simply takes less time to barrel age in tropical climates. These distilleries boast an unadulterated spirit with no sugar added to their age statement rums, which display a minimum age statement for any given blend.
RUM FIRE – HAMPDEN ESTATE
Rum Fire, made at the historic Hampden Estate, is Jamaica and the speaks to their history and traditions like no other.
Nicholas Feris
We begin our exploration with arguably the most fragrant in the already highly aromatic category of Jamaican rum. In the parish of Trelawny, the respected Hampden Estate has been producing high-test, "dunder" style since the 1760s. Dunder is the thick, oily, and industrial smelling liquid that sticks around after distillation in the majestic pot still's boiler. Rather than disposing of this dark matter, it is reintroduced to the next batch of molasses, like the "sour mash" method in whiskey production. Over time, this builds one-of-a-kind, fatty acid chains that create the basis for the highest ester rum commercially available in the world, known to us mortals as Rum Fire.
How does this chemical compound affect the final product? Aroma and flavor! These chemicals impart fruity flavors like Gros Michel banana, butterscotch, caramel, as well as petrol-tinged scents. When it comes to the funk, Rum Fire is the funkiest—with an average flavor-building fermentation time of almost two weeks—and comes in hot at 126 proof. As many bartenders can attest, Rum Fire is also a sight to behold.
Rum Fire adds a hint of buttery banana pudding to my zombie. And makes for a spectacular show when set ablaze! Smells like bananas foster!
Michael Lombardozzi, Dromedary Urban Tiki Bar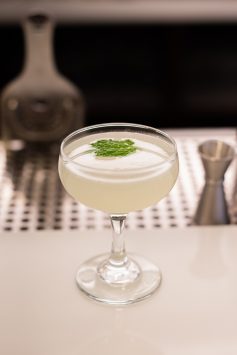 Rum Fire can be the main event in a cocktail but also plays well with other spirits. A popular combination amongst bartenders is Rum Fire and mezcal, as the two offer earthy notes and qualities ranging from smoky to verdurous that sing in equal parts. Check out this refreshing take on a Cuban idea (sprig of mint in tin) from Nicholas Ferris and Matthew Powell:
The Doctors' Daiquiri
0.75 oz Mezcal Tosba Espadin
0.75 oz Rum Fire
0.75 oz fresh lime juice (or less to taste)
0.5 oz simple syrup
Sprig of mint in the tin
Shake, strain, garnish with a floating mint leaf.
Our next rum is an excellent example of traditions new and old. One of Jamaica's last single estate distilleries, located in St. Catherine parish, Rum Bar is produced at Worthy Park Estate—where sugarcane production has gone on unabated since 1720. Owned and operated by the Clarke family since 1918, Worthy Park rum is made from the molasses byproduct from sugar refined at their estate. While the distillery has produced for independent bottlers for some years, it recently started producing juice under its own name, to our good fortune!
Using a newly-installed, traditional, double-retort Forsyth Copper Pot Still, Worthy Park distills bold, heavy-bodied Jamaican rum under the names Rum-Bar and Worthy Park. Rum-Bar Silver expresses itself with slight coconut, ripe banana, and sweet cream, and the unmistakable whiff of Jamaican funk. After six to ten years in ex-Bourbon barrels, Worthy Park's Single Estate Reserve gives off hot aromas of Yunnan black tea and white peppercorn, with a bright, fruity palate and medium-long notes of flaked coconut and oak chips. Though aged, the distinct weight and grip of the long-fermented molasses still shine through to express a sophisticated, Jamaican style.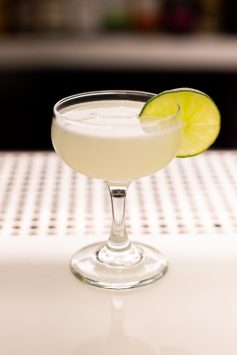 We are Jamaica's only single estate producer. Growing sugarcane, making our molasses on-site, and ONLY using our own molasses for distillation.
Zan Kong, Export Sales Mgr. Worthy Park Estate
Zan enjoys his Rum-Bar Overproof in an amped-up version of the classic sour.
Over Proof Daiquiri
1.5 oz. Rum-Bar Overproof
.75 oz. fresh lime juice
.50 oz. simple syrup
Combine all ingredients in a shaker with ice. Shake vigorously and strain into chilled coupe glass.
EL DORADO – DEMERARA DISTILLERS LIMITED
During the peak of Guyana's rum production in the 1700s, Venezuela's eastern neighbor was home to more than 300 distilleries. The British Royal Navy's preferred rum rations came from the Port Mourant distillery, located near the Demerara River, which produced its rum via a double wooden pot still that has been continuously used to this day. As sugar production slowed and distilleries shuttered their doors, historic stills were bought up and production consolidated under one outfit: Demerara Distillers Limited, producers of El Dorado Rum. The Port Mourant (PM) still eventually joined seven other stills of bygone eras, including the Enmore (EHP), Versailles (VSG), and Albion (ICBU)- an 18th Century four-column French Savalle Still.
The Demerara River Valley's unique geography has played a significant role in shaping its famed rum products. Located below sea-level, the Demerara River is high in salinity and leaves rich mineral deposits in the surrounding soil, creating optimal conditions for growing sugarcane. El Dorado's rums are toffee and butterscotch forward on the nose and present mocha, oak, suede, and roasted coffee bean on the palate. Their aged rums currently range from the freakishly economical Cask Aged 3-Year Aged White Rum, to the international gold-winning "Super Premium" 12-Year, to their 25-year Special Reserve blend. The age statement not only reflects the minimum age of barrel for these blends, but each expression is a different marriage of rums from the celebrated stills. An offering of 12-year-aged, 2006 vintages has also recently come stateside with three separate "Single Still" bottlings: Port Mourant, Enmore, and Versailles.
*For a more in-depth profile of Diamond Distillers, 
check out our recent interview with Master Distiller Shaun Caleb.*
CHAIRMAN'S RESERVE – ST. LUCIA DISTILLERS
Over the course of time and economic fluctuation on the island of St. Lucia in the West Indies, distilleries dwindled until two remained by the latter half of the 20th century. St. Lucia Distillers' history officially commenced when the Dennery Factory joined the Geest Distillery in 1972 to form the sole rum producer on the island.
Reflecting St. Lucia's colonial history, the nation's rum is an amalgamation of styles and influences utilizing multiple still types, distillates, and barrels. As the island gravitated away from sugar production, the distillery began to use imported molasses as the base for their rum while growing small plots of sugarcane for curated introduction into select blends. The distillery draws on four stills: two John Dore Pot Stills, one Vendome hybrid, and a Coffey Column Still. St. Lucia Distillers produces several notable brands, including Chairman's Reserve and Admiral Rodney—the former, a blend of pot and column-distilled aged rums, and the latter a representation of low column extraction for fine-aged rum blends.
Part of St. Lucia Distillers' charm is the well-documented "forgetfulness" that has led to many a happy accident. Recall the origins of the Chairman's Reserve "Forgotten Casks," when a cache of aging casks was found many years after a fire ravaged their facility, resulting in some of the longest-aged rum at the distillery. Years of experimental production, long Caribbean aging (intentional or not!), and multiple stills have culminated in a full artist's palette for creating unique rum blends.
St. Lucia Distillers distinguishes itself as a member of West Indies Rum & Spirits Producers' Association (WIRSPA). Rums bearing the "Authentic Caribbean Rum" seal adhere to independent standards for their rums as set forth by a group of twenty Caribbean countries. Given the common but dubious practice of re-bottling bulk rum and marketing it as a product of another country, the ACR seal guarantees that St. Lucian rum was produced on the island.
When you're fighting the cold this winter, try this rosemary-smoked, winter warmer from Chad Schayes, of Raised Bar in Chicago: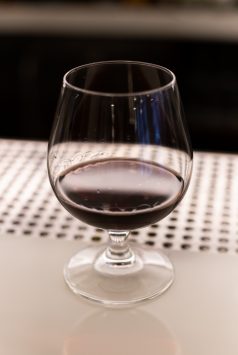 The name comes from the 'cabin fever' Chicagoans feel during the winter, when we want to be transported somewhere warm and tropical.
Cabin Fever
2 oz. Chairman's Reserve Spiced Rum
.50 oz. High-Note Malbec Wine
.25 oz. Clove Syrup
.25 oz. Water (for dilution)
2 dashes Angostura Bitters
Stir ingredients in a mixing glass- no ice! This cocktail is served at room temperature. Light a sprig of rosemary on fire with blowtorch. Place an upside-down, chilled Snifter Glass on top of burning rosemary completely. When smoke clears, strain cocktail into glass.
Mexico's history with sugarcane started in 1520, 27 years after the crop was introduced to the Caribbean. By the 18th century, rum became a national beverage, reflecting the truism that wherever there has been sugar production, there has been rum. But while Mexico currently has more sugar mills than any Caribbean island, they are mostly small plots with no significant economy of scale—which is why Mexico is generally not associated with the sweet stuff.
In the agriculturally rich state of Michoacán, "charanda" is the protected term for sugarcane distillate. This regulates the raw material (sugarcane or any of its byproducts), which may only come from the sixteen municipalities of the Mexican state. In the native language of Purépecha, the famed local volcanic red soil is known as charanda, owing its red appearance to the abundance of iron in the mineral-dense soil.
Uruapan Charanda is one of the few charandas that can be found commercially outside of Mexico. It has been made by the Pachecho family since 1907, when Don Cleofas Murgia hung up his mezcalero-making Calentano and started distilling sugarcane rum. The brand is named after the city of Uruapan, the region in which the Pacheco family established their rum-making roots. Their charanda blanco delights with two unaged, single estate offerings: 100% Cane Juice (you guessed it—distilled from 100% sugarcane juice), and the Single Estate Blended Rum, made from equal parts molasses and sugarcane juice via both column and copper pot distillation. The sugarcane juice tempers the overripe nose on this blended rum and lends a focused, grassy note—slightly sweet and with slight notes of petrol and underlying hogo. This Mexican rum comes over the top on your palate, bursting with vanilla, green apple, freshly mowed grass, and a slight lactic quality that lends a powdered sugar finish.
Rosa Mexicano's Courtenay Greenleaf uses Uruapan Charanda Blanco in the "Buena Vibra." Based off the classic gin-based tiki cocktail Saturn, Greenleaf substitutes a split base of charanda blanco and blanco tequila with a touch of vanilla to represent the popular Mexican spice and its shared agricultural roots.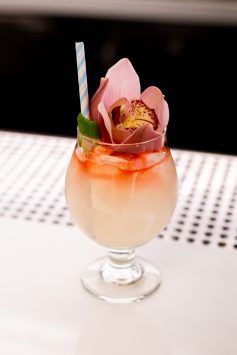 Buena Vibra
1 oz. Uruapan Charanda Blanco
1 oz. Azteca Azul Plata Tequila *
.5 oz. Passionfruit Puree
.5 oz. Velvet Falernum
.5 oz. Orgeat Syrup
.25 oz. fresh lemon juice
2 drops vanilla extract
1 splash of soda water
8 drops Peychaud's Bitters
Combine all ingredients in small tin, add ice and shake vigorously. Strain over fresh ice in Belgian beer glass. Splash with soda water. Finish with 8 drops Peychaud's bitters. Garnish with edible orchid & lime peel.
*Original recipe calls for Corazon Blanco Tequila
Is cachaça rum? Depends on who you ask. In Brazil, only molasses-based spirits are considered rum, but in the U.S., cachaça sits squarely in the rum category, as per the TTB. One quantifiable difference between the two is that cachaça can legally clock in at a slightly lower abv than other sugarcane-based rums (38% vs 40%). Taxonomy debates aside, cachaça's flavor profile varies widely—from a neutral spirit to less-stripped expressions showcasing their relative terroir, as we see with Novo Fogo. Novo Fogo's zero-waste distillery is nestled in the heart of the Brazilian coastal rainforest, one of the world's largest UNESCO Biosphere Reserves. Here, Novo Fogo grows not only its single estate sugarcane but also USDA-certified organic citrus fruits, jackfruit, bananas, coffee, and cacao—all products of a flourishing tropical environment ideal for an agriculturally-based spirit.
Unlike long-fermented Jamaican rums, Novo Fogo's patience is exhibited post-distillation, as even its youngest Silver Cachaça rests in a stainless steel tank for an entire year to allow flavor compounds to develop and oxidize.  Additionally, Novo Fogo's decision to forego chill filtration—a commonly used practice that strips flavorful chemical compounds—makes for a rounder and more expressive flavor profile.
Novo Fogo is also known for its unique aging practices, as with its Two Woods series. After small batch copper pot distillation, Two Woods Cachaças are barrel-aged in American oak, then finished in responsibly-sourced Brazilian hardwoods. For Tanager, which is finished in zebrawood, this process imparts a natural and robust amber-red hue with nose full of green banana and Ceylon cinnamon, and a palate full of cardamom, soil, papaya and vanilla cupcake.
Further north of Brazil and the equator lies the French Caribbean territory of Martinique whose colonial story plays a key role in rum's history. During the Napoleonic Wars, trade from Martinique was blockaded to France, leaving the sugar producers with less demand for refined sugar and consequently, fewer molasses. The resulting surplus of sugarcane crop was a major contributing factor to the island's move to using sugarcane juice as distillate.
Rhum J.M's sugarcane estate dates back to the 17th Century as a sugar refinery. But it was not until 1845, when founder Jean Marie-Martin recognized the quality of sugarcane from the volcanic soils growing in the shadows of the infamous Mt. Pelée, that Rhum J.M shifted their production towards rum. The single estate boasts a rare microclimate with sugarcane and banana fields seemingly stretching into the Caribbean Sea from the island's highest altitude. These heights provide low cloud cover and excellent soil drainage for tropical rainfall. Meanwhile, the estate's volcanic spring water provides a distinct minerality and pH for soil health, distillation, and finished flavor in bottle-proof form.
In contrast to the unhurried practices of their Jamaican counterparts, Rhum J.M emphasizes speed. In only a matter of hours, sugarcane is harvested and crushed, and fermentation is begun. The Créole Column Stills—a modified version of those used in Armagnac production—allow for only a single pass. These stills are highly regulated under Martinique's Appellation d'Origine Contrôlée (AOC), which provides the most comprehensive laws in terms of harvest, distillation, aging, and blending for any spirit in the world. Notably, this AOC limits volatile chemical compounds in the distillate, which not only monitors the spirits safety but also ensures consistent aroma and flavor. This is important to note as sugarcane spirits are distilled to a lower purity than molasses to preserve desirable compounds and as such, require more monitoring.
Un-aged (blanc) Rhum J.M is often described as "grassy" or "vegetal" on the nose with tropical fruit notes and, of course, sugarcane on the palate. It has a contemplative mouthfeel for a white rum where other spirits like vodka may add glycerol to achieve the grippy viscosity and rounded edges. Rhum J.M, instead, relies on its sugarcane wine, exacting distillation, and volcanic water for the balanced mouthfeel and texture. Place this distinct un-aged spirit in American oak for the VSOP minimum age of 4 years and experience the perfect marriage of terroir rounded out by oak. A slight eucalyptus, oak, and dried hay aroma opens up to the flavors of dried tobacco leaf, oak chips, and subtle baking spice meeting a bone dry and medium length finish.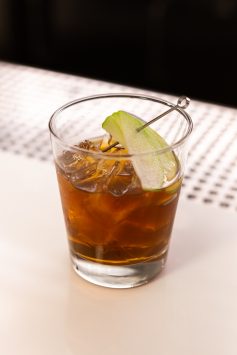 I like using Rhum J.M in stirred cocktails to add a dry, grassy backbone. It also has the proof to stand up to other loud ingredients while remaining elegant.
Tom Roughton, Izzy Rose
Memory of Lovers Past
1.5 oz. Rhum J.M Gold
1.5 oz. Lemorton Pommeau
.25 oz. Pimento Dram
2 dashes Angostura Bitters
2 dashes lemon-ginger bitters
pinch of salt
 Stir well in mixing glass with ice. Strain over fresh ice in rocks glass. Garnish with apple fan.
-Justin Lane Briggs, 2016 at James in Brooklyn