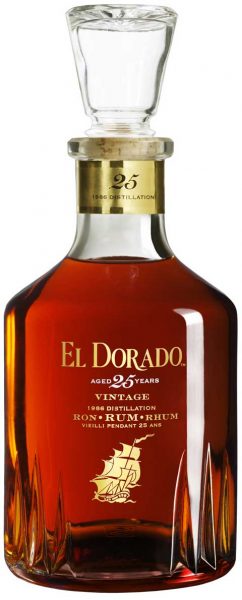 At its peak, Guyana was home to over 300 sugar estates with distilleries, each producing their own signature rums. Today, Demerara Distillers Ltd. (the parent company of El Dorado) operates the last remaining Demerara Rum distillery, Plantation Diamond. With some of the oldest operating stills in the world, El Dorado boasts a wide-ranging line, with each rum made from a different blend of the estate's historic stills.
Info
Spirit Sub Type:
Demerara
Sizes Available
| | | |
| --- | --- | --- |
| Full Bottle | GY-XED-25-NV | 1/750ml |
Tasting Notes
This special bottling is the oldest available rum from Demerara Distillers Ltd., and was created to mark the turn of the Millennium. A blend of rums from a combination of heritage stills, aged in whisky and bourbon casks for a minimum of 25 years.
To age a spirit for this long in a tropical climate where so much is lost to the Angel's Share due to heat and humidity is a testament to how truly special this rum is. On the nose you'll find notes of rich, dense fruit cake that lead to an explosion of caramel, softened leather, and creme brûlée on the palate. The complexity is equal to that of a fine, equally aged cognac.