"Believe it or not, we've known Charles ever since he was the buyer for a small retail store in Huntington, Long Island…!! We became friends back then, so when he created a small portfolio of Armagnac producers in the late 90s, we were open to listening to what he had to say… If I'm not mistaken, I believe his Armagnacs may have been the first spirits Skurnik Wines ever sold. If not, it was close. Prior to that, we were a 100% wine company but bringing in these spirits prompted us to upgrade our import license to include spirits." –Harmon Skurnik
Skurnik Wines and Spirits longest spirits partnership has been with importer and writer Charles Neal of Charles Neal Selections.  Charles has forged relationships with many small "grower-producers" of Armagnac, Cognac, and Calvados.  Charles started importing in the early 2000s, but the story starts much earlier.
We asked Charles a few questions about his connection to French brandy; Armagnac, Cognac, and Calvados.
Q. What is the first brandy you ever had, and when?
A. Hmmm.  I'm not sure if I have ever been asked that before so now I am going to have to think real hard.  It's odd in that I can remember my first beer, or first bottle of wine…But brandy?  I definitely can't recall drinking a brandy in high school or in college.  I think it may have been when I was living in London and went to Yugoslavia on vacation in around 1986: you could buy plum brandy for about two or three dollars a bottle so it was a real cheap drunk.  And that is pretty much why I was drinking that: I didn't have very much money and it had much more bang for the buck than beer (which had been my main tipple at that point) and wine just wasn't on my radar.
I went through two or three bottles of that during the week, and suffered for it each morning.
Q. What attracted you to French brandy?
A. My wife is from the Armagnac region and she grew up in a bar/restaurant in a small village.  Her father made a point of serving people Armagnac after a meal and in the dining room he had about 30 2.5-liter bottles of Armagnac from many small producers in the region.  From the time I went to the village for the first time, in January of 1988, Armagnac was poured for me and, being a fan of drinking, I started to like the stuff.  In 1993 I began working in a wine and spirits store in New York where we also sold Cognac and a little bit of Armagnac.  And when people came and wanted to buy a bottle of Cognac, I got a kick out of telling them about Armagnac and selling them a bottle of that instead.  One year I was visiting France and I went to see a small producer and bought four vintage Armagnacs, and then brought them back to New York and sold them at the store within a couple of days.  At this point in time I was learning a lot about wine and had no thought that one day I might focus on Armagnac.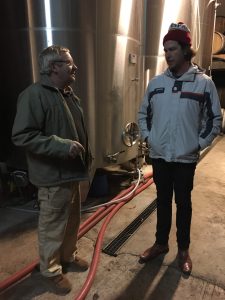 Q. How did you start in the industry?
A. I moved to San Francisco in 1996 and got a job at another wine and spirits store where we sold lots of Champagne, single malt whisky and vintages of Armagnac going back to the twenties.  During the late eighties and early nineties, I had also written a music book, a couple of novels and wanted to write another book.  And as I had started working in the wine business, I decided to go to France for three months, live with my in-laws, see every independent producer of Armagnac as well as the négociants, and then write a definitive book about Armagnac, of which there were few, even in French.  So that's what I did.  And when I returned to California, I started thinking that I didn't really want to work in a retail store anymore, and I didn't really want to work for a distributor either.  As I knew a lot about Armagnac, I decided that I would take a few producers that I thought were best and try to get them some distribution in the states. I was fortunate to hook up with a distributor in California and shortly after a distributor in Chicago and the Skurniks in New York.
Q. Which producer was your first partnership with?
A. There were four actually: Domaine Boingneres, Chateau de Ravignan, Chateau de Briat and another producer called Domaine Jean de Haut.  I remember leaving Paris and checking my luggage with about 120 mini-bottles of various vintages from those domaines, which I then took to various restaurants and stores around the country.  That's how it all began.
Q. What do you wish Joe Schmoe knew about French brandy?
A. What is odd is that I have never referred to these spirits as being brandy–I've always said Armagnac, Cognac or Calvados.  I guess brandy has always made me think of cheap sweet stuff made by industrial producers like Gallo or Paul Masson, or stuff that is not from a controlled appellation.  You know, stuff that an old fashioned is made with in Wisconsin.  It would be great if the grand public knew that between spirits that are made in an artisanal setting and that have strict rules regarding their production.  It would also be great if Joe Schmoe could simply order a drink with an Armagnac or Cognac and approach it as if it were a drink made with whisky or bourbon, without too much thought, confusion or perplexity.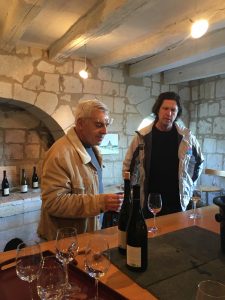 Q. What has been the biggest surprise or obstacle of importing Cognac, Calvados, Armagnac, wine and beer?
A. I suppose the biggest obstacle is dealing with licensing in certain states: wine is much easier and the licenses tend to be less expensive.  Many states want you to pay a fee for each vintage, so the distributors of Jack Daniels pay the same as a producer of Armagnac that wants to ship one case of a particular vintage.  Another is that most spirits are sold by the large "booze" houses and a lot of spirits buyers are happy to take free goods for placements.  Also, the buyer for spirits is often a different buyer than the buyer for wine.  So that certainly presents a challenge when only one person is calling on the account.  I guess another is that the independent producers of Armagnac and Calvados are not financially backed by their own appellations making it difficult to get those appellations known on a wide level, not only to consumers but also to bar people, restaurant people and retailers.
Q. What do you foresee for the French brandy industry and for your own import business?
A. Ideally, I would like to see it grow on all levels, with a gradual increase in sales and recognition with each passing year.  I would like to see professionals and customers realize that there is a difference between a producer – who grows, harvests, ferments and distills their own fruit from a single property – and a négociant, who purchases spirits and markets them.  This distinction is not often made clear.   When I first started importing spirits, I only wanted to work with people who were making their product from A to Z. It was a bit like the market for Burgundy, Beaujolais or the Rhone at the time: moving away from the négociant brands handled by the big houses and into the actual producers sold by the new, more wine-focused distributors.
In addition, the fact that there is a relatively new market using Cognac, Armagnac or Calvados in cocktails has been encouraging, it's still an uphill battle as the competition is often companies with huge marketing budgets that often buy their way into accounts and leave everyone else to battle over the crumbs.  But hopefully both Armagnac and Calvados will be as well-known and sought after as Cognac….one can only keep working toward that goal and be positive about the spirit's futures. Fortunately, because they are not mainstream, Armagnac, grower Cognac and Calvados remain "insider's" spirits so they also have a certain coolness about them.  
Q. What is the most memorable Cognac, Armagnac or Calvados you ever had and who were you with?
A. I can certainly say that I have had many so, where do I begin…….?
To make it clear, it is not always the oldest or rarest spirit that is the best: I've had younger bottles that were just at the right place at the right time, in a hotel room, or while camping, or in my basement even.  But, of course, when you get to try something that is very old and there might only be several dozen bottles in existence, that is always special…to think that someone had distilled an Armagnac on a small property before there were cars or electricity and that you are tasting it generations later is nothing short of amazing!  There is an Armagnac producer named Domaine de Baraillon who are an incredibly humble family in the heart of the Bas-Armagnac….when we visit, they stand around a table with scores of vintages on it and we simply grab the bottles and taste…and some of the bottles are from the late nineteenth century or early 20th century.  If you want to try one twice, you can!  It always makes me laugh how certain large houses talk about his whisky or that cognac being rare–we only made 3000 bottles (ha!) and it costs thousands of dollars and they never even let you taste it.  Yet here we are having a couple of tastes of 1893 and they are happy we are doing so.
Another unforgettable moment was going into the old cave at Calvados Adrien Camut and tasting things out of barrel from the late 1800s with the brothers.  And finally, trying to cut it down here, going over to see Martine Lafitte one day at Domaine Boingneres.  I had eaten lunch with my family and afterward thought I would take a little drive.  I gave Martine a call to see if she was around and she told me she was and to come over.  When I got there, she was out on the patio having just finished lunch with her cousin Pierre Laberdolive and another friend.  We then proceeded to drink three Armagnacs, one which was from the late 1800s and the other two from the early 1900s.  It was just such an unexpected way to spend an afternoon.  And it was awesome.  Finally, I must say I often go out and see producers during the day (particularly when I am researching a book) and when returning to my hotel room, can't believe what an amazing day it has been.  Not only by tasting a producer's rare spirits, but also by hearing their stories and trying to get a grasp on their history, whether their property had been bombed or occupied by enemy forces.  Or being invited to eat by strangers and hearing their tales, being invited to spend the night when you're a long way from home, or simply discovering a 50-year-old spirit that still has plenty of life to it.  It is things like that which keep one coming back for more!
Below you will find recipes for some variations on classics, for those of you interested in enjoying Cognac, Armagnac, and Calvados in a cocktail.