UK-XKL-02-NV
Islay Single Malt Whisky, 'Sanaig', Kilchoman Distillery
Kilchoman Distillery was founded in 2005 and is the first distillery to be built on Islay for over 120 years. Kilchoman displays all that is great about the grass-roots traditions of Scotch whisky distilling. In addition to being one of the few distilleries to still practice floor malting, barley is also grown on the farm, making Kilchoman the only distillery to employ all parts of the whisky-making process on site. Kilchoman truly is Islay's farm distillery—from barley to bottling.
Producer:
Vintage:
NV
Country:
United Kingdom
Region:
Scotland
Spirit Type:
Whiskey
Spirit Sub Type:
Scotch
| | | | |
| --- | --- | --- | --- |
| Sizes Available: | SKU | Case Size | Bottle Size |
| Full Bottle | UK-XKL-02-NV | 12 | 750 |
Tasting Notes
Sanaig, a small, rocky crag located northwest of the distillery, bears the name given to this continuously available release. Sanaig has a predominantly sherry cask influence owing to significant time spent in Oloroso sherry Hogsheads. These aged Oloroso casks contribute a drastically transformed depth of color and character compared to the mostly bourbon-cask-matured Machir Bay. 46% ABV. Sanaig was awarded Best Single Malt Scotch Whisky – Non Age Statement at the IWSC 2016.
"A beautiful marriage of bourbon and sherry maturation balanced with classic Islay peat smoke and light citrus sweetness." – Anthony Wills, Founder
Resources
Request a shelf talker/case card
Related Recipes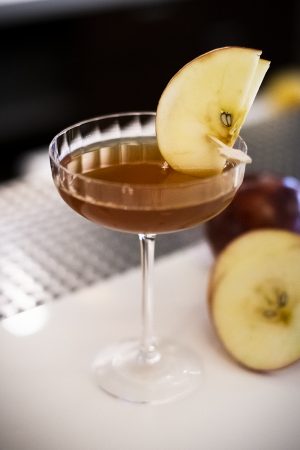 Monday in Manhattan