Domaine Boingneres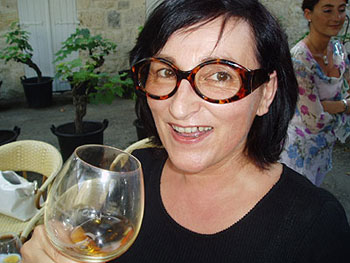 Domaine Boingnères is, by and large, considered the benchmark of brandy from the Bas-Armagnac. The estate was acquired in 1807 by Jean- Baptiste Boingnères, ancestor of current proprietor, Martine Lafitte. Located in the small commune of Le Frêche, the area has perhaps the best growing soil of the region. The Boingnères estate vineyards cover 21 hectares, 13 of which are planted in Folle Blanche, 4.5 in Colombard, and 4 in Ugni Blanc. Martine's focus on brandy distilled from Folle Blanche reflects her commitment to the noble varieties, though Boingnères bottling of Baco can sometimes be found—an echo of distillation from her father's time.
Much of the oak at Boingnères comes from the Gascon forests. Martine contracts trees every year, and the staves are air-dried next to one of the Boingnères chai. The staves are then fabricated into 420-liter barrels by the local tonnelier, Gilles Bartholomo. Gilles's grandfather actually made the barrels for Martine's grandfather more than 60 years ago! The barrels are stored in one of two chai, both of which are relatively dry. Consequently, the alcohol level descends very slowly, and even after 20 years, some barrels have only lost 3 degrees of alcohol!
Armagnac is traditionally bottled without being reduced in alcohol, and as Martine Lafitte is a strict traditionalist, the Armagnacs at Boingnères are released at cask strength to ensure their absolute purity.