BUON NATALE 2020
It's been a year of challenge and a year of change. And this holiday season, more so than ever, we long to be together with family and friends.
Thank you Molettieri, Colli di Lapio, Pomona, Arpepe, Carlo Giacosa, and Ca d'Gal for bringing us into your kitchens and sharing your traditions. Let these recipes transport you, in the way that only great food and wine can.
MACCARONARA
From Salvatore Molettieri of Molettieri
Maccaronara is our best known eno-gastronomic product of the whole territory and is characterized, above all, by its simplicity. The dough is made by hand, using a traditional, grooved wooden rolling pin called a 'troccolaturo'.
Salvatore Molettieri
INGREDIENTS:
A scant 5 cups Flour
2 Eggs
Water
PREPARATION:
Add flour to board and make a well in the center.
Add eggs to the center and stir into flour with a fork until incorporated.
Add water and knead until it forms a dough.  Roll the dough into a cylinder and slice into circles about one inch thick.
Using a rolling pin, roll the slices of dough out to ½ centimeter.
Slice thinly, or roll over with troccalatura and pull into strands.
*As an alternative to water for mixing, you can use wine, either white or red. With red wine, the maccaronara changes notably both in color and taste. 
DRESS WITH BOLOGNESE SAUCE & SERVE WITH
A GLASS OF IRPINIA AGLIANICO OR TAURASI!
Fusilli al Tegamino
From Clelia Romano of Colli di Lapio
INGREDIENTS:
1 lb. Fusilli
1 lb. ground meat
1 mozzarella
Half an onion
5 ½ cups tomato puree
Grated parmigiano
Salt
PREPARATION:
In a large pan, sauté the onions and ground meat with a pinch of salt.
Add the tomato puree and simmer for 40-50 minutes.
Boil the fusilli in salted water until al dente
Preheat oven to 400°
In a mixing bowl, add the fusilli, meat sauce (reserve a ladleful), sliced mozzarella and parmigiano and mix.  Add to tegamini or small ovensafe pans and top with the remaining sauce.
Bake for 40-50 minutes.
PIZZOCCHERI VALTELLINESI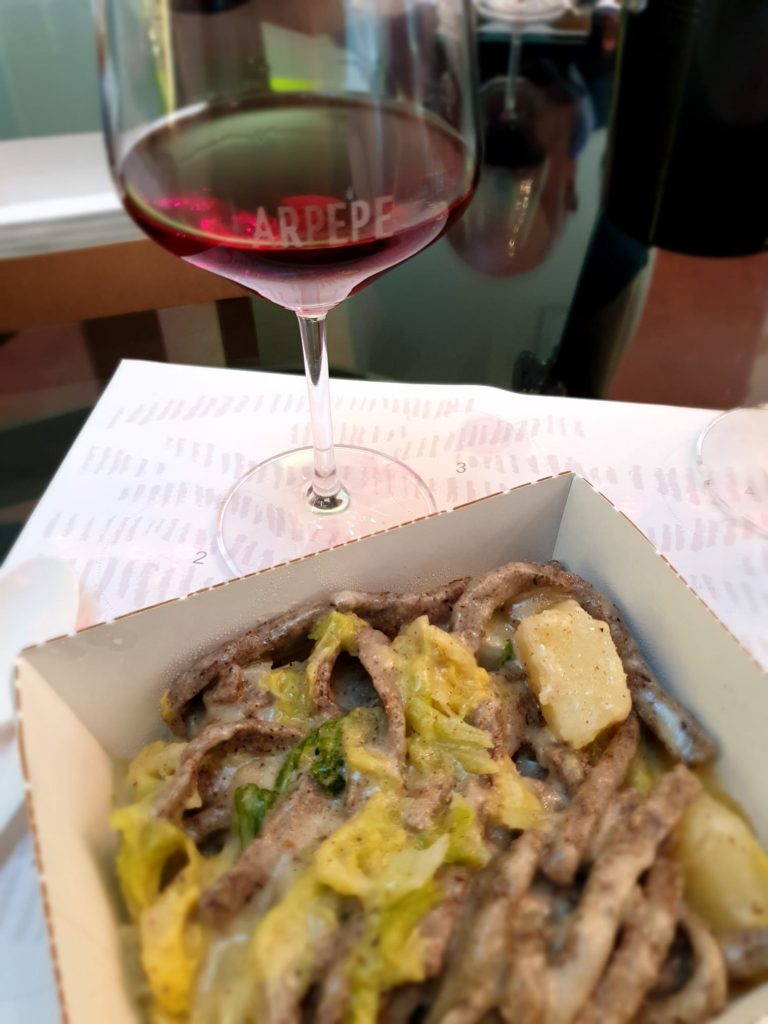 From Isabella Pelizzatti-Perego of ARPEPE
300 grams buckwheat flour
200 grams white flour
1 lb. cabbage
3 potatoes
10 tbsp butter
400 grams Valtellina Casera cheese
4 cloves garlic
1 cup grated Parmesan cheese
salt
PREPARATION:
Combine the flours add water and knead for fifteen minutes until the dough is velvety to the touch.
Roll out the dough to a thickness of about 1/2 centimeter.
Cut noodles about 1/2 centimeter wide.
In a pot of salted water boil the cabbage and potatoes for about five minutes, and then add in the pizzoccheri.
Cook for 15 minutes, drain and arrange in a tureen alternating layers of pizzocchieri with casera cheese and sprinkling with Parmesan; season with a mixture of butter, garlic and sage.
Serve very hot.
TAJARIN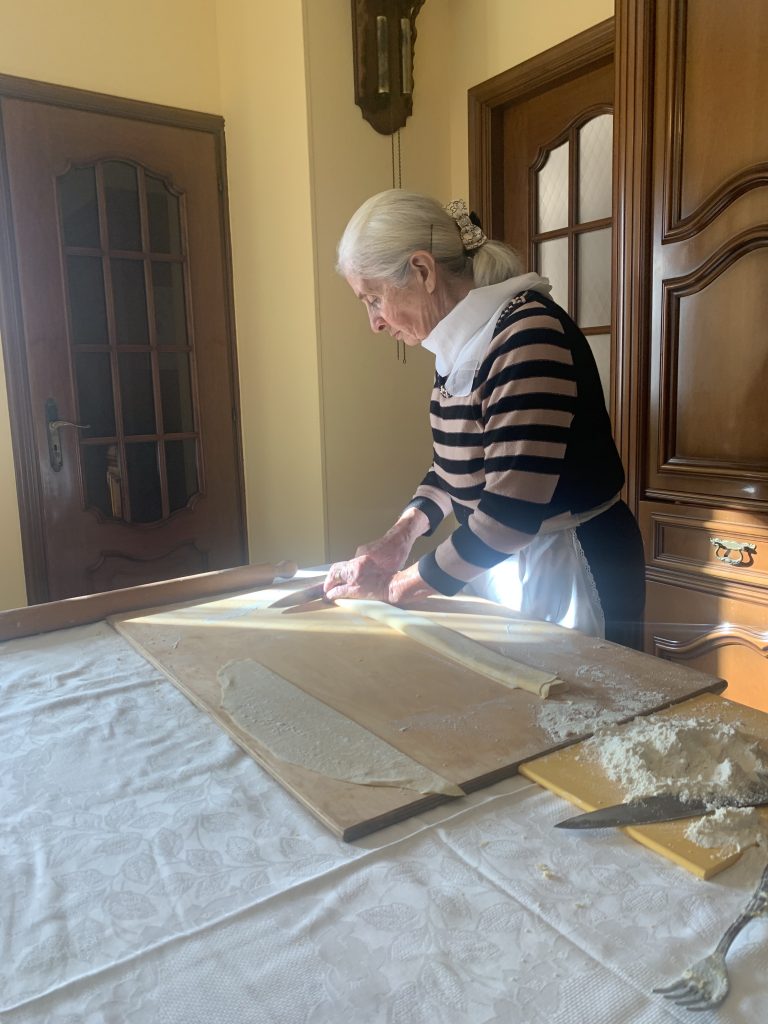 From Carlo Giacosa
INGREDIENTS:
400 gr flour 0
3 whole eggs
2 yolks
1 tablespoon of extra virgin olive oil
PREPARATION:
Make a well with the flour and add the egg yolks. Beat with a fork, incorporating the flour a little at the time. Continue kneading the dough until you have a smooth ball.
Divide the pasta dough into one-inch pieces and run through a pasta machine or use a rolling pin.
Fold the sheets loosely and slice into very thin strands – just a few millimeters. Dust the strands with flour so they don't stick.
Boil the tajarin is salted water for about a minute.
Dress with sage, brown butter, Grana Padano cheese.
IL PEPOSO (Traditional Tuscan Pepper Beef Stew)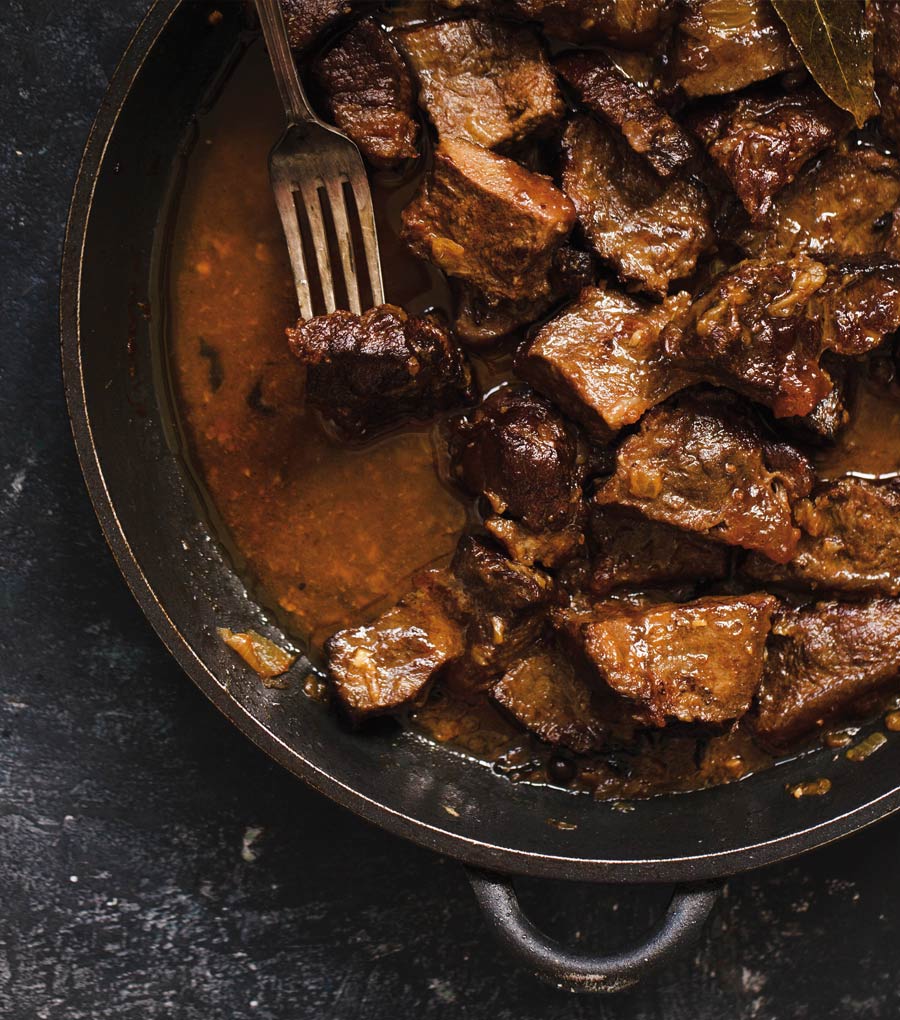 From Monica Raspi of Pomona
INGREDIENTS:
2 tbsp Olive Oil
2 ¼ lbs stew beef, cut in 1 ½ inch cubes
3 garlic cloves peeled
1 tbsp cracked black peppercorns in a sachet
1 (750ml) bottle of Pomona Chianti
Salt to taste
Tuscan bread
PREPARATION:
Heat olive oil in a heavy-bottomed pan. Add stew meat and brown over medium heat. When the meat is browned, add the whole peeled garlic cloves,  peppercorn sachet and Chianti. Bring to boil, then reduce heat to low, cover and simmer gently for 2 hours.  Remove lid, season with salt and cook on low-medium heat for another 45 minutes to 1 hour, until cooking liquid is reduced. Remove the peppercorn sachet and serve with Tuscan bread to soak up the sauce!
DOLCE FREDDO ZABAGLIONE AL MOSCATO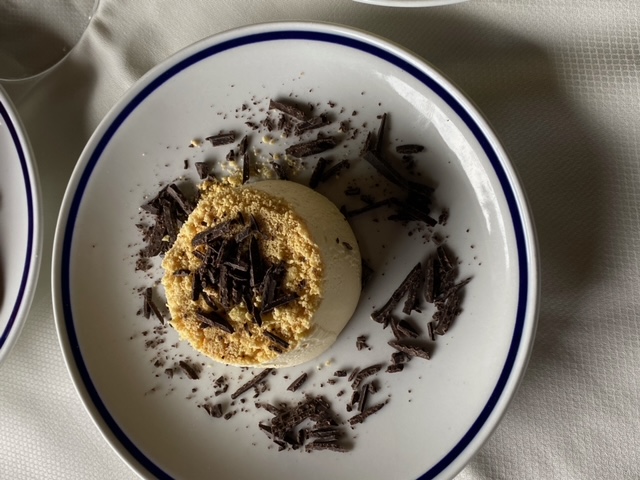 From Alessandro Boido of Ca d'Gal
If all goes well, this is a recipe for a dessert to be served cold made with a moscato zabaglione and whipping cream, the cream can also be served with biscuits without putting it in the freezer!
Serves 6-8 people
6 fresh egg yolks
6 tbsp sugar
200 ml Moscato d'Asti Lumine
2 cups whipping cream (cold)
Ground hazelnuts and/or biscotti
PREPARATION:
Separate the eggs.  Mix the egg yolks together with the sugar in a glass bowl. Beat with an electric whisk for about ten minutes until sugar is dissolved.
Add the 200ml Moscato.
Bring to a low heat over a double boiler for about 15 minutes, until thickened.  Remove from heat and cool.
Whip the cream and fold into the cooled custard. Scatter ground hazelnuts or biscotti to the bottom of some small plastic or aluminum molds.
Pour in the cold zabaglione cream, put in the freezer until firm.
TO SERVE:
Turn the mold upside down onto a dessert plate, adding a garnish of chocolate powder or hazelnut crumbs to taste, or a whole biscotti.  The zabaglione can also be eaten at room temperature as a side dish for a hazelnut cake or biscuits with chocolate flakes or hazelnuts!
---
If you're looking for more of our Italian Winemakers' recipes and traditions,
check out our 'BUON NATALE' posts from 2016, 2017, 2018, & 2019!
---