A NOTE ON ACID
Acidity is one of the most important components in wine, white or red, providing structure and balance; it is one of the foundations of flavor.
In the picturesque village of Zeltingen, the Selbach family produces a wide array of excellent Rieslings, a grape variety long associated with electric, high-acid wines. Recently, we had a fascinating dialog with Johannes Selbach about acidity and its role in wine. The discussion was far-ranging from acidity to climate change, to the rise of dry wines in the Mosel and why Johannes thinks Riesling is more demanding of the drinker.
THE INTERVIEW
Gabriel Clary: Johannes, thank you for your time here today and for talking with us about the foundations of flavor in wine. We want to cover a few different topics here but given that you produce wines made from Riesling in the Mosel, perhaps talking about acidity is a good place to start.
Johannes Selbach: Yes, a good place to begin. First, let me explain what acidity means for a fine wine producer. Acidity is essential for the fruit that we eat and for beverages made from fruit. It provides the spine, the ribs, the ribcage, the skeleton around which all other ingredients, most notably fruit and alcohol are wrapped. A wine without acidity has no shape and no contours, it will be fat and flabby, no balance, no future. Obviously, acidity in wine must be met by all the flavors that come with ripe fruit and, of course, alcohol, glycerol, phenolics, a multitude of aromas as well.
The ultimate deciding factor that makes a wine delicious is the balance of all of the above.

Furthermore, acidity, like sugar and, to a lesser extent, alcohol, acts as a preservative and ensures the aging potential of a wine. Acidity is also what makes our mouth salivate and what helps digest food. Ultimately the balance in wine depends on the presence of a good level of acidity, in relation to the other parts.
---
For many drinkers, acidity in Riesling is what draws them to the variety, especially in the Mosel, where Riesling is made into balanced, light wine with high levels of acidity. Can you talk about some of the factors here that make the Mosel a bit different where acidity is concerned?
JS: The healthy acidity levels in Mosel Rieslings are courtesy of several factors: Riesling itself is a grape with a high natural acidity. The climate in the Mosel region is a mild one, with a very long growing season and the absence of extreme temperatures and the stress that comes with those extremes. The fact the Mosel lies on the 50th degree of latitude provides for longer daylight hours during the growing season than in regions further south which, in combination with mild but not hot temperatures, creates an extra-long vegetation period with green leaves and photosynthesis starting in April and ending in November. This lets the grapes ripen relatively slowly and it preserves fresh, delicate flavors and preserves healthy levels of acidity.
Another important bonus of being situated on the 50th degree of latitude is that we have the famous "diurnal swing"  which means warm daytime temperatures alternate with cool nighttime temperatures and this is a key element in preserving crispness in fruit and acidity. The hotter and drier it gets and the less diurnal change (evident in hot days and warm nights), the quicker the grapes lose acidity, resulting in soft wines.
This is why many wine regions in warmer climates add acidity to their wines, especially white wines (in red wines the tannins fulfill some of the functions of tartaric or malic acidity).
Generally speaking, if you look at the world wine map, the greatest white wines are all being made in the cooler and temperate climate zones and, besides achieving ripeness, maintaining the perfect acid balance is what makes the wines great and a great vintage great.
---
Riesling has various physiological factors make it well-adapted to the kind of conditions in the Mosel that you've described here. Can you talk about the character of the grape and what that translates to in the Mosel?
JS: Riesling as a grape, like Sauvignon Blanc, has a good acid structure in its DNA so the nature of the grape will always bring more acidity than most other grapes. If unripe, Riesling can be as "grassy" as Sauvignon Blanc. If ripe, the acidity in Riesling will be crisp, but never grassy, and the wine brings different, multifaceted "fruit" flavors together.
If you take Pinot Grigio/Pinot Gris or Gewürztraminer or any of the white Rhône varietals which represent the other end of the spectrum, the grapes' own acidity levels are considerably lower than those from Riesling or Sauvignon Blanc, no matter which ripeness level.
Now when you plant Riesling in alkaline soil with high pH, like limestone, the wine is likely to taste rounder and softer and, on your palate,, you will get a mouthfeel of banana and pear.
If you plant in acidic, low pH, rocky soil like granite, quartz or slate, the same grape with similar ripeness will bring out sleeker apple and citrus, as well as stone fruit on the palate.
In the Mosel we have all it takes for good acidity levels and crisp wines: a moderate, mild, Atlantic Ocean influenced climate, long daylight hours during the growing season, a low pH, and mineral-rich Blue Devonian slate soil, all of which ensure that the grapes ripen over a long time with relatively little stress compared to, for example, Mediterranean climates where the growing season and harvest are earlier, sugar levels and alcohol higher and acidity levels lower.
---
This brings us to the changing climate and the relationship between ripeness and acidity. In your view, has the warming climate helped or hurt the Mosel?
JS: In the decades of the last century before the 1990s, the Mosel region was cooler than it is today. Back then there was an alternating mix of good and not so good, ripe and not so ripe vintages, covering a much wider spectrum between success and failure, between juicy, mouthwatering acidity and "green", tart acidity.
This history has changed over time as the climate got warmer. At the same time, viticulture has changed also to more careful and greener farming and the combination of both, climate change and viticultural change, is producing a very high-quality fruit which is generally much riper today than it was forty or fifty years ago.
This higher ripeness level has completely changed the challenges that the Mosel wine producers must deal with today. Whereas fifty years ago it was customary to wait long and pick late to achieve full ripeness, today we must pick earlier, in fact, a month earlier, if we do not want to get over-ripe and too low with the acidity.
Fifty years ago, some vintages brought good ripeness with well-balanced acidity, while others brought less ripeness and very high acidity which resulted in acidic juice in the cooler and thus not as prestigious vineyards and with it also the need to de-acidify.
In my lifetime, the last such vintage was 1987. Ever since then, we have had ripe or super-ripe grapes, and in the new millennium, we are working very hard to maintain and protect the acidity because we don't want to make acid-deficient soft, fat, short-lived wines. This means we move higher up on the slopes and into the side valleys where we have a little more shade. We no longer pluck leaves from the fruit zone, but rather keep the full foliage extra long to provide shade and we pick much earlier to be able to preserve the precious crisp acidity. Similarly, we now work to control the alcohol to prevent it from going too high, a problem that my father and grandfather did not have to deal with.
Many consumers are not aware of this. The shift in climate, however, has benefited us in general, though the preservation of good acidity and working to keep the alcohol from going too high have become the challenges of today and the future. Acidification is not legal except in extremely hot years, where the EU and the German Government may authorize an exception.
---
Can you talk about how this relates to dry wines? Specifically, how the structural parts and the role of acidity has changed, how are dry wines being looked at differently?
JS: The changes I described related to climate change have positive implications for the dry wines you mentioned. The fact is that that we are now producing very ripe fruit with still good acidity levels, enabling us to make very delicious, well balanced dry Rieslings on the Mosel with alcohol levels between 12 % and 13% natural alcohol and crisp acidity, plus the flavor of juicy ripe fruit, which has not been lost because of heat stress or over-ripeness.
Today's dry Mosel Rieslings are completely different from those "trockens" of the 1980s and even the early 1990s. Today, there is plenty of body and fruit and length, but still good enough acid structure to drink well, match with food and age for a decade and more. In some of the old dry Rieslings, the body was lighter and the acidity higher and sometimes the "bones", meaning the acidity stood out, which was not to everyone's liking.
Above all, the absence of external flavoring ( like adding vanilla and butterscotch from new oak or oak chips, buttery flavors, and rich mouthfeel from malolactic fermentation) makes the dry Rieslings excellent companions for food because they are bright, fresh, clean, can tolerate spiciness and salt / sweet / vinegary contrasts in food and, being a little leaner, with a moderate alcohol level, they can be consumed without regret. This is what has made them popular amongst sommeliers, chefs, wine aficionados alike.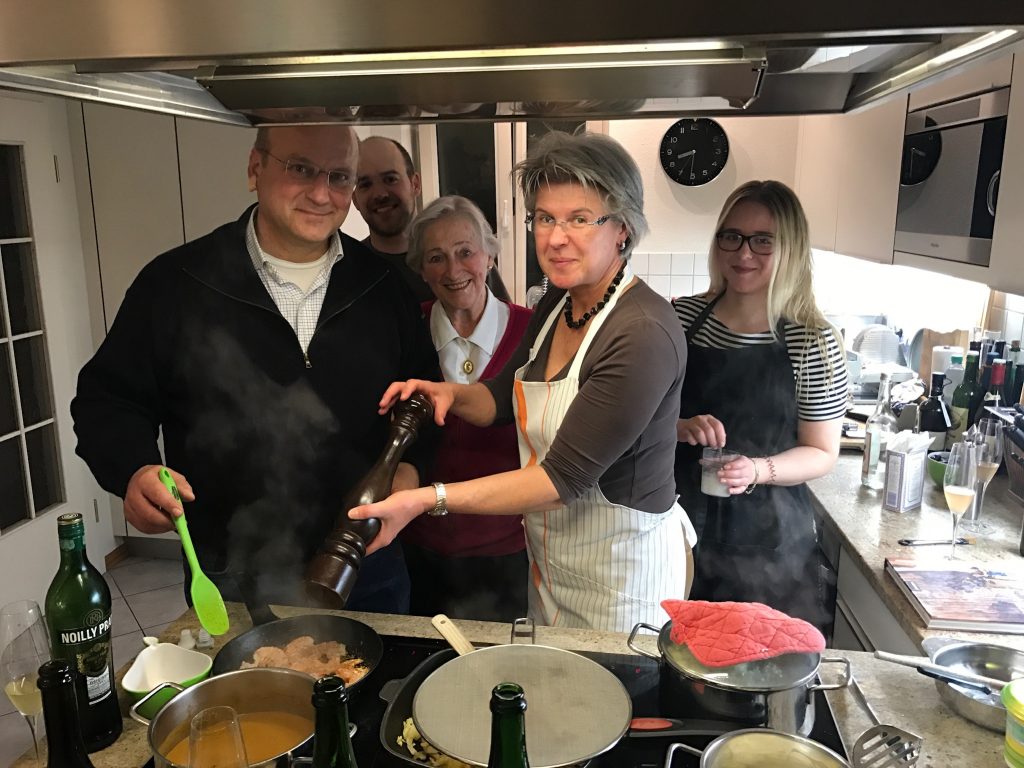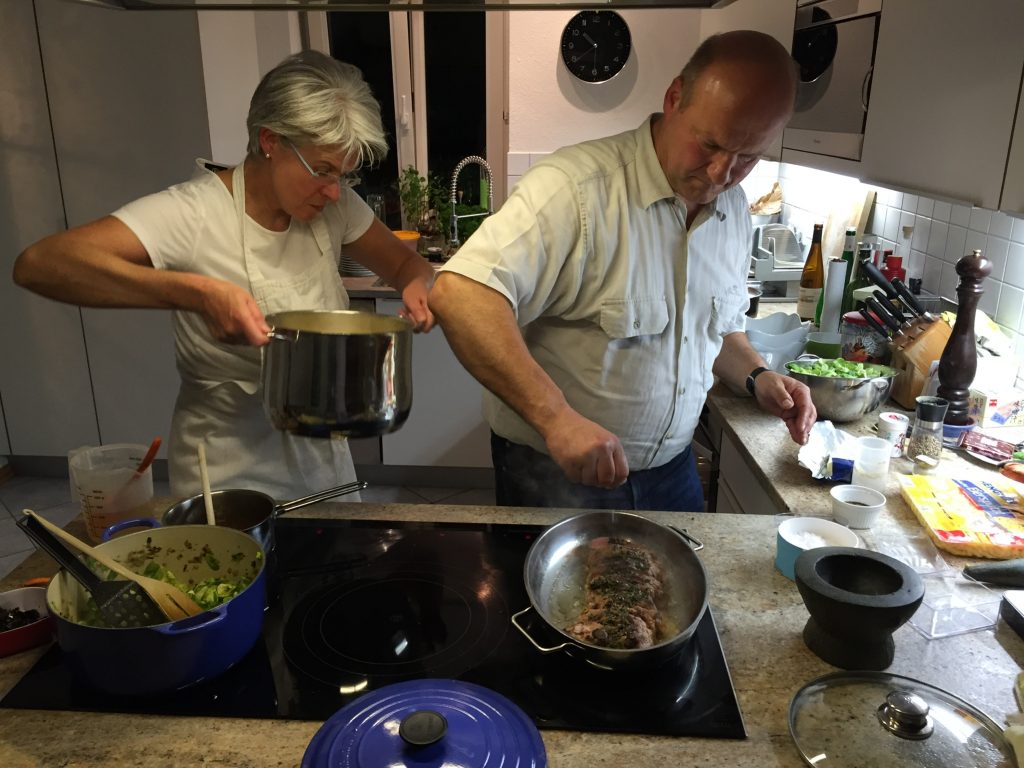 Because they are a little more complicated than the mainstream, many casual consumers or people who don't have so much tasting experience, don't yet know them.
On top of that, most Riesling comes from Germany, Austria or Alsace and those wines, with their Germanic names, are less familiar to the average consumer than French or Italian wines. There are also many more choices, produced in small quantities, versus fewer choices that are available in much larger numbers and presence from the new world, like Australia. From a new world winery, there may be just two Rieslings whereas someone like Selbach-Oster will offer three or four dozen different choices…
---
Do you think that because the flavor and structure that one finds in Riesling is far outside of most peoples experience that this is the reason it has not "caught on"?
JS: My personal experience is as follows: Many people don't really know much about Riesling, let alone dry German Riesling, so they are out of their comfort zone. They know how a Pinot Grigio tastes and they all know how Sauvignon Blanc tastes and how a "standard" Chardonnay tastes because those wines are generally in a rather narrow smell and flavor corridor, easy to identify.
Riesling, in comparison, is like a wild horse, harder to predict, more "jumpy" and more demanding but also more infinitely more exciting.
WINES OF BALANCE
During this conversation, we opened a number of wines to taste and think about in the context of acidity as a foundational part of a wine. Tasting these wines with cold-weather foods and savory dishes worked beautifully, pulling the flavors into sharp focus. Below are some of the wines that exemplify the kind of delicate balance that Johannes describes.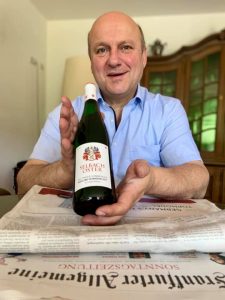 2019 Selbach-Oster Zeltinger Sonnenuhr Riesling Spätlese Feinherb "Uralte Reben"
From a small parcel of 100+ year-old ungrafted vines called "Kakert", very close to the "Rotlay" section of Zeltinger Sonnenuhr. Johannes makes just a fuder (1000L) of this wine in normal years as the production from this parcel is so small. The Ur-alte reben brims with youthful energy and perfectly balances ripeness and alcohol with a small amount of residual sugar.
In 2019, the wine feels bright and taught but with extraordinary depth. As the wine comes in contact with air, it gains richness and the acidity acts as a bright track, keeping the wine focused.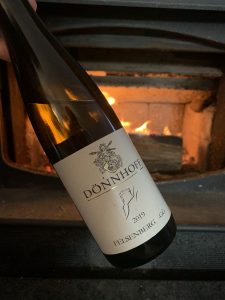 2019 Dönnhoff Felsenberg Riesling Grosses Gewächs
"If Hermannshöhle is the god of wisdom, Felsenberg is the god of iron" is the way that Cornelius Dönnhoff describes the different characters of two of his top sites. Felsneberg has a mineral, smokey, dense core and while it is not the coolest and therefore most high-acid site, the overall structure of this powerful and intense GG is built on the strong frame of acidity. It is especially interesting to taste this wine in the context of thinking about structure as it is a wine that has more non-fruit flavors than overt juiciness. Balance here and the architectural structure is much different than some of the more overt and "fruity" wine. A juxtaposition between fruit and acid is much more common than the balance struck here between the structure that the acidity provides and the darker, mineral character.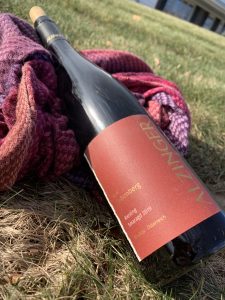 2019 Alzinger Ried Liebenberg Smaragd Riesling
Leo's wines have a quiet, understated brilliance. This wine, coming from a vineyard a bit further afield than Alzinger's other holdings, is what I think of when I think about "textbook" dry Riesling. The site is between Dürnstein and Weissenkirchen and the air movement here tends to be cooler.  It has tension between elements, pulling between the crisp acidity, ripe stone fruit and powdery mineral component often accompanies wines grown on mica schist. A perfect example of balanced components and incredible detail and nuance that Riesling is capable of. It unfurls with time and is a pleasure to watch open over several days.