Great wines are made by passionate, attentive, meticulous, and loving hands. And it never hurts to remember that our wonderful winemakers are people who come in from the fields every day and look forward, as we do, to a moment of respite, to time spent with good food around a table with those whom they love most.
So what better way, we feel, than to ask them to share traditions from their home kitchens, to celebrate the diversity of Christmas in Italia. From the Dolomite peaks of Alto Adige to the palm tree-lined strade in Ragusa, Sicily, these recipes prove there are many ways to say "Buon Natale!"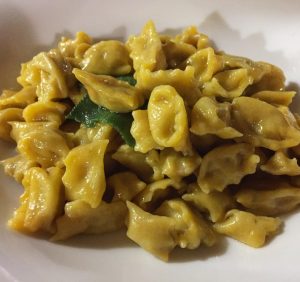 Ravioli del Plin gets its name from the local dialect meaning "pinched," a reference to how the tiny ravioli are traditionally closed. Livio Voghera says this recipe epitomizes the region of Piemonte. Enjoy it with a glass of his stunning Barbaresco.
FOR THE PASTA:
FOR THE STUFFING:
½ lb. pork
½ lb. beef
½ lb. rabbit
1 large onion
2 cups celery
2 cups carrots
½ cup cabbage
½ cup parmesan cheese
1 ¼ cups stock or brodo
Salt and pepper
METHOD:
To make the dough, place the flour in a fountain-shape, put the eggs in the center and knead until the dough is smooth and homogeneous.
Meanwhile prepare the filling by browning the pork, beef and rabbit separately in the hot oil.
When they are browned, bring them together in a saucepan, add the vegetables and the stock.
Add salt and pepper, Parmesan cheese, leave to cool and chop.
After an hour take the dough again and roll it out in a thin sheet with the rolling pin to fit many balls of filling, spaced about 1.5-2 cm apart.
Close the strip along the long side, pinch the dough where there is no filling and cut the ravioli.
Cook in plenty of salted water, drain and season with butter and sage.
ZELTEN, A CHRISTMAS SWEET BREAD

from Christoph & Andreas Mock of Wassererhof
As you might expect, some recipes are too special to divulge! As Christoph & Andreas Mock explain, "Each family jealously preserves its own recipe for this special bread, which is prepared during Advent and eaten at Christmas." The name zelten comes from 'rare', which means 'sometimes', just to indicate that the cake is only made for Christmas.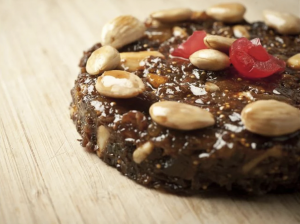 "The whole family meets at our parents' in Bolzano at the Mumelterhof Estate on December 25th. Then we have dinner together and then our mother tables up a zelten. Zelten is a typical Christmas pastry, it is a fruity-sweet bread that belongs to the tradition of South Tyrol, especially in Bolzano and its surroundings. The main ingredients of the zelten are dried fruits (figs, raisins, apricots, pears, walnuts and pignoli), which are kept together with a yeast dough made of wheat flour and rye. Our mother Maria also prepares these zelten according to an old recipe. This tastes excellent and goes very well with a glass of St. Magdalener, or a tea, or mulled wine."
Click here for an example of this South Tyrolean treat!
RISOTTO WITH AMARONE

The Piona Family Recipe from Cavalchina
When you're facing the steely blue waters of Lake Garda in December, what better way to fortify yourself against the cold than with this Risotto con Amarone aside a glass of Bardolino?
INGREDIENTS:
2 lbs carnaroli rice
⅓ cup extra virgin olive oil
8 cups vegetable stock
1 cup grated parmigiano reggiano
1 cup grated fresh monte veronese
400 ml Amarone della Valpolicella DOCG
1 stick butter
1 chopped shallot
Salt
Chopped pistachios
METHOD:
Heat the oil in a saucepan, add the chopped shallot, and lightly fry.
Add the rice, stir to coat and toast it.
After a couple of minutes of sauteing over high heat, add the Amarone.
Once the alcohol has faded and the Amarone is absorbed, cover with the vegetable stock and leave to simmer for 12 to 14 minutes.
Remove the saucepan from the heat.
At this point, add the butter, the grated parmigiano reggiano and monte veronese.
Stir and leave to rest for a couple of minutes.
Serve and sprinkle with a little bit of pistacchio di bronte.
CUBAITA, IL TORRONE NATALIZIO

(THE CHRISTMAS NOUGAT) from Gaetana Jacono of Valle dell'Acate
As Christmas approaches, there is also the desire to prepare some Sicilian sweets at home. Among them is definitely cubaita– nougat with sesame, almonds, and honey typical of the city of Ragusa. Seemingly complicated to make, for this dessert you actually only need a few ingredients and the time to complete a couple of simple steps!
INGREDIENTS:
For 4 People
2 lbs of sesame seeds
2 cups of blanched almonds
3 ¾ cups of white sugar
3 ¾ of honey
Ground cinnamon
Orange zest
METHOD:
Make sure you have thoroughly cleaned the sesame seeds, use a sieve if necessary.
Pour the sugar and honey into a saucepan and heat, stirring until the mixture is smooth and homogeneous.
Add sesame and almonds (in small doses), continuing to stir. Just before turning off the heat, add the orange peel and cinnamon.
Pour the mixture on a slightly dampened pastry board and flatten it with a rolling pin to obtain a thin shape.
Before it cools, cut into strips and then into small diamonds. And that's it: after a few minutes your Christmas treat will be ready to taste!
Try it with a glass of 'Zagra' Grillo!
The Christmas atmosphere ignites the memories and inevitably evokes family traditions, such as that of the Scaccia of Ragusa: a dish with poor origins originally prepared only once a week and now a typical preparation for Christmas Eve. It is a kind of stuffed focaccia, whose dough is thinly pulled and then stuffed and folded back on itself. Given the great richness of ingredients and flavors, we recommend the combination with our Frappato DOC Vittoria.
400gr durum wheat flour
2 cups of tomato puree
2 cups of chopped onions
2 cups of grated seasoned caciocavallo cheese
1 packet of brewer's yeast
2 teaspoons of sugar
3 tbsp + 1 tsp extra virgin olive oil
8 oz warm water
METHOD:
Pour water, brewer's yeast, semolina flour into a bowl and start to knead. When the mixture begins to form, add the salt and extra virgin olive oil.
Finish when the dough is smooth and homogeneous. Put the dough in a covered container, in a warm place to rise for about 60-90 minutes, until it doubles in volume.
Meanwhile, sauté the onions with a little olive oil in a saucepan, add the tomato puree, season with salt and cook until the sauce thickens. Remove from heat and allow to cool.
Transfer the dough to a work surface and divide it into small blocks.
Spread each dough until you get a rectangular sheet. Pour the sauce over the onions and add the grated seasoned caciocavallo. Fold the right and left sides towards the center. You have to get a long, narrow rectangle. Spread another sauce on the rectangle.
Fold the two ends: the upper and lower ends. You have to get a shorter rectangle. Spread more sauce and close the book. Finally, brush them with extra virgin olive oil and prick them with the prongs of a fork to let the moisture escape to the outside.
Cook in the oven at 425° for about 30 minutes: you will get delicious golden crust!
---
If you're looking for more of our Italian Winemakers' recipes and traditions,
check out our 'BUON NATALE' posts from 2016, 2017, & 2018!
---