The holidays are a special time of year for us all. Whether it's dining with family around a big table, sharing the evening with friends over bubbles and all around jubilation, or simply taking the opportunity to kick up your feet and watch old movies with a hot toddy, this is the time of year to enjoy your very own holiday traditions.
We thought this was a great opportunity to check in with a few of our favorite Italian producers with one burning question: What's your favorite holiday tradition?
We hope this serves for inspiration and stirs a thirst for whatever it is you decide to do for the holiday season.
---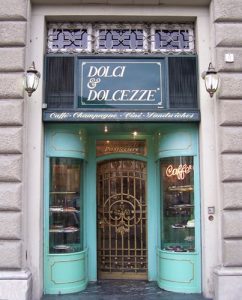 Marco Ricasoli-Firidolfi (Rocca di Montegrossi):
On Christmas morning, our family gathers around the holiday table and we wait for the arrival of Santa Claus, which you can imagine is definitely the most important moment of Christmas for the kids.
For a holiday treat, we all love Panettone, often accompanied by homemade Chantilly or chocolate cream, but each Christmas we buy a special one in a Florence pastry shop called, "Dolci Dolcezze," baked with the very best ingredients. Exquisite! Impossible to resist. They also make the best pies and cakes in the city. I always try not to walk too close to that shop because I cannot resist their amazing desserts and when I pass by, I must go in and taste a bit of everything.
It goes without saying that Vin Santo matches perfectly with Panettone and it's no contest between me, my brother, cousin, and other relatives which Vin Santo is the best one… *winks*
---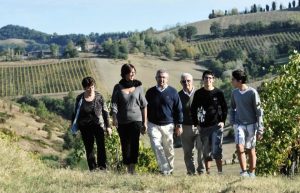 Cristina Fiorini (Poderi Fiorini):
In our family – and in Modena – for Christmas we eat all the tortellini in brodo! We spend the day together making this handmade pasta, and then spend the afternoon enjoying it with one another and lots of great wine.
Tortellini in Brodo:

To make the tortellini in broth, you first make a stock by putting in chicken, onion, carrots, celery, brisket, and bones in a large pot. Allow to simmer for about 4 hours.
---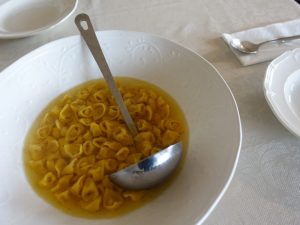 During this time we prepare the pasta dough (200g of flour and 2 large eggs). Once you've combined the dough until it's soft but firm, wrap it and let it rest while you prepare the filling. For this, sauté season minced beef and then chop and blend this with prosciutto, mortadella, grated Parmigiano-Reggiano, and nutmeg until you have a smooth texture. Place ¼ teaspoon filling in the middle of a square of pasta and fold and then wrap the filled pasta like a small ring, pressing the ends.
Strain the stock and season if necessary. Bring this brodo to a boil, add the tortellini and cook for just a few minutes, until they rise to the surface. Finish each bowl with some extra Parmigiano once served and enjoy with a delicious bottle of our Lambrusco!
---
Claudia Cigliuti (Cigliuti):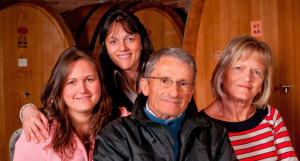 For Christmas, we enjoy the typical dish of our region, the Cappone Ripieno. An American friend helped me to translate the recipe and we noticed that it is very similar to the Turkey you generally have for Thanksgiving. Well, perhaps not exactly. Cappone is a castrated chicken, which is important due to the lack of male hormones in the bird as it matures, making it more tender and juicy. The act of castration, which takes place in summertime, was a ritual reserved only for women because they have the best ability to be decisive.
Today, due to the deep history, the dish, Cappone di Morozzo, is culturally protected. There is even a festival each December in the village of Morozzo, Piedmont to celebrate this very dish!
Cappone Ripieno:
2 kilograms of Cappone
200 grams ground veal
200 grams salsiccia
2 eggs
4 tablespoons of parmigiano
1 handful of "mollica" or soft inside of bread
1 small onion
1 garlic clove
Dash of parsely
Dash a sage
Dash of rosemary
1 glass of dry white wine
1 glass of meat broth
30 grams of butter
Olive oil, salt, pepper and nutmeg for seasoning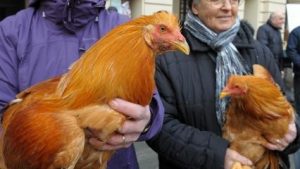 To prepare the stuffing, mix the salsiccia with ground meet and take the mollica and place in the broth and strain. Add it to the meat with the Parmigiano, eggs and chopped onions, garlic sage parlsey and rosemary. Add salt, pepper and nutmeg then mix everything together.
To prepare the bird, wash the Cappone and put salt inside the belly then pack the bird with the stuffing. Stich the belly to seal the bird then place in a dutch oven and dress with melted butter, olive oil and salt.
Set oven at 360 degrees F and let cook for about two hours. Periodically turn it and dress with white wine. Remove when cooked and carve the meat. Use the juices as gravy to pour over the meat for flavor.
Wine Pairing: An older vintage of our Barbera d'Alba Campass is our favorite.
Buone feste from our amazing family of Italian producers and a very happy holidays from all of us here at Skurnik Wines!