This Sunday marks National Book Lover's Day, and certainly, the last few months have proven how valuable a good book can be in inspiring, educating, or simply entertaining during tough times. In the world of hospitality, nothing shows appreciation quite like a lovingly constructed cocktail, so here are a few tipples inspired by the current reads of some of our Skurnik staff and friends: 
Ben Rojo // Black Emperor, NYC
BOOK: Inherent Vice by Thomas Pynchon
DRINK: Inherent Miami Vice (2 servings)
INHERENT MIAMI VICE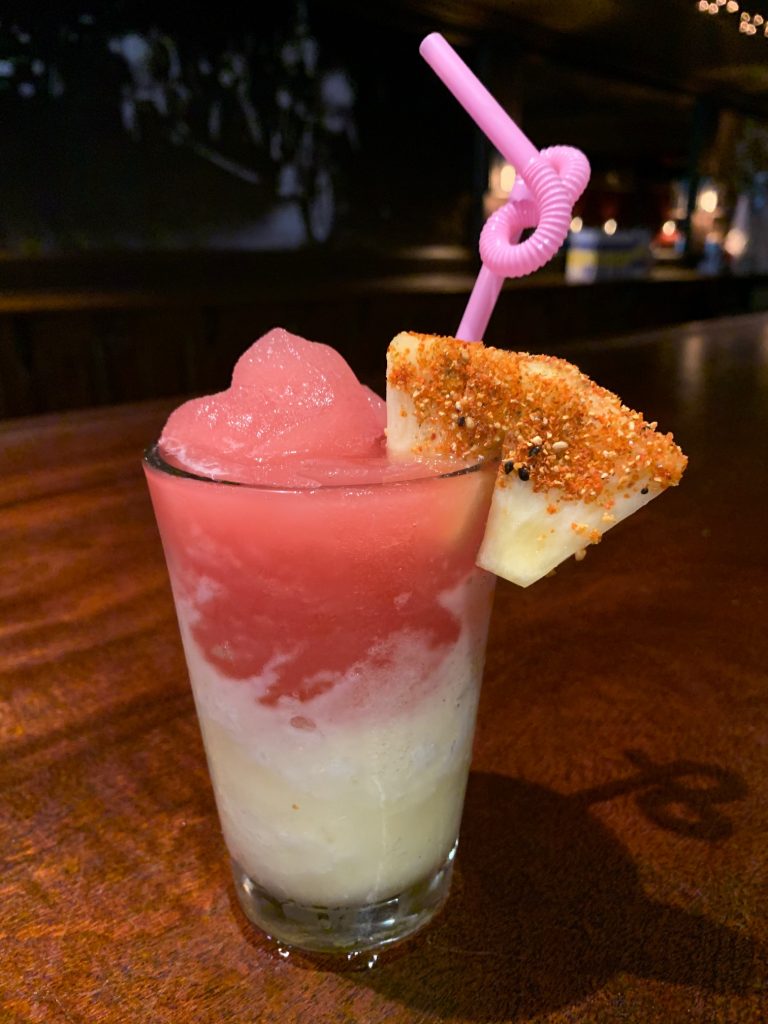 Pina Colada:
Combine all ingredients in a blender with 1/4 cup of ice and blend until frothy.
Strawberry Daiquiri:
Combine all ingredients in a blender with 1/4 cup of ice and blend until smooth.
Fill your glasses halfway with Pina Colada, then fill the remainder with Strawberry Daiquiri.  Add a float of Lemon Hart 151 if you're feeling frisky. Garnish with a pineapple wedge dipped in Tajin.
Ginger Warburton, Former Skurnik Spirits Specialist
BOOK(S): Harry Potter by JK Rowling
DRINK: Butterbeer
BUTTERBEER
Combine in a highball over ice and top with club soda. Stir briefly to incorporate.
*To enjoy as a float, sub out the ice for 2 scoops of Talenti Sea Salt Caramel Ice Cream
This is a very unbeery version of butterbeer as I was really going for a brown butter caramel flavor more than anything, hence the rich El Dorado 12 Yr, soft and floral Penderyn, and creamy Giffard Vanille de Madagascar.
Joaquín Simó // Pouring Ribbons, NYC
BOOK: A Brief History of Seven Killings by Marlon James
DRINK: Kingston Negroni #7
KINGSTON NEGRONI #7
Pick one of the following rums:
1 oz Rum Fire Overproof Jamaican Rum (if you're into some funky hogo sh*t)  OR
1 oz Rum-Bar White Overproof (if you're into some grassy bananas) OR
1 oz Worthy Park 12yr old Single Estate Rum (if you're feeling like a baller…)
Add
Toss all the booze into a rocks glass filled with ice cubes (or one large ice cube or sphere). Stir quickly for 10 seconds; you're not trying to dilute it too much, just want to chill everything down and get these big personalities all comfy with each other.
Take an orange peel (trim it all pretty if you like), express those oils right over the top, and drop it in. No need to rush through this drink- that big rum base should give you enough proof for a nice long reading session with Marlon James.
*photo credit: Eric Medsker
Justin Briggs, Skurnik Spirits Specialist
BOOK: Houses of Ravicka by Renee Gladman
DRINK: Houses of Ravicka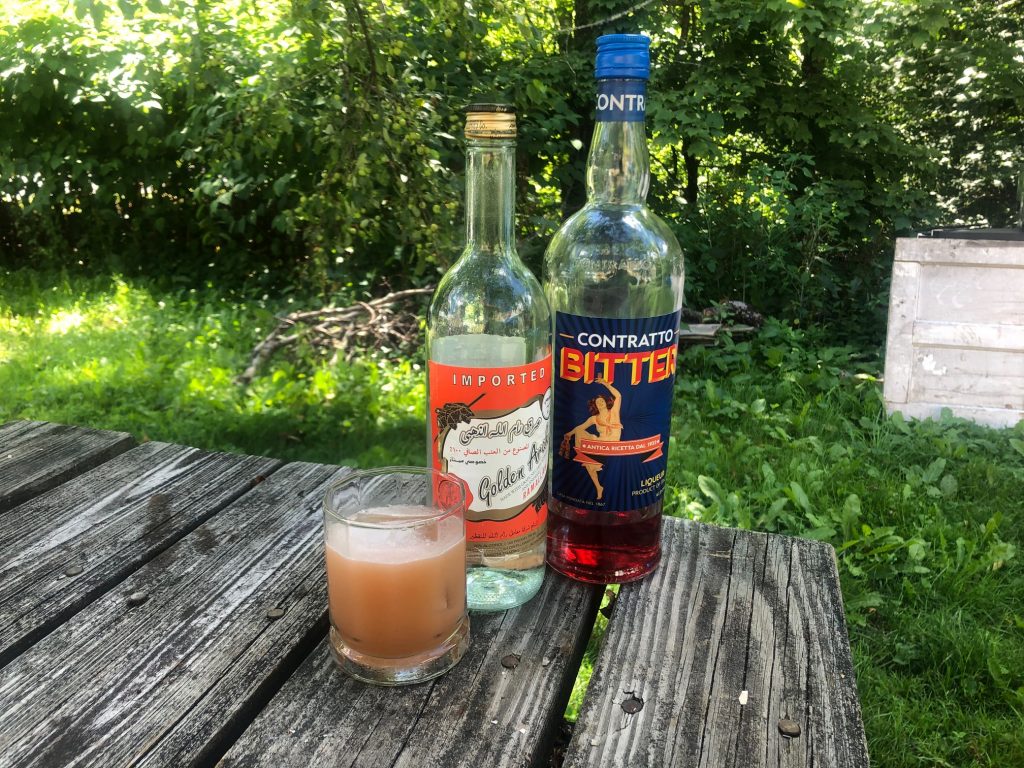 HOUSES OF RAVICKA
Combine ingredients in a mixing tin and shake with ice. Strain into a rocks glass over a big rock.
Amanda Elder, Spirits Content and Education Manager
BOOK: Firestarter by Stephen King
DRINK: Lot 6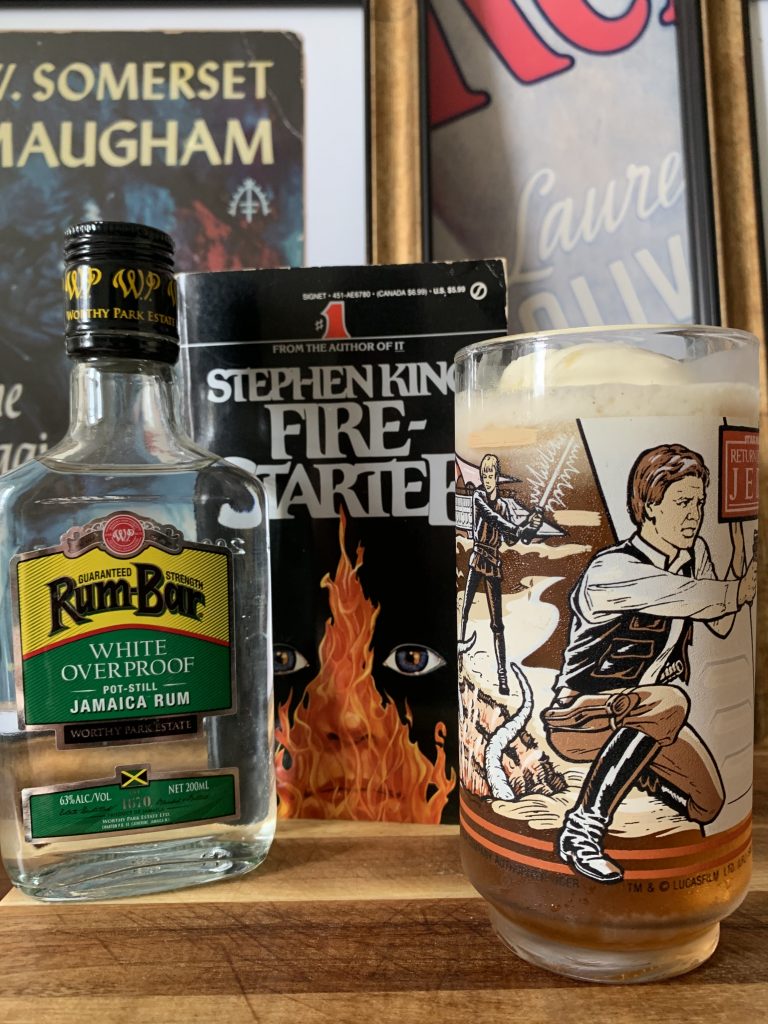 Lot 6
Combine ingredients in a highball over ice and top with Cream Soda. Stir briefly to incorporate. Optional: Add a scoop of vanilla ice cream and an extra dash of Angostura.
*In a measuring cup, break up 2–3 dried arbol chile pods for every 3 oz of Rum-Bar Overproof. Let steep at least an hour, or go longer for more kick. Strain.
This flavor combo is as American as apple pie but with a bite—just like Charlie. Jamaican rum and cream soda are a killer pairing, adding just enough funk to remind you that this is no ordinary trip to the soda fountain.