Pamplemousse (Pink Grapefruit)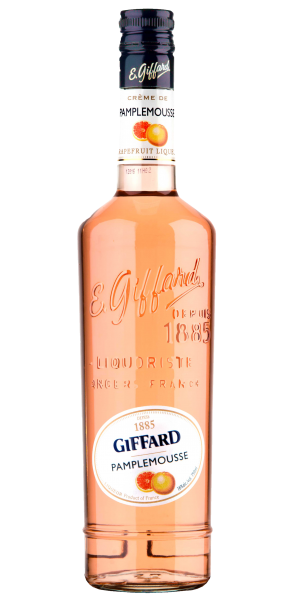 A highlight of Giffard's Specialty range of classic liqueurs and Crème de fruits which aim to achieve the uncompromised taste of whole, natural fruits
Fresh, pink grapefruit peels are steam distilled at Giffard's Loire Valley distillery to extract the bright, aromatic essential oils contained within
Aromas of freshly zested peel and a hint of spicy black pepper prime the palate for a full range of pink grapefruit–from fresh juice to candied peel, naturally balanced by the grapefruit's inherent acidity
16% ABV
Truly a bartender's dream, Giffard's Crème de Pamplemousse is the perfect liqueur to bolster fresh grapefruit juice–or to replace it all together!
Sizes Available
| | | |
| --- | --- | --- |
| Full Bottle | FR-XGB-01-NV | 12/750ml |
| Half Bottle | FR-XGB-01-NVH | 12/375ml |
Tasting Notes
Giffard's Premium and Specialty ranges of liqueurs are renown the world over for their exceptional quality and versatility. Fresh, pink grapefruit peels are steam distilled at Giffard's Loire Valley distillery to extract the bright, aromatic essential oils contained within. As the majority of flavor in citrus is found in the peel's oils, this keeps the liqueur true to the essence of the fruit itself. Aromas of freshly zested peel and a hint of spicy black pepper prime the palate for a full range of pink grapefruit–from fresh juice to candied peel, naturally balanced by the grapefruit's inherent acidity. Giffard Crème de Pamplemousse Rose is a highlight of the Specialty range and a darling of the cocktail world—try it with soda or slip some into your next cocktail! 16% ABV.