Above: Harvest at Schloss Lieser.
After spending the better part of January interviewing growers from all over Germany and Austria, we have a good feeling for the growing conditions of the vintage and what this points to in terms of the general character of the wines. Of course, without traveling, we have tasted precious few wines from 2020, relying on our trusted growers.
Even in normal circumstances, vintage reports paint with a broad brush, so we've also included recordings of the discussions we've had with growers, should you be interested in hearing more granular detail. There were substantial differences in conditions from region to region and even village to village and we encourage you to take a listen when you can. As we taste through the vintage in the coming months we'll add to these notes and our impressions.
---
CLICK HERE TO VIEW OUR 2020 AUSTRIA VINTAGE REPORT
---
GERMANY 2020: BALANCE AND ELEGANCE
It's always tricky to write in broad strokes about a vintage in a country as climatically diverse as Germany. The 2020 vintage will be remembered for years to come, not just for the climactic challenges but for the unique set of obstacles that vineyard and cellar work during a pandemic presented.
Overall, the weather in 2020 followed a similar pattern to the last two vintages. Winter was warm and quite dry in some growing regions, though this was not uniform; in the Nahe and Rheingau, for example, there was a healthy amount of winter precipitation while just over the Hunsrück, the Mosel remained quite dry. Spring was warmer than average, which led to an early budbreak and the threat of frost and in May, limited damage in some vineyards.
Growers noted that this vintage was an excellent vintage for Kabinett and Spätlese style wines as well as excellent dry wines. The Pinot Noirs from Ziereisen and Dautel sound extremely promising, though it will be a few years before we see these wines released. Auslese was also produced, as well as small amounts of BA and TBA (even Eiswein!), but in smaller amounts than in 2019.
A DRY & SUNNY SPRING & SUMMER, A COOLER HARVEST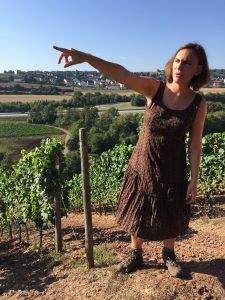 Flowering was early and a warmer late spring and a bright, sunny and very dry summer followed. 2020 was quite dry during the vegetation period and growers remarked that while old vines fared quite well in these conditions, the younger vines struggled and had to be watered. As fruit set and developed, grapes were quite small, with a high solids-to-juice ratio.
These dry and warm conditions in summer led to a slowing of the maturation of fruit as vines shifted from ripening and spreading their genetic material, to self-preservation. Summer was one of the sunniest on record, but without the heat spikes of 2019. Sunburn was a factor in some regions, something that the previous generation of growers did not have to contend with.
By August, growers were expecting a very early and fast harvest. Luckily, in September, as if on cue the weather shifted. While the days remained warm, the heat intensity dissipated, and the nighttime temperatures dropped.
REFLECTIONS ON HARVEST 2020
Harvest did start early in most regions, but these cooler temperatures, coupled with light and intermittent rain, elongated the harvest period, and brought relief to the vines and growers alike. "This was the longest harvest period we have ever recorded" said Johannes Selbach in the middle Mosel.
"Colder nights which slowed down the ripening and preserved acidity and led to a 6-week harvest period. Fruit was perfect, with high physiological ripeness without high sugar ripeness. We had a good acidity, similar to 2012 and 2015" remarked Cornelius Dönnhoff in the Nahe.
"When I look at what we have in the cellar, I am completely happy. The fruit was insane, and so balanced" said Georg Rumpf of Kruger-Rumpf in the Nahe. The wines have freshness as well as good physiological ripeness without being creamy. The mostly dry conditions and sunny but cooler weather during harvest gave wonderfully clean fruit. Martin Franzen of Müller-Catoir said "It's a very open and very clear character with a lot of depth. At first, I thought they lacked minerality, but with time the minerality has arrived in the cellar. A little bit rounder than 2019, but they are a very good combination of ripeness and balance."
The small number of 2020s that we have been able to taste thus far have been exciting. 2020 is crisp, a bit sleeker and more elegant than the 2018 vintage, not quite as powerful as 2019. The wines of 2020 are not big, meaty wines; they are juicy, succulent and draw you in. The moderate alcohol levels coupled with high extracts and good structure will make for excellent near and long term drinking. Growers described 2020 is the most elegant of the last 3 vintages and more "friendly" than 2017, which had higher acidity. Theresa Breuer said "2020 was not too extreme, everything was in a very moderate level. Cold nights at harvest, which means cold mornings and good acidity, but excellent ripeness."
HEAR STRAIGHT FROM THE GROWERS
2020 will be remembered for the many challenges, but growers also saw bright spots: more time in the vineyards, more time at home with family, and now, cellars full of excellent, balanced, and expressive wines:
VON WINNING
Video Length: 13:01
---
DÖNNHOFF
Video Length: 14:23
---
SPREITZER
Video Length: 12:08
---
BRAUNEWELL
Video Length: 10:49
---
SELBACH-OSTER
Video Length: 15:03
---
MÜLLER-CATOIR
Video Length: 9:11
---
DIEL
Video Length: 14:53
---
MINGES
Video Length: 13:22
---
STRUB
Video Length: 10:53
---
KRUGER-RUMPF
Video Length: 12:34
---
GOLDATZEL
Video Length: 8:27
---
DAUTEL
Video Length: 10:24
---
GEORG BREUER
Video Length: 5:15
---
CLICK HERE FOR OUR 2019 GERMANY VINTAGE REPORT
---