Goldatzel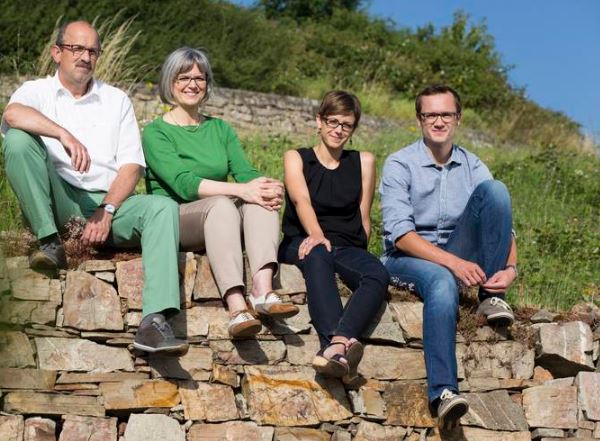 WEINGUT GOLDATZEL
Rheingau
Holdings in the villages of Johannisberg, Winkel and Geisenheim
VINEYARD AREA
12 hectares
ANNUAL PRODUCTION
Between 60,000-75,000
bottles in total
TOP SITES AND SOIL TYPES
Johannisberger Goldatzel (loam, loess, quartzite); Johannisberger Vogelsang (gravel, sandy loam); Johannisberger Hölle (loam, quartza and some iron rich earth); Winkeler Hasensprung (deep loess, loam with chalk, quartz and slate); Geisenheimer Kläuserweg(loam, marl, chalky clay)
GRAPE VARIETIES
80% Riesling, 15% Pinot Noir, 5% other varieties
A newbie!This is a 12-hectare estate that's recently gotten an infusion of energy from young Johannes Gross, who is in his third year post-university (Geisenheim), and who is working seamlessly alongside his parents. I emphasize that; he isn't taking a moribund estate and "rescuing" it, but he is guaranteeing its healthy future and making any number of small impacts. I was tipped off. I went to visit, and met Gross Seniors, and tasted a lot of wines and really liked what I was tasting. So I bought a mixed case and shipped them to myself and drank them over a period of months, just like you guys do, just to see if the wines were truly attractive and interesting as opposed to merely "showing" well. The truth of any wine is not how the first sip tastes, but rather the last. And these were '14s and '13s, two difficult vintages, and every single bottle was delightful, fascinating or both, and all ofthem kept tasting lovely after days open in the fridge.
To the facts at hand. These are what I'd call CLASSIC Rheingau Rieslings, which is to say they are spicy, stoic and firm. The true RG-Riesling is almost never ingratiating, though they are delicious in their cordial ways. They possess another kind of charm; the kind that doesn't care what you think of them. Traditionally this kind of Riesling has always skewed dry, or dry-ish, and these wines are no exception. Nothing here is what any normal taster would call "sweet," even the wines with residual sugar. But they are saturated with personality and with the easy command that makes such wines aristocratic.
There's a bevy of great vineyards: in Geisenheim the supernal Kläuserweg, probably that commune's best site: in Johannisberg the great Hölle, giving rampantly powerful wines from its steep slope, as well as the Goldatzel and its crystalline wines with such fastidious chiseled clarity: finally the (Winkeler) Hasensprung shows as it truly should show and all too rarely does, as its boundaries were absurdly extended by the numbnuts '71 wine law. The family operates an informal restaurant up the hill from Schloss Johannisberg, with a commanding view over the vineyards to the Rhine, and it would have sufficed for the wines to be decently competent, to be consumed by weekenders and gawkers. All the more impressive, therefore, just how serious and impeccable these wines are.
The facts of the matter are, they ferment with both neutral cultures and with ambient yeasts. In principle the wines are whole-cluster pressed, which accounts for their polish and transparency. Wines are made and developed in tanks or casks according to their characters. Fermentation temperatures can be controlled but very seldom are. The family has no "formula" regarding lees-contact, preferring to judge it wine by wine. They bottle on the young side, to preserve primary fruit. Ecologically the estate is classic "sustainable," which means (among other things) that spraying is usually done between 2:00-3:00 in the morning, so as to inhibit unwanted dispersal. "We do not use copper, insecticides, botyticides. If Herbicide is used, it is only underneath the vines and [no more than] once a year; the use is more and more declining." As someone who has long lamented the dearth of new talent in the Rheingau, this was a momentous discovery for me. It is all the more heartening to see them respecting and fulfilling the paradigm for these unique Rieslings, and not seeking to "reinvent" the recipe. I can't wait to taste them with you.
It's a lot of wine(s) but I'm a lot of excited. In time we'll cull away into a steady and sensible assortment. For now, nothing is wasted, everything belongs, and everything is rockin.'
View Producer Site