Dautel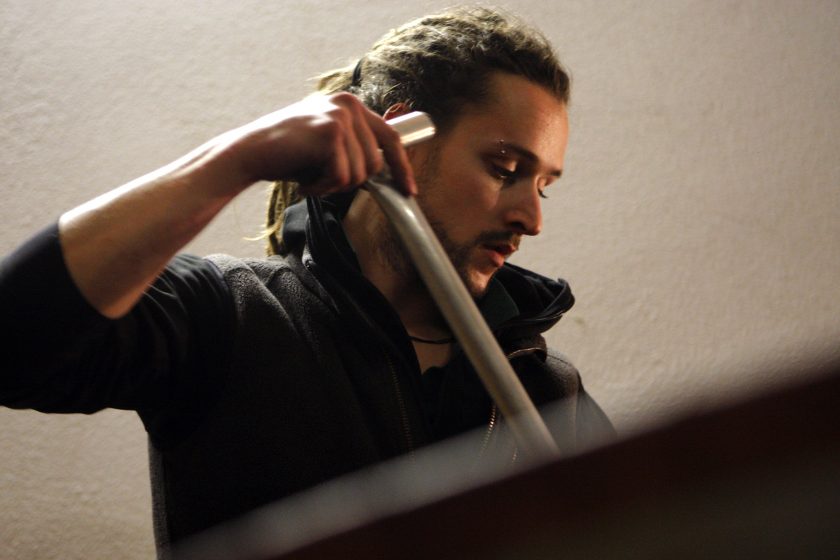 Dautel (20 hectares)
Bönnigheim / Württemberg / Germany
Though Württemberg is not yet well known in the states, the Dautel family is a leading producer with grape growing history going back 500 years.  Like many estates, the previous story was one of mixed agriculture. The region is protestant and reformation dictated that property be divided between all children; individual parcels of vineyard land got smaller and smaller with each passing generation. Co-ops were founded and came to dominate the area, the idea being that the smaller plots of land could be reunited through production rather than ownership.
The region itself is marked by ancient, very steep terraced vineyards, among the most beautiful and forbidding you'll see in Germany, including the Mosel-terrasen. These steep vineyards hug the Neckar and Ahr rivers while the rest of the region, similar to Austria's Weinvertel region, consists of a rolling landscape with isolated steeper hillsides. Soils range from calcareous marl, Gipskeuper (deeper clay with a high gypsum content, which is common in Franken), a rare soil called Schilfsandstein (reed sandstone) which is a hard yellow-ish sandstone often used in building construction, and our old pal Muschelkalk which, as you know, means "fossil-bearing limestone."
"In the 1970s, Württemberg was known for Blue Nun and all that sweet shit and thermo-vinification. It was more or less a bulk production. It was not quality focused. This is more or less the story of German wine after WWII – take Rheinhessen for example. All the wines were sweet, you had to go to Alsace if you wanted dry wines ." says Christian Dautel.
Ernst Dautel, Christian's father, was the first generation in his family to attend winemaking school in Geisenheim in the 1970s.  When he returned home he decided to stop working with the coop, though his father was one of the founding members of the coop in Meimsheim. Ernst didn't want to "throw his fruit in with all the rest and get some bad quality wine out of it." Ernst is an iconoclast and one of the first producers in the Württemberg to estate bottle wines. His wife Hannalore was from Bönnigheim, where the winery is located now, and; they were married in the late 1970s. Their eldest son, Christian, was exposed to wine at a very young age, recounting picnics in the vineyards and family vacations that always included visits to great estates.
"There were only two countries we always went to on holidays – one is called Italy and the other is called France. This was it. My whole childhood I was all the time in wine regions. I was a meter tall and I already saw Cos d'Estournel, La Tour, blah blah blah. My father was – well if you want to put it in a bad way you could say he was a 'copy and paste' man. Everywhere he traveled he saw things and got new experiences. He saw new things and realized 'why can't I do things like this here in my region as well? I have the potential from the vineyards, so why can't I also use why can't I also use oak? Why can't I work in this way, more quality minded? And this is how things started." Says Christian.
Ernst became well known, in part for challenging the status quo in the region but also for making excellent wines, though they were not always regionally accepted.  He joined the VDP in 1999 and the estate remains one of the very best in Württemberg, now under the guidance of Christian, who returned home in 2010.
Christian attended Geisenheim like his father, with Andreas Huetwohl (von Winning) and Georg Rumpf (Kruger-Rumpf). During his studies, Dautel worked with a winemaker named Chris Burke who worked for Laurel Ridge in Oregon but made his own wines under the label "Roots" in the Willamette Valley. "Roots" was made at a custom crush facility where Dominique Lafon was making the Seven Springs wines at this time. There, Christian met Lafon and Christophe Vial, the cellar master for Lafon since 1999. After Oregon, Christian worked at Mount Langi Ghiran in Australia, Saronsberg in South Africa and Weninger in Austria before moving to Mersault in 2009 to work with his friend Christophe at Lafon in Mersault. In 2010 Christian finished his studies and returned home. 2010 was the first vintage that Christian was in charge, though he notes, "It wasn't that I wasn't a part of the winery before. I was always part of the winery, just like my father is still a part of the winery; it's just that the balance was has changed."
Christian is a thoughtful winemaker repeating the refrain we always hear from quality minded growers – "the wines are made in the vineyards". Like other top winemakers from his generation taking over successful wineries from their parents, he has a huge amount of respect for what his father accomplished and sees no need to tear down the work that has been done by making abrupt changes.
Today, Christian farms four Grand Cru (Grosse Lage) sites, Michaelsberg Grosse  Lage (colored  marl), Steingrüben  Grosse Lage  (Schilfsandstein), Schupen Grosse  Lage (Gipskeuper, weathered  limestone) and Forstberg  Grosse  Lage (colored  marl  and  stony  clay with  limestone  inclusions), and two 1er Cru (Erste Lage) sites Sonnenberg  Erste  Lage (Schilfsandstein,  Gipskeuper) and Wurmberg  Erste  Lage (Muschelkalk).
Christian's goal is to continue to bring out the specific character of each terroir without losing the inherent flavor of the grape variety planted to each vineyard. Wines are not made by formula, but by taking in to account the feeling for each site and variety. These are singular wines, unlike anything we've come across in Germany.
Vineyard Area: 20 hectares
Annual Production : 75,000 bottles
Top Sites:

Cleebron Michaelsberg: Grand Cru, colored marl
Bönnigheim Steingrüben: Grand Cru, Schilfsandstein (reed sandstone)
Bönnigheim Schupen: Grand Cru, Gipskeuper, weathered limestone
Oberstenfeld Forstberg: Grand Cru, colored marl and stony clay with limestone inclusions
Bönnigheimer Sonnenberg: 1er Cru, Schilfsandstein "reed sandstone," Gipskeuper
Besigheimer Wurmberg: 1er Cru, fossil-bearing limestone

Grape Varieties: 24% Riesling, 18% Spätburgunder, 16% Lemberger, 12% Weissburgunder, Trollinger,
Cabernet & Chardonnay