---
"I want to deliver rocks and terroir in the glass…" – Joseph Colin
---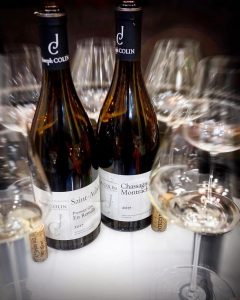 In early March we went live on Instagram with Joseph Colin, the son of Marc Colin & and younger brother of Pierre-Yves Colin. After Pierre-Yves left in 2003 to start his now famous PYCM, Joseph took over Domaine Marc Colin with his two younger siblings, having worked with his father since 1993– at the age of nineteen.
In 2017 Joseph followed in his older brother's footsteps, by peeling over six hectares from the original family property to begin his own story. In the case of the Colin family, the parcels they were given include some of the choicest nuggets of Chardonnay soil on the planet, with the mother lode centered in and around St. Aubin, Puligny, and Chassagne.
Joseph knows the rocks and vines in this white Burgundy mecca like few others, meticulously caring for each parcel like his own personal garden. The wines are all top examples of this most sacred of Chardonnay terroirs, with an electricity and verve that is sought yet so rarely found.
Below, Joseph Colin shares some 30 years of insight into St. Aubin, white Burgundy, farming, and rocks, all to illuminate what makes this kaleidoscope of vineyards and expositions so fascinating.
THE FULL INTERVIEW
A TIMESTAMPED BREAKDOWN OF THE INTERVIEW
0:00​ – Introduction of Joseph Colin & the landscape of St. Aubin
5:12​ – Joseph's beginnings & working with his father, Marc Colin
13:39​ – Joseph on working full-time at the family winery at 19
19:27​ – On developing his own practices for farming & winemaking
22:32​ – On the advantages of using Diam corks
26:58​ – The 2019 Vintage
28:41​ – A note on Aligote 2019
30:38​ – How the extremely hot, dry August of 2019 affected wines
34:31​ – Saint-Aubin 'Compendium'
46:57​ – More on the 2019 Vintage & its affects on Joseph's wines
47:50​ – Saint-Aubin 1er 'Sur le Sentier du Clou'
53:00​ – Saint-Aubin 1er 'Sous Roche Dumay'
58:13​ – Saint-Aubin 1er 'La Chateniere'
1:03:49​ – Saint-Aubin 1er 'En Remilly'
1:09:39​ – Puligny-Montrachet 'Le Trezin'
1:14:36​ – Chassagne-Montrachet
THE WINES