Above: Ludwig Hiedler of Weingut Hiedler in the Kamptal.
After spending the better part of January interviewing growers from all over Germany and Austria, we have a good feeling for the growing conditions of the vintage and what this points to in terms of the general character of the wines. Of course, without traveling, we have tasted precious few wines from 2020, relying on our trusted growers.
Even in normal circumstances, vintage reports paint with a broad brush, so we've also included recordings of the discussions we've had with growers, should you be interested in hearing more granular detail. There were substantial differences in conditions from region to region and even village to village and we encourage you to take a listen when you can. As we taste through the vintage in the coming months we'll add to these notes and our impressions.
---
CLICK HERE TO VIEW OUR 2020 GERMANY VINTAGE REPORT
---
AUSTRIA 2020: A PERFECT COMPLEMENT TO 2019
In Austria, 2020 is quite a departure from the previous two, very warm, vintages. Growers characterized 2020 as "classic"; a cooler vintage with excellent structure, lower overall alcohol levels, high aromatics, and great balance.
The year started with a mild but very dry winter. March warmed and then temperatures fell once again. Growers worried that an early bud-break would create problems with Spring frost. Frost was an issue but varied regionally: the Kamptal was spared but in the neighboring regions of Wagram and Wachau, early April frost-damaged up to 20% of the crop, reducing yields.
COOLER TEMPERATURES & MORE RAINFALL THAN MOST OF EUROPE
Most European wine-producing regions experienced a warm and very dry growing season, but Austria was quite the opposite. Late spring and early summer were cooler than the past few years. Lower temperatures and rainfall in late spring led to a later than average flowering. "We had nice moderate temperatures and good flowering," said Ludwig Hiedler Jr. The average temperatures over the entire growing season were cooler, with a gradual and steady rise over the summer. In 2020, the warmest month was in August, very different than the hot, early summer of 2019.
The vegetation period was also much more wet than the previous years. The Kamptal, for example, had over 50% more precipitation than the 2019 growing season. Bernhard Ott remarked that 2020 was "the first time in 3 years that we had really enough water in late spring and early summer". In the end, the summer never reached the high temperatures of 2018 or 2019.
HAIL IN AUGUST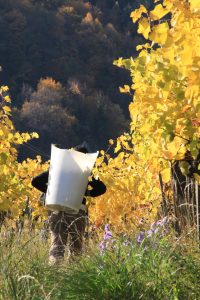 "The summer was not really on the hot side. We had nice warm days, with some cooler days and good rainfall," said Leo Alzinger. "For us, it was nearly perfect conditions to start." Leo and his family returned to the Wachau after a short vacation on the 23rd of August at 3 PM. An hour and a half later, a massive hailstorm swept through the region, moving west from Spitz to Dürnstein.
"In the western part of the Wachau there was 80-90% damage but here in the eastern side, we were relatively lucky," said Alzinger. Nikolaihof was affected by the same hailstorm. "Not every berry was damaged, but for us about 30-40% at Nikolaihof," said Niki Saahs.
REFLECTIONS ON HARVEST 2020
Every grower's approach to harvest is different, an individual plan based on their philosophies and understanding of their particular climactic and vineyard situations. The importance of selection was paramount in 2020, something that growers commented on almost unanimously. "Harvest was very much stop and go," remarked Michael Moosbrugger, marking his 25th vintage at Schloss Gobelsburg. "We always had some rainy periods interspersed with sunny periods, so sorting was important," said Andreas Wickhoff MW, director at Bründlmayer.
"When I was 10 years old, we started harvest in the beginning of October for Grüner Veltliner," said Bernhard Ott. "In 2018, we started on the 28th of August. In 2019, we began on the 10th of September, and in 2020 we started on the 15th of September. So, you can see the difference; it goes more like a normal year."
Because of the need to select out the hail damage, Leo Alzinger noted that "this was the harvest with the highest working hours that we've ever had", a change from the easygoing harvest of the previous year. "This was a challenging vintage," said Ludwig Hiedler Jr. "and not just because of Corona".
In Burgenland, generally a warmer region, both Heidi Schröck and Georg Prieler noted that the wines have a lovely balance between ripe fruit and crisp structure this year. "We had very cool nights and dry weather, which is normal for us," remarked Prieler.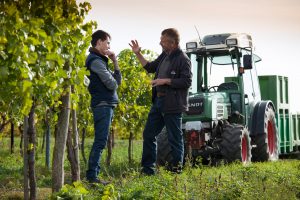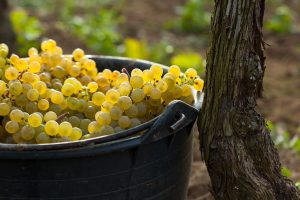 COMPARISONS TO PAST VINTAGES
We heard comparisons to the other cool vintages of the past two decades including 2016, 2013, 2014, 2010, 2008, 2004, 1998. These vintages are generally elegant, long-lived, and with excellent acidity. "It's the kind of vintage that I personally love to drink," said Johannes Hirsch (photos from the harvest at Hirsch below). "The only 'teardrop' is that the quantity is not satisfying," remarked Hiedler.
HEAR STRAIGHT FROM THE GROWERS
Listening to growers compare 2020 to outstanding vintages like 1998 and 2013 has us very excited for the 2020 vintage, which seems to be a perfect complement to the powerful and structured 2019 vintage (click here for the 2019 vintage report) wines we've been thoroughly enjoying for the past ten months.
---
NIKOLAIHOF
Video Length: 25:23
---
ALZINGER
Video Length: 12:08
---
OTT
Video Length: 15:23
---
HIEDLER
Video Length: 16:17
---
GOBELSBURG
Video Length: 9:31
---
PRIELER
Video Length: 4:39
---
HEIDI SCHRÖCK
Video Length: 16:27
---
NIGL
Video Length: 3:42
---