THE SUSTAINABILITY IN SPIRITS SERIES
This is our seventh installment in a series that defines sustainability in spirits and shares some selections from our very own spirits portfolio.
PART I
Square One Organic Spirits
---
---
---
---
---
---
Today we're excited to share the story of. . .
*drumroll*
VICARIO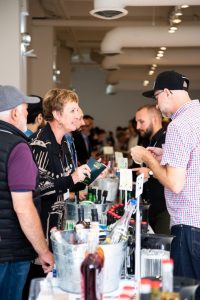 Husband and wife team Renato Vicario and Janette Wesley (Vicario being known as the man who literally wrote the book on "Italian Liqueurs"), source from their organic farms in both Tuscany and South Carolina to create the bold and whimsical Vicario liqueur line. The logo tagline reads "Protecting the Earth for Future Generations", and through their environmental practices and responsible sourcing, they are certainly doing their part.
Vicario uses ingredients that are free of Genetically Modified Organisms (GMOs), and their farms are certified organic from the European Union and the USDA respectively. Additionally, they received the rigorous Oregon Tilth certification for their Greer, South Carolina-based farm. Though "organic" has been a popular buzz-word for many years, less than 1% of U.S. farmland is actually organic so their commitment to the process is still remarkably beyond the norm. Vicario's farming practices are supported by plant-diversity; they do not use chemical pesticides, herbicides, or mass fertilizers. As most domestic corn is a GMO, they instead source their wheat-based distillate from a Connecticut distiller utilizing certified non-GMO grain.
In lieu of these harmful chemicals, houses to attract ladybugs and birds of prey are employed to deter pests such as aphids and rodents. For soil health, all of the organic materials used in their liqueur production are then composted to grow more herbs. The farm's plants and herbs are also perennial, allowing for a low-till farming method. Additionally, beehives are kept on the properties to encourage pollination and when possible, that single nectar honey is used in their Artichoke Liqueur. For herbs that do require sourcing, suppliers are held to similar standards and they seek Fair Trade whenever available.
The hand-harvested and estate-grown Artemisia dragunculus herb (also known as wild tarragon) gave rise to the name of Vicario's Dragoncello Liqueur,  a two-time recipient of the Good Food Foundation's "Good Food Award" in 2016 and 2019. The foundation's mission statement is "build widespread support for growers, ranchers, makers and merchants" who "transform the American food system."
Saluti to Janette and Renato's achievements and transcontinental impact!