THE SUSTAINABILITY IN SPIRITS SERIES
This is our third installment in a series that defines sustainability in spirits and shares some selections from our very own spirits portfolio.
In our first post, we discussed some of the environmental considerations that go into sustainably-produced spirits and shared the story of Square One Organic Spirits, a lineup of vodkas that are made with water from the Teton Mountains and distilled exclusively from Montana-grown rye.
In our last post, we talked about Apologue, a Chicago-based Certified B Corporation that uses all-natural, Non-GMO Project Verified ingredients like fruits, roots, herbs, and barks to create Aronia, Persimmon, Celery Root, and Saffron liqueurs.
PART III
Today we're excited to share the story of. . .
*drumroll*
AZTECA AZUL
In the highlands of Arandas, Jalisco lies Tequila Supremo (commercially known as Casa Camarena), producers of Azteca Azul. Since the inception of their first distillery in 1938, the Camarena family rose to prominence in the agave world to become one of the largest and most respected tequila distillers in the world.
In 2007 the company's engineers developed a patented technology called "ZERO-D Ecological Recovery" which employs a multi-step recycling device. Tequila production notoriously produces a good deal of waste, from the spent agave (known as bagasse), to the highly acidic vinasse which is leftover liquid from the distillation process. Since most tequila distilleries are located near rivers, special care needs to be taken to keep contaminates from public drinking water.
Azteca Azul not only keeps their environment safe from improper waste disposal, but also manages to transform its by-products into useful products.
During the ZERO-D process, vinasse is essentially centrifuged to separate the sugar solid from liquids and further concentrate the sugars by transforming the liquids into steam. Their modern equipment then continues to process those sugars as cattle feed, and the steam is transferred back into the ZERO-D production as liquid gas for tequila production.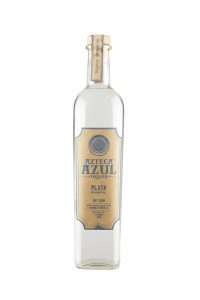 This unaged expression of Azteca Azul has intense aromas of honey and sweet, roasted agave, with citrus notes of grapefruit and floral notes of anise and mint.
It tastes of honey, coconut, banana, and peach.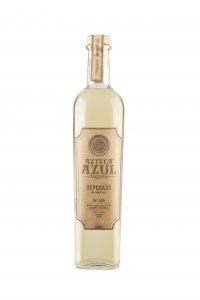 Azteca Azul's Reposado expression is aged for two to three months in small, 200 liter American Oak barrels.
The honey, tropical fruit, and mint present in their Plata Tequila is complimented here by subtle notes of cinnamon and vanilla.
Please remember your local bars and restaurants during this debilitating time for the hospitality industry and its workers!
Many businesses have pivoted to offer spirits and cocktail delivery while shuttered to in-house service; please check in with your favorite watering holes to see how you can support!
PART IV OF OUR SUSTAINABILITY IN SPIRITS SERIES WILL BE RELEASED NEXT WEEK & LINKED HERE!