US-XVL-08-NV
Artichoke Liqueur, Vicario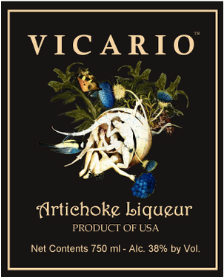 Renato Vicario and Janette Wesley own and operate two organic farms, on both sides of the Atlantic Ocean: in his native Piedmont, and in her native South Carolina. The majority of ingredients used to create Vicario's liqueurs are grown on their own farms. Steeped in regional, mythical, and historical traditions, Vicario Liqueurs are made with the same methods which have been employed for centuries. Minimal filtration and quality ingredients ensure that these delightful spirits are among the most expressive examples in the world.
Producer:
Vintage:
NV
Country:
United States
Region:
South Carolina
Spirit Type:
Liqueur
Spirit Sub Type:
Amaro / Bitter
| | | | |
| --- | --- | --- | --- |
| Sizes Available: | SKU | Case Size | Bottle Size |
| Full Bottle | US-XVL-08-NV | 6 | 750 |
Tasting Notes
Estate grown and hand-harvested artichoke leaves from the Vicario family owned farm in Cortona Italy, then aged and finished in South Carolina, create an extremely interesting liqueur. Artichoke leaves bring a floral, and grassy flavor that dissipates into a persuasive bitterness in this deeply delightful liqueur.
Resources
Request a shelf talker/case card