THE SUSTAINABILITY IN SPIRITS SERIES
This is our fifth installment in a series that defines sustainability in spirits and shares some selections from our very own spirits portfolio.
PART I
Square One Organic Spirits
---
---
---
---
Today we're excited to share the story of. . .
*drumroll*
NOVO FOGO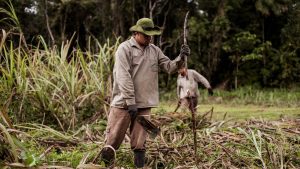 In the heart of the Atlantic Forest in Morretes, Brazil lies the distillery Novo Fogo. This cachaça producer has both a USDA certification in addition to the rigorous French-based ECOCERT which also certifies labor conditions. Their sugarcane farmers harvest by hand and are often described as the unsung heroes of the Novo Fogo story. The work is year-round in rainforest humidity and high temperatures: planting cane, pulling weeds, tilling fields, and machete- harvesting. Novo Fogo commits to the health of their workers through simple practices, providing access to free water and food, providing indoor work when the temperatures peak, and encouraging breaks. They also receive annual raises, child allowances, medical insurance, and in some cases, free housing.
The distillery operates as low-impact and carbon-neutral by reducing what emissions they can and off-setting what they can't. Helping to balance their emissions are the preserved forests on the property, a growing reforestation project, and purchases of carbon offsets through an agency called NativeEnergy. Due to its abundant plant and animal diversity, the Atlantic Forest is designated by UNESCO as the world's second-largest Biosphere Reserve. Novo Fogo has also initiated a project called The Un-Endangered Forest, a reforestation project to plants trees and acts as a steward of the Brazilian jungle. The Atlantic Forest is certainly in need of a steward as it has lost 88% of its original area due to deforestation, threatening 11,000 species of plants and animals as a result. The cachaça industry has historically played a complicit role in this deforestation through the use of endangered trees for barrel aging.
There are, however, legal and responsible ways to use native wood through obeying state and federal laws, understanding the life cycles of trees, and verifying claims of 'sustainability'. The Brazilian government offers a wood certification called the Documento de Origem Florestal (DOF) that ensures ethical and legal practices for coopers and their customers. Novo Fogo verifies their supply chain with the DOF and offers it for their customers' inspection as well when Brazilian wood is used in releases including Graciosa, Colibri, and Tanager. in their Two-Woods Series. In addition to ethical sourcing, the project also rehabs threatened species of endemic trees by planting seeds and saplings in a local nursery at Ekoa Park and eventually planting trees on Novo Fogo's property and with partnering neighbors. With aspirations of national expansion, let's hope that someday The Un-Endangered Forest project fulfills its dreams of restoring the Atlantic Forest to its full glory.