THE SUSTAINABILITY IN SPIRITS SERIES
This is our second installment in a series that defines sustainability in spirits and shares some selections from our very own spirits portfolio.
---
PART I
Square One Organic Spirits
---
Today we're excited to share the story of…
*drumroll*
APOLOGUE
Chicago-based Apologue Spirited Liqueurs employs taglines like "know your spirit" and "transparency throughout." As such, their spirits are made from all-natural, Non-GMO Project Verified ingredients like fruits, roots, herbs and barks—and they even list everything that is in the bottle, on the bottle.
Their spirited liqueurs include Aronia, Persimmon, Saffron, and Celery with ingredients sourced from local and independent farmers whenever possible from farms such as Growing Solutions Farm (a vocational Chicago-based farm) and Nichols Farm & Orchard.
Putting their money to action, Apologue donates 2% of their profits to the community-based organization Advocates for Urban Agriculture, a coalition of urban farms, community and school gardens, and businesses working for sustainable agriculture in the Chicago region.
To top it off, the company also met rigorous standards to become a Certified B Corporation which legally requires employers to "balance purpose and profit" through considering their impact on their workers, suppliers, and community at large. A fine example is their sourcing of the world's most expensive spice for their Saffron Spiced Liqueur from U.S. veteran-owned Rumi Spice. This fellow Certified B Corporation employs over 3,750 women and farmers in Herat, Afghanistan to harvest the delicate flower stigmas and bolster rural economic development outside of the illicit Opium poppy trade.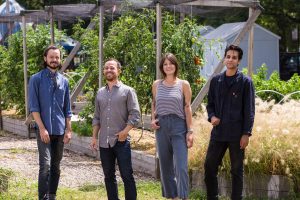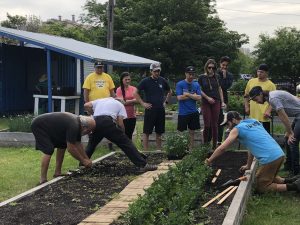 The Apologue crew (left) at their annual planting/volunteer day at Growing Solutions Farm (right), a vocational farm for young adults with autism. Photo courtesy of Jordan Tepper.