It's fascinating to see how designers and artists, when presented with the same limitations, can come up with endlessly varying solutions to a problem. Though at Skurnik we never consider a Spritz a problem—this refreshing and low-ABV beverage can only make things better, in our opinion—we thought it might be fun to see how the members of our Spirits Team, each with an individual approach to cocktailing, might create a Spritz recipe when following the same set of rules.
In this case, one rule in particular: each Spritz must contain Giffard Crème de Pamplemousse Rosé, one of our favorite and most versatile fruit liqueurs. Beyond that, anything goes as long as the resulting drink can still be (at least arguably) considered a Spritz. In the hopes that this exercise would prove a reminder that even the most iconic drinks allow compelling room for personalization, the first Skurnik Intramural Cocktail Challenge commenced.
HOW DO WE DEFINE A SPRITZ?
The classic, Venetian rendition of this easy to make (and even easier to drink) Italian aperitivo calls for a combination of bitter liqueur, sparkling wine, and club soda. For example:
Combine all ingredients in a wine glass with ice and stir lightly to incorporate. Garnish with an orange slice.
By any definition, a Spritz must have an element of effervescence and also include a bitter component (the level of bitterness is a matter of personal taste). Ideally, it should retain a relatively low alcohol content making it a sessionable cocktail appropriate for afternoon refreshment and evening revelry alike.
With these things in mind, here are the team's submissions:
ADAM SCHUMAN
Spirits Portfolio Manager

Because fruity, pithy apples rule! Capitalizing on seasonality, this recipe blends citrus with the warm and wintery (it feels like fall out?) flavors of New Hampshire cider, and a savory and zesty, mildly oxidative kiss of sherry. 'Tis the season…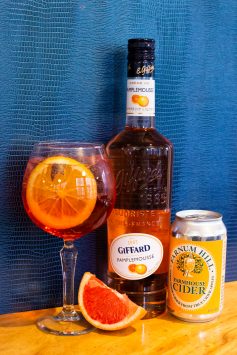 Farmhouse Flor

Build in a wine glass over ice. Garnish with a whole piece of star anise and an orange twist.

JUSTIN LANE BRIGGS
Spirits Specialist & Educator

I love how the bittersweet pith qualities in the Pamplemousse highlight and complement the vegetal, bittersweet and dry notes of the Rhum; like a light Agricole Paloma. Quinine from the tonic stands in for the bittering element of a more traditional Spritz. The name is a nod to the (still shocking) Italian cuisine-and-ritual documentary Mondo Cane.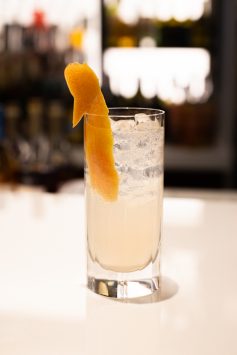 Mondo Cane

Top with Fever Tree Indian Tonic. Garnish with a long grapefruit twist.

AMANDA ELDER
Spirits Bar Manager, NYC

Inspired by the broiled grapefruit topped with sugar and spice that my family always enjoys at Christmastime. I wanted to play up the jammy and warming possibilities of winter fruit, which this Ruby Port does perfectly. Just a few drops of Jamaican rum amplify those ripe fruit notes while ensuring that the drink doesn't lean too rich. I also like the nod to Christmas punches which often employ rum, historically.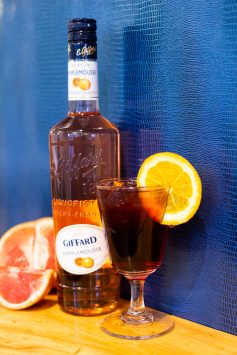 Sprickens (a Dickens-Inspired Spritz)

Build ingredients over ice in a wine glass and stir lightly to incorporate. Garnish with an orange wheel or grapefruit twist.

JAKE CAHILL
Spirits Specialist & Educator

Named after the 1978 World Cup match where Italy prevailed over France with a score of 2–1. Starting as a bitter rivalry and ending in a sweet victory for Italy. This is an all-season spritz that's bitter enough to fortify you during the colder months yet refreshing enough to keep your thirst at bay during those summer scorchers. These are some of my favorite bitter spirits in one glass brightened by the distinctive Pamplemousse.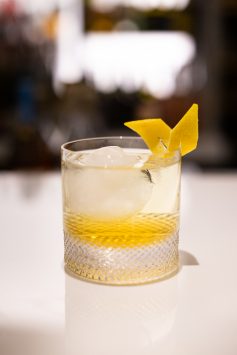 The '78 World Cup 

Build in a double rocks glass over ice and top with Prosecco. Garnish with a lemon twist.

KRISTA FARRELL
Spirits Specialist & Educator

Herbaceous undertones from the tarragon-forward Dragoncello liqueur pair magically with the ripe strawberry of Pinot Project's French Rosé. The Giffard Ginger lends a pleasant spicy note and a hint of vanilla. The added dash of citrus pith from the orange bitters balances out the sweetness with a heightened overall profile enhanced by a pinch of flaky sea salt. And then you literally 'top it off' with the essential spritz of soda water!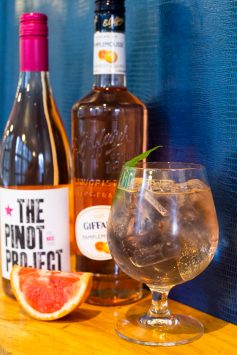 Top That

Build in a wine glass over ice and top with 1 oz of club soda. Garnish with a basil leaf.