Every city is full of stories, written in the architecture of its streets and buildings. Some of these stories speak to the inspiration and ingenuity inherent in building a pulsing infrastructure of steel, stone, and human interaction. Equally inherent, however, are stories of a darker subject matter. Murder, mayhem, and misconduct are the themes with which we concern ourselves this Halloween, and these subjects merit consideration with a cocktail in hand.
The following drinks have all been inspired by the larger-than-life characters that colored the Plaza Hotel's early history and some of the cocktail templates that are known to have been served at this historic establishment throughout the years.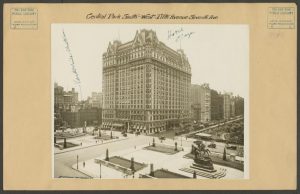 THE RICH HISTORY OF THE PLAZA HOTEL
Since the early days of New York City, hotels have served as urban temples, setting the standard for stylish society and establishing a headquarters for the intellectually elite. No hotel can boast this more than the Plaza, situated at the southern end of Central Park on the corner of 5th Avenue and 59th Streets. Although veteran New Yorkers might not even register the hotel's French château-inspired façade while they navigate the traffic-choked sidewalks that encircle the exterior, it serves well to remember that the building is more than simply an iconic backdrop for tourist's selfies.
For over 100 years, the hotel has played host to magnates and royalty, figuring prominently in the stories of F. Scott Fitzgerald, weathering the cocktailing dark days of Prohibition, and giving shelter to Frank Lloyd Wright as he designed the Guggenheim. From Truman Capote's infamous Black and White Ball to Chapter 11 proceedings resulting from Trump's mismanagement of the hotel in the '90s, social and political intrigue have continuously found a stage here, and death has been ever-present in the wings.
---
A BUILDING PAID FOR IN BLOOD
The first building to boast the Plaza's name was built on the same site in 1890 but was demolished fifteen years later to make way for the current structure. The new, opulent hotel opened in 1907 to world-wide applause, and at the time, was the most expensive building to ever be built in New York. It boasted Alfred Gwynne Vanderbilt as its inaugural guest. Only 8 years later, Vanderbilt would meet his demise on the Lusitania, the luxury ocean liner infamously gunned down by a German U-boat off the southern coast of Ireland. Although this tragic inevitability may have hung invisibly overhead as Vanderbilt signed the pristine guest ledger, a portent of doom had already visited the hotel, long before the first guest stepped foot inside.
During the building's construction, tensions arose between the ironworker's union, entrusted with erecting the Plaza's 18 floors of steel girding, and the less expensive, non-union laborers that had been hired for simpler ironwork to offset the union's hourly wage. On the morning of July 1906, Michael Butler, one of the retired policemen that had been hired to keep the peace between the two factions, was struck in the head with a heavy metal bolt before being rendered unconscious by a number of frustrated ironworkers. He was thrown from the 8th story through a hole in the unfinished flooring, falling to the 6th floor. Though other patrolmen were injured that day, Butler was the only one that succumbed to his injuries and died in hospital. A highly publicized trial ensued, but Butler's death was eventually declared an accident. Not surprisingly, none of the ironworkers claimed to have witnessed any acts of violence.
Though the Plaza's opening day may have been heralded with bottles of bubbly, it was tinged with a violent act that would mark only the beginning of union tensions at both the Plaza and within the city at large. And so, we mark this event with a deconstructed version of a Negroni Sbagliato:

Negroni "Incidente"
In a mixing glass, combine Lustau Vermut, Caffo Red Bitter, and Giffard Passion Fruit. Stir briefly with ice and strain into a small serving vessel. In a coupe, pour 4 oz of Prosecco. For presentation, slowly pour the blood-red mixture into the Prosecco. Garnish with an orange twist and enjoy, but watch out for holes in the floor…
---
THE 39 WIDOWS
From the very beginning, the Plaza was home to permanent residents as well as nightly guests. When the hotel operated in the red during the Great Depression and the financially lean years of the 1970s, the business stayed afloat, in part, due to the steady rent supplied by the "39 Widows", a group of older, wealthy women that lived (and often died) within their Plaza apartments over the years. A notoriously feisty bunch, these women were eccentric and demanding. One of the most infamous residents, Fannie Lowenstein, is purported to have relieved herself on The Palm Court's carpet during a particularly cantankerous fit. Her ghost is still sometimes blamed when things in the hotel go awry.
We raise a glass to all of the women that colored the Plaza's narrative over the years with this variation on a Pink Lady: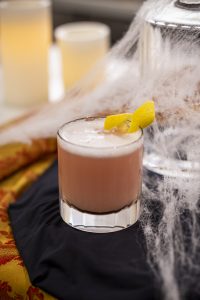 Red Lady
Combine all ingredients in a mixing tin and shake without ice to emulsify the egg white. Add ice and shake vigorously. Double-strain into a rocks glass or coupe and garnish with grated cinnamon or a lemon twist.
---
MR. BLACK
Harry S. Black was one of the visionaries of the Plaza Hotel, along with his partner, Bernhard Beineke (who passed away, surrounded by family, at the age of 86 in his Plaza suite). Throughout his larger-than-life career as a New York real estate mogul, Black was known to be gregarious, clever, and charismatic, not to mention quite a hit with the ladies. While the hotel struggled to attract guests after Prohibition, substituting tea hours for cocktail parties, Black seemed to have no trouble procuring his fair share of contraband whiskey. In 1921, his Pullman sleeper was raided by Prohibition agents in Coconut Grove, Florida, and $8,000 of illegal liquor was discovered peppered throughout the car in secret compartments. During Black's trial, the jury assigned to the case thoroughly "inspected" the illegal goods and promptly returned with a unanimous verdict of not guilty.
The stock market crash of 1929, however, would spark Black's demise. After years of feverish investment in a number of hotel ventures, sometimes relying on stock options to gain funding for projects such as the Savoy-Plaza, the pall of impending financial doom proved too much for the city's most successful landlord and on October 18th, he attempted to drown himself in the bathtub of his Plaza suite, just floors above the famous Oak Room wherein the bar had recently been converted to a brokerage office and where many anxiously gathered to watch stock numbers plummet. Black was eventually revived but he never fully recovered, and months later, he succeeded in committing suicide by gunshot in his Long Island Mansion.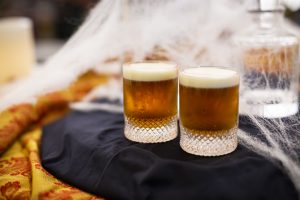 Combine all ingredients in a mixing glass and stir with ice. Strain equally into 2 demitasse cups or shot glasses, and layer with absinthe whipped cream* and a slash of Peychaud's Bitters.
 *Absinthe Whipped Cream
In a mixing tin, combine 4 oz chilled, heavy whipping cream, ¼ oz Mata Hari Bohemian Absinthe, and ¼ oz J.M Sirop de Canne. Shake vigorously until cream is loosely whipped, and slowly pour over the "coffees".
---
"MORE APPROPRIATE AT A GANGSTER'S FUNERAL"

The first and perhaps most famous of the Plaza's 39 Widows was a daughter of one of Kentucky's wealthiest families named Clara Bell Walsh. Walsh is dubiously credited with holding the first-ever cocktail party, a lavish affair that required its guests to dress according to a "kindergarten" theme and drink martinis served in baby bottles. It would be a few years later that Walsh settled in at the Plaza, always maintaining her status as a widow (even if her husband died seven years after their divorce).
In 1957, a grand party was thrown in honor of Walsh's birthday, and she is quoted as saying that the bouquets of snapdragons adorning the room were "more appropriate at a gangster's funeral." She was observed to be in excellent health at the time of the party, eating what she liked and, as usual, drinking only bourbon. But this would be the final grand show of one of the Plaza's great ladies. Five months later, Clara Walsh died of natural causes in her Plaza suite at an age she had insisted, to one reporter, was "none of your business."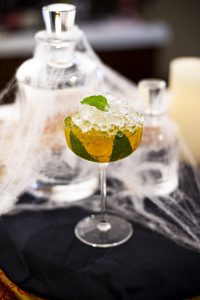 Snapdragon Julep
½ tsp J.M Sirop de Canne (or rich cane syrup)
9 mint leaves
In a mixing glass, briefly stir first three ingredients and 3 mint leaves with ice. Strain into a cocktail glass that has been lined with 5 beautiful mint leaves and filled with crushed ice. Top with the final mint leaf.
---
A building—even one so beautifully appointed as New York's Plaza Hotel—stands simply as a holding place for the people and events it has witnessed throughout the years. The next time you find yourself shuffling through the crowds in front of this historic hotel's ornate doors, take a moment to consider those that might still wander its legendary halls. 
---
A special thank you to
"The Plaza: The Secret Life of America's Most Famous Hotel" by Julie Satow,
The New York Times,
and The New York Public Library Digital Collection.