Domaine de Montreuil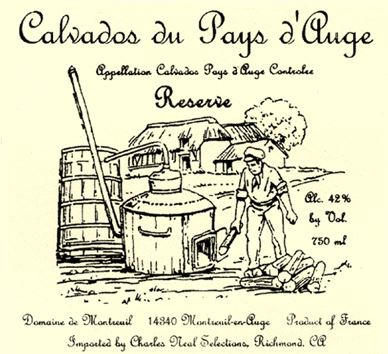 This project, a collaborative effort between Charles Neal and Patrice Giard, began in 2006 at the Giard family's Calvados estate, located in the Pays d'Auge. While the two were working on that year's distillation, they began to taste through different barrels together, gradually hatching a plan to create the best possible combination of younger spirits.
Patrice Giard, the current proprietor of Domaine de Montreuil, can trace his family lineage in the region back twelve generations to the 1700's. The family has 30 hectares (74 acres) of orchards, planted entirely in the traditional, free-standing haute-tige method, making for a total of about 3,000 trees.
As with preceding generations, Giard waits for the fruit to fall, then collects it after it has been on the ground. The cider ferments sur lie in well-seasoned tonneau and stays in the large barrel for one year prior to distillation. After being double distilled, the new spirit goes into a variety of well-seasoned oak casks; Giard prefers to refinish the ends of some barrels rather than buy new wood. These barrels are emptied and refilled every couple of years, gradually reducing them with rainwater until they reach 42% alcohol.
The apples are a mixture of the four categories: sweet, bittersweet, acidic and bitter composed of numerous varieties including Domaine, Bedan, Fagotier, St. Philbert, Frequin Rouge, and the acidic Rimbault, Petit Jaune, and Blanc Sur.