This Halloween, why not blow your inner 12-year-old's mind by dovetailing the holiday's most nostalgic candy flavors with complementary or contrasting spirits?
These compelling flavor combinations can add dimension to classic cocktails and candies alike.
And who doesn't like to be startled by a new dimension on the scariest night of the year?
---
It is a truth universally acknowledged that Halloween candy isn't just for children. Whether you're "helping" to diminish the booty collected by your own kids (a noble effort in the valiant fight against that most frightening of monsters, the cavity), or you find yourself with surplus stock having overestimated your trick-or-treat foot traffic, or even if pretense was thrown out the window many full moons ago and you simply love to nibble on tiny versions of your favorite sweet treats, let's face it—grown-ups are a meaningful demographic in each year's candy-consumption numbers.
And this is one of those moments when being a grown-up pays off best! Not only can we munch on mini candy bars until we're sick to our stomachs and full of deep regret (nobody tells us what to do!), we can also, if the fancy strikes us, pair these satanically saccharin nuggets with a tipple or two.
COCKTAILS & CANDY – TIPS & TRICKS
Below are just a few examples of cocktail/candy pairings—but don't feel the need to stop there. If you find yourself experimenting with sweets and spirits, here are a couple pieces of advice:
THE PB&J ADONIS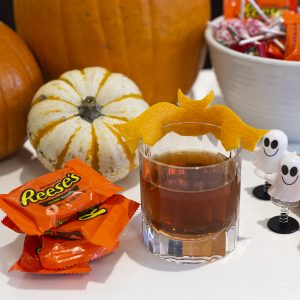 PAIRED CANDY: Reese's Peanut Butter Cup
Combine ingredients in a mixing glass and stir with ice. Strain neat into a small rocks glass and garnish with an orange twist.
This gussied up version of a classic Adonis cocktail features aquavit infused with strawberries and rhubarb picked at the height of summer. These bright, fruity notes pair beautifully with the chocolate, while a dry and nutty sherry highlights a touch of salt in the peanut butter cup that you may never have realized was there.
Savory botanicals in the aquavit and vermouth offer sharp contrast and structure. As a bonus, this cocktail will only get better as it warms up. Munch and sip, back and forth, and see how the flavors evolve.
THE STINGER ROYALE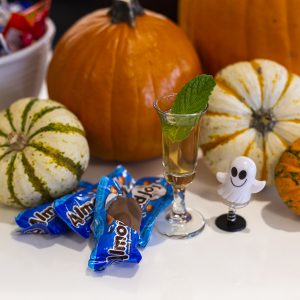 PAIRED CANDY: Almond Joy
Combine ingredients in a mixing glass and stir with ice. Strain into a coupe or divide into four cordial glasses. Garnish with a sprig of mint (optional).
Cognac Park's VSOP Cognac is just sultry enough to provide the proper weight to this drink, and by making it a Stinger Royale (adding absinthe) even more baking spice complexity shines through. It is the addition of this absinthe that really makes the Almond Joy pairing pop.
Made in the Bohemian style, Mata Hari exhibits a bit less anise and a bit more cinnamon than its French-style counterparts, and we've used a slightly heavier hand in our dashes to ensure that both the spice— and the way the spice highlights the pleasant acidity of the cognac— shines through as you take a bite of the almond joy. The nuts and creamy coconut call back to notes of marzipan in the brandy, while a hint of baking spice lingers and brings the chocolate along for the ride. This drink works beautifully as a single serving, or as a small and cheeky digestif, should you find yourself willing to share with friends…
THE SUGAR RUSSIAN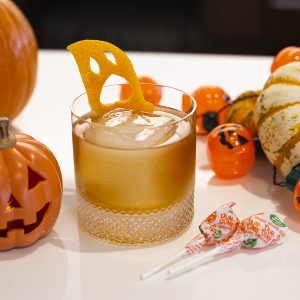 PAIRED CANDY: Orange Dum Dum
Combine ingredients in a mixing glass and stir briefly with ice. Serve in a rocks glass over ice with an orange twist.
Let's face it—old-school suckers aren't the sexiest candy in the bowl. We often end up with a surplus after all the most popular sweets have gone and end up begrudgingly unwrapping one of these guys, simply because it's there. But you'll be surprised by what a good cocktail pairing can do to your perspective of these ostracized orange orbs; before you know it, you'll be hiding them in random cupboards so that you don't have to share.
We've essentially taken a classic Black Russian (two parts vodka to one part coffee liqueur) and put a spell of awesomeness on it. By subbing out just a little vodka with a fruity and funky rum, using a dynamite coffee liqueur, and dividing some of that modifying power with a medium-bitter and minty amaro, we've created a boozy but balanced dessert drink that simply sings when you alternate each sip with an orange candy. The rum makes fruit notes blossom while rich coffee frames every sip, and the Dum Dum and amaro contribute complex finishing notes that manage to prevent the palate from feeling sweet.
THE RAINBOW GIN FIZZ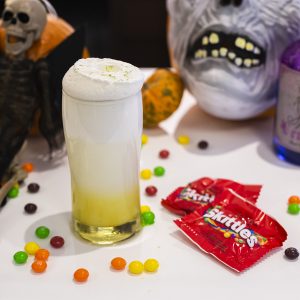 PAIRED CANDY: Skittles
Chill a highball glass and set aside. Combine egg white, gin, orange liqueur, and simple syrup in a mixing tin. Keeping your tin closed firmly, dry shake (no ice) briefly to combine ingredients and emulsify egg. Add approximately 2 oz of crushed or regular ice (about 3 cubes if using regular freezer tray ice) and shake until the ice is almost melted. Add cream and hard shake until you hear the mixture thicken—you are essentially creating a meringue. Add an ounce of club soda to the highball glass and top with the contents of the tin. No straining necessary. Let sit for a moment while the meringue firms, then slowly top with more club soda until the foam begins to rise beyond the sides of the glass. Go as high as you dare, then garnish with grated lime zest.
Okay, so we went a little fancy with this last one, but what drink, other than a Ramos Gin Fizz, would befit a candy that features every flavor in the rainbow?! Besides the stark and compelling visual contrast of an all-white drink and a torrent of colorful candy, this pairing is an excellent example of echoing flavors; we quadruple down on the citrus and lemongrass-forward notes of the Skittles with a drink that features zesty orange liqueur and fresh lime. A piquant gin amplifies these flavors while the meringue tempers the overall acidity of the pairing just enough to keep you coming back again and again.
---
Try your hand this weekend at combining the candy in your bowl, bag, or basket with your favorite spirits!
Killer combinations are just around the corner…
---