Cognac Park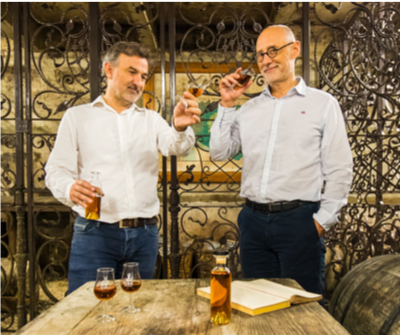 Cognac Park is the flagship brand of Distillerie Tessendier, a Cognac house established in 1880. Today, in its fourth generation of ownership, the Tessendier Estate maintains vineyards on more than 60 acres in the heart of one of the most exclusive growing areas of Cognac: Borderies. With an intense focus on terroir, brothers and Master Blenders Lilian and Jérôme Tessendier expertly compose their blends with extreme attention to detail at their Jarnac distillery, which is also home to 14 aging cellars containing around 20,000 barrels.
The wines used in the distillation of Cognac Park come from four crus within the Cognac region: Grand Champagne, Petite Champagne, Borderies, and Fins Bois. Each year, the Tessendier family distills its Cognacs from the 3000 hectoliters of wine produced on its own estate in Borderies and buys another 40,000 hectoliters from winemakers in the other crus, maintaining relationships that span several generations.
Tessendier brothers Jérôme and Lilian possess an uncanny ability to create clear, expressive, unadulterated Cognacs that speak to all people at an affordable price, while still highlighting the finest and most complex qualities of the spirit in the process. Together, they have become pioneers of craft Cognac.