For as long as the human race has been ingenious enough to make beverages out of unlikely plants and strange-smelling ferments, coffee and alcohol have stood as the twin potable pillars of cultured society.
---
Although coffee lives at the center of many a morning ritual, and spirits tend to dwell in the happy hours of our hearts, it is the power of these two elements combined that continue to capture the imaginations of consumers and hospitality professionals alike. And why not? The two beverages have been in cahoots for decades.
In Europe, alcohol and coffee have jockeyed for position in daily routine since coffee came on the scene in the 17th century. Bit by bit, coffee began to replace beer and wine as the breakfast beverage of choice (and substituting the more tranquilizing qualities of alcohol with a stimulant must have made people feel like they had super-powers), but by the 19th century, alcohol in the form of distillates snuck back into people's coffee cups for a variety of reasons.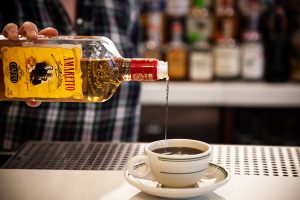 In Italy, this marriage is known as the Caffè Corretto, or corrected coffee. The Fascist era of the 1930's resulted in a lack of quality coffee, and underwhelming brews benefited from the addition of spirits such as Grappa or Anisette—the distillate of choice varied depending on region. Although younger generations of Italians don't utilize this technique as much as their grandparents may have, to walk into a bar in Italy is to be welcomed by the enticing aroma of a freshly pulled espresso and a tantalizing back bar of amari and other assorted spirits. The destination for either is usually one and the same.
In Spain, this practice is embodied by the drink known as a Carajillo, argued by some to originate with the Spanish occupation of Cuba. Troops were given rum in their coffee for courage, of which the Spanish translation is coraje. The Mexican adaptation of the carajillo is a specific combination of espresso and Licor 43, a vanilla-forward, Spanish liqueur. This duo is often served unapologetically on the rocks, layered in a style similar to a Pousse Café (even this is a French invention of layered liqueurs served after-dinner and meaning "coffee pusher"—another example of the ever-present interplay between coffee and spirits!)
In France, there is the Café Calva, which is often served after a long meal. A restrained quarter ounce of Calvados is added to un café to aid digestion. In southern Gascony, the home of Armagnac, it is not uncommon to take a cup recently unburdened of its delicious coffee and add a touch of brandy. The Armagnac is warmed lightly by the cup, releasing its aromatics.
Perhaps the most playful (and boozy) combination is the Scandinavian practice of Kaffepunch. For this, take a demitasse cup and place within it the most conveniently located coin (a Krone, if we're keeping with tradition). Fill the cup with coffee until you can no longer see the coin, then continue to fill with schnapps or aquavit until the coin is visible once more. This is obviously not a blend for the casual connoisseur.
Around the world, coffee and spirits are two intrinsic elements of the greater art of living well, woven together like threads in a carefully composed tapestry. Stateside, however, our relationship with these potables has historically been more akin to that of teenagers at a middle school dance; they sway to a similar rhythm, but a respectable space is often encouraged in between.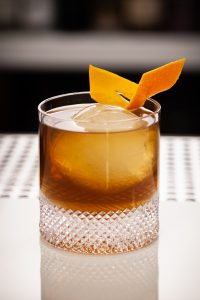 Perhaps it is our historic separation of these two ritualistic drinking practices in the US (an intriguing rabbit-hole of a subject for another time) that has resulted in a persisting sense of novelty when the two are seen together. Whether or not the attraction is conscious, the two are often met with delight when paired in cocktail form, and never more than now. With the increasing availability of quality coffee, cold brews, and coffee liqueurs, the temptation to revisit old cocktail recipes and create new ones has never been stronger. Even Starbucks, the coffee Goliath, has leaned into the game, having recently opened a flagship roastery and cocktail bar here in NY.
This attractive pairing, of course, is nothing new to bartenders in the know. Much has been written on the correlations between coffee and cocktail-making culture, and bartender Troy Sidle has been quoted often on the subject. During his tenure at acclaimed Chicago bar The Violet Hour, Troy was compelled to also start working at the destination coffee bar, Star Lounge, albeit drawn—quite practically—by the need for a second gig. "My only endgame was to pay rent. At The Violet Hour, there wasn't an option to work full time. And I didn't want to work at another cocktail bar. So, a different craft but within the service industry seemed ideal precisely because of the parallels. One day I was working a coffee shift at Star Lounge which happened to be a converted old Chicago bar and a customer said something about us fancy baristas. And I told him the word barista is really the Italian word for bartender. He said, 'I wonder what a real bartender would say about that.' My coworker chimed in, 'He is a real bartender.'"
The parallels that Sidle mentions speak to the heart of the bartender/barista dynamic. "They're both incredibly difficult skills to master and I continue to work on those skills every day," says Sidle. "As careers, there are [present] all the other components besides making great drinks—caring for guests, ergonomics and bar design, ordering, equipment care. And when it comes to the nerdy stuff, the liquid, learning about the volatility of fresh lime juice translates to the volatility of the aromatics of a freshly brewed pour over." For a hospitality professional, these nuances of service are universal.
As Americans continue to negotiate their relationship with coffee and alcohol—regardless of which side of the bar they inhabit—both classic combinations and new concoctions are available to invigorate both mind and body. But before we take a look at some examples, a friendly PSA: we would be remiss in not mentioning the potentially risky nature of combining alcohol and caffeine. The CDC clearly states that caffeine can mask the depressant effects of alcohol, making drinkers feel more alert than they would otherwise. In addition, coffee does not affect the body's metabolism of alcohol or counteract impairment in any way. In short, conscientious consumption, as always, is paramount. And stay away from those alcoholic energy drinks, Kids—no need to offend both your body and your palate.
Now that that's out of the way, let's look at a few of the many recipes in the world of coffee cocktails.
The Deceiving Simplicity of the Irish Coffee
Despite its simple recipe, the Irish Coffee is an easy cocktail to mess up. Much like an Old Fashioned or a Daiquiri, the success of this drink is dependent entirely upon the quality of your ingredients and how well they are balanced. Old or bitter coffee, a sub-par whiskey, too much sugar or a negligently made whipped cream—any one of these can scuttle the whole enterprise.
That having been said, part of why we love this drink is it ability, in mere moments and with minimal effort, to transform the drinker from bone-weary to warm and revivified.