Last summer, in our post "Boozy Popsicles and Blended Drinks", we explored options for beating the heat with a variety of ice-cold cocktails. Now, as the season's inaugural beads of sweat form on our brows, we thought it appropriate to roll up our sleeves once more, crank up that AC, and look at some options for fostering conviviality no matter how high the numbers rise on that dreaded thermostat.
Slushies for Life
It's difficult not to conjure mirage-like visions of fruity, frozen concoctions when the summer sun bears down. In fact, so effective is a frozen cocktail at transporting a drinker to a vacation wonderland of temperate breezes and lapping waves, that it really doesn't matter the season—a rising number of cocktail bars offer rotating frozen drinks pulled from a slushy machine year-round. Long gone is the stereotype that slushies must be syrup-heavy, listless versions of classic cocktails. Bars across the country recognize that—as ever—a well-balanced blend of ingredients can yield a sophisticated drink that is light on its feet. And as a bonus, these frozen delights save time and energy with their ability to be batched before service.
Before you pull out those paper umbrellas, however, a few words of advice go a long way towards slushy success. If you take a recipe for a well-balanced shaken cocktail and pour it directly into a blender or slushy machine, you'll be sorely disappointed with the result. The added component of all that ice requires a little finessing but is easily managed.
Jeremy Oertel, co-owner of Donna Cocktail Club in Brooklyn and mixologist for the SoHo Grand and Roxy Hotel, is no stranger to the mathematical hurdles of batching successful slushies, but his approach is reassuringly straightforward. "I usually just start with a regular cocktail recipe," says Oertel. "From there I try to make it a little sweeter than a single recipe and a little lower in alcohol. When batching, I also add in water for dilution, usually somewhere around 2 to 2.5 parts in a recipe. From there I just try it out and tinker with it until it tastes good and freezes up properly. If it doesn't freeze enough it usually means there's too much sugar or alcohol. If it freezes too much then it needs more alcohol or sugar."
Paying attention to these factors of alcohol, water, and sugar are essential. Both sugar and alcohol will reduce the freezing point of your slushy, compounding the detrimental effects of too much liquid. Not enough of your flavoring components, however, result in a dull or imbalanced drink. Base spirits that are high in alcohol, sugar, or both allow the use of less liquid while still packing in the flavor.
Ryan Hazen, co-owner of Lost Lady in the East Village, contributes some additional and very practical advice. When using spicy components, be cautious. Spice will be amplified by the reduced temperature, so scale back. Don't commit to large batches until you've really dialed in those proportions, and when batching, pay close attention. "It's easy for someone to ask you a question and divert your attention while you're batching, and then you look down and wonder what the hell you put in there."
Ryan also dials back alcohol and adds water to the batches to ensure ideal dilution for freezing (his rule of thumb is about 1 oz of water per cocktail), but in the adventurous undertaking of slushy preparation, no rule is hard and fast. With a gleam in his eye, Ryan admits that he keeps the rum in Lost Lady's signature frozen Mai Tai at a fortifying 2 ounces per cocktail:
Lost Lady Mai Tai
16oz Plantation 3 Star Rum
16oz Real McCoy 12yr Rum
32oz fresh lime juice
16oz Shrubb J.M
16oz Orgeat
16oz cane syrup
32oz water
Yields 32 servings at 8 ounces each.
Not quite ready to fire up a slushy machine but have a blender handy? We recommend a flip through Dave Arnold's tome, Liquid Intelligence, for cocktail math that would make any Excel spreadsheet blush. Amongst breakdowns of the molecular reasoning behind his many useful frozen recipes, he offers a template for a blender sour guaranteed to result in the slushy texture that frozen dreams are made of:
2 ¼ oz Alcohol that together averages about 80 proof
½ oz Citrus
4 oz Ice
2-5 drops Saline Solution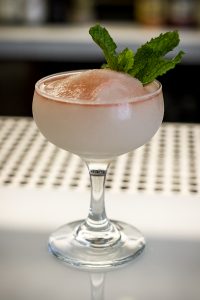 We applied this recipe to summer in a glass, otherwise known as a Rhubarb Daiquiri:
Rhubarb Daiquiri
¾ oz Giffard Rhubarbe Liqueur
4 oz ice
3 drops saline solution
(Peychaud's Bitters added for color)
Arnold argues that blenders don't usually do well mixing only one drink at a time, so it's best to make at least two. Who are we to argue?
Before moving on to other categories of palm tree-appropriate palliatives, we offer one last word of handy advice from Lost Lady's Ryan Hazen: "Don't drink too fast; you might make your head hurt. And have fun – it's a slushy machine."
Crushed Ice and the Cunning Colada
Few cocktails are met with more distrust than the Piña Colada. If one of the greatest offenses a cocktail can commit these days is to be overly sweet, then the Piña Colada has all the potential to be a lifelong yardbird. The original Piña Colada is a sultry combo of pineapple (of course), that magical invention of the 1950's known as Coco López Coconut Cream, Puerto Rican Rum, and crushed ice. The lack of a sour component certainly causes this drink to skew rich, but that didn't keep it from becoming a cultural phenomenon upon its invention in 1954; few drinks conjure a sense of the tropics more immediately.
In truth, crushed ice drinks generally inspire delight, and allow for the use of richer ingredients since more ice equals more dilution. The Piña Colada is a fantastic template for a crushed ice drink because coconut compliments a number of flavors and the Coco López specifically supplies fat and sugar that can hold up to more tannic ingredients. With the addition of a little citrus, any dextrose-induced dread is easily mitigated.
Although we never say no to a beautiful Puerto Rican Rum, part of the fun of a Piña Colada template comes with playing mad scientist with your ingredients. Here we employ the funkiness of an overproof Jamaican rum, an aged Guyanese rum with hints of black tea, and a smidge of spiced rum with aromas of vanilla and marshmallow root. It's our summer escape—let's get nuts!
Piña Colada, Summer 2018
1 ¼ oz fresh pineapple juice
1 ¼ oz Coco López Coconut Cream
½ oz fresh lime juice
Combine all ingredients in a shaker tin and shake briefly with 3 pieces of ice. Pour over crushed ice in a tall glass of your choosing and garnish with a pineapple wedge, pineapple frond, and a paper umbrella.
*Don't let a lack of crushed ice keep you from embarking on that stay-at-home vacation! Simply wrap some ice in a clean towel, place on a steady surface, and beat it liberally with a muddler or rolling pin, or simply crack your ice with the back of a wide spoon.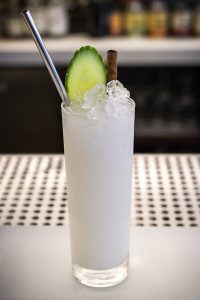 Not in the mood for rum or perhaps even for pineapple juice? Don't wrinkle your nose at that Coco López just yet. We can easily feature lighter ingredients by dialing back a little on the coconut and replacing some of the sugar that was being supplied by the fresh pineapple.
One last note regarding Coco López before we continue: this ingredient often has the suppleness of a cold stick of butter. Avoid frustration by removing the contents from the can, making sure they're tempered, and stirring thoroughly before use. Or, blend with a little un-enhanced coconut cream to make everything easier to pour; we like 3 parts Coco López to 1 part coconut cream. And give your tools a good rinse when you're finished; that coconut will not surrender your tin without a fight.
Sun Giant
1 oz Vanagandr Gin
1 oz coconut cream
¼ oz cinnamon syrup
1 dash cardamom bitters
Combine all ingredients in a shaker tin and shake briefly with three ice cubes. Strain over crushed ice in a Collins Glass. Garnish with a fresh cucumber slice and burned cinnamon stick.
By combining a bright and minty Greek liqueur with a cinnamon-forward Spanish gin, we're already conjuring notions of turquoise water and white beaches. The coconut simply adds body and softens these bracing ingredients. The addition of citrus isn't even necessary.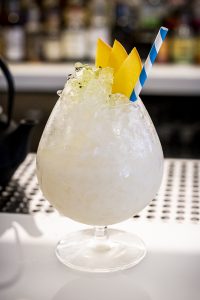 Sencha Colada
1 ½ oz Mizu Green Tea Shochu
1 oz coconut cream
¼ oz honey
1 tsp lime juice
1 dash Bittermens Mole Bitters
Combine all ingredients in a shaker tin and shake briefly with three ice cubes. Strain over crushed ice in a Snifter. Garnish with a slice of apricot and a sprinkle of green tea powder.
Here the coconut adds length to the drink without overwhelming the delicacy of the green tea, allowing for the addition of complimentary notes of orchard fruit and honey. Tiki culture was built on the dreams of far-away places, and for us, few destinations are more enticingly exotic than Japan.
Is your fan on the highest setting but still the temperature won't relent? Let's look at one more category of frozen drinks that combines two of our favorite things: booze and ice cream.
The Pinnacle of Adulthood: Ice Cream Cocktails
Frankly, this is a topic on which we could wax poetic. Summer and ice cream were made for each other, and never have there been more flavors to choose from than now, in this Golden Age of culinary curiosity. We promise that if you have a favorite flavor, there's a booze that goes with it. Trust your instincts regarding what flavors share a natural affinity and you'll probably be just fine. The ice cream, like our coconut above, will contribute texture and roundness to stronger alcoholic ingredients, and can even in its most elemental form (we're talking OG vanilla here, People) will compliment complex spirits.
In Brooklyn, bar and bakery Butter & Scotch has mastered the art of ice cream cocktails. Co-Founder Allison Kave shares some insight on these styles of drink:
"I like using a fair bit of amaro when working with ice cream; the bitterness gives some backbone and contrast to the cream and sugar. We also let guests create their own boozy shakes by adding a shot to whatever flavor milkshake they like, and it's resulted in some really cool combinations. For me, the floats have less ice cream and more presence of the other ingredients going on, so they're a bit closer to a traditional cocktail in how they're constructed, whereas with shakes I think you want to use spirits that have a good amount of punch to cut through the richness of the ice cream."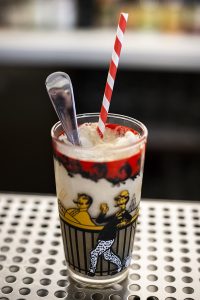 Just pick your poison: perhaps a White Russian, Brandy Alexander, Irish Coffee, Grasshopper, or Hummer (a Midwestern staple)? Whether a drink was originally conceived to include ice cream, or regular cream is being subbed out, the possibilities are endless. But since, in the interest of time, we must maintain some sense of discipline (boo), let's have some fun with the notion of a Root Beer Float.
1 ½ oz Lemon Hart Blackpool Spiced
½ oz  Caffo Vecchio Amaro del Capo
¾ oz J.M Sirop de Cane
1 tsp lactic acid in liquid form (1 tsp lactic acid powder mixed with 2 oz water)
2 dashes Bittermens Mole Bitters
2 dashes orange bitters
1 oz Club Soda (Very Cold)
Combine ingredients in a mixing glass and stir without ice to incorporate. (If you have time, leave in the freezer for a few minutes to really get that frosty soda effect.) In a soda glass, place one healthy scoop of vanilla ice cream and pour the cold cocktail over the top. Serve with a straw and a spoon.
A good soda is a complex and magical thing, full of bright flavors like ginger and lime zest, bittering agents sourced from varying roots, and of course, rich components like molasses-forward sugar, vanilla, and baking spice. Sounds an awful lot like a well-made amaro, when you think of it, and in this case, we've employed the help of one that has a strong undertone of sarsaparilla. Citrus in the form of juice might throw off the intended silkiness of this drink, but we still need a little acid to make it dance, so we've added a touch of Lactic Acid.
Ice cream layered with a thin frost caused by the initial chill of boozy root beer is truly a product of alchemy. Who can pay attention to the broiling sun when there are such wonders to behold (and drink)?
We hope this exploration of frost-forward drinks has helped to mentally prepare you for what the summer has in store. Whether seeking respite with friends at your local cocktail bar or lounging on your fire escape in your bathing suit surrounded by your greatest fans (electric or human—whatever works!), you've got options for beating the heat. Stay cool, Friends!