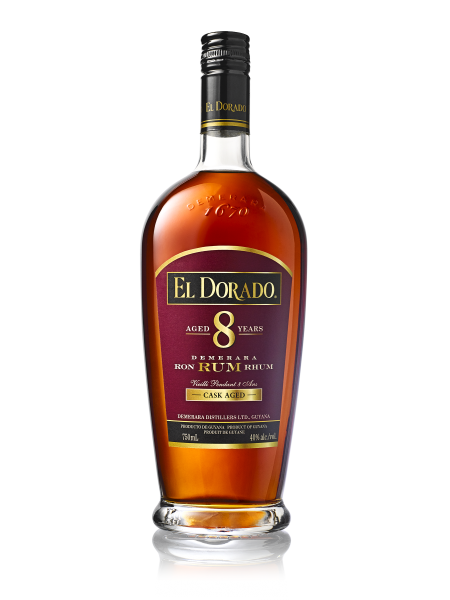 Created by Master Blender, Sharon Sue-Hang-Baksh
Blend of column and pot still rums produced by the historic Demerara Distillers Ltd.
Molasses fermented up to 26 hours
Aged 8 years in oak barrels
El Dorado 8 year features a funky nose with hints of tobacco, caramel, and toffee; there are secondary aromas of tropical and dried stone fruit and the finish is long and assertive with traces of spice and oak.
40% ABV
Aging at ambient temperature under tropical climatic conditions contributes crucially to the mellow smoothness of the final spirit, with its complex flavors and rich aromas that make Demerara Rums so unique. The aging process is significantly sped up by the high humidity and steady temperature–resulting in a Demerara 8 Year Old Rum, for instance, having a maturity equal to that of a 16 year old spirit aged in more temperate climates.
Info
Spirit Sub Type:
Demerara
Sizes Available
| | | |
| --- | --- | --- |
| Full Bottle | GY-XED-08-NV | 12/750ml |
| 1L | GY-XED-08-NVL | 12/1000ml |
Tasting Notes
Created by Master Blender, Sharon Sue-Hang-Baksh, El Dorado 8 Year is a blend of column and pot still rums produced by the historic Demerara Distillers Ltd. which is aged at least 8 years in oak barrels. Aging at ambient temperature under tropical climatic conditions contributes crucially to the mellow smoothness of the final spirit, with its complex flavors and rich aromas that make Demerara Rums so unique. The aging process is significantly sped up by the high humidity and steady temperature–resulting in a Demerara 8 Year Old Rum, for instance, having a maturity equal to that of a 16 year old spirit aged in more temperate climates. El Dorado 8 year features a funky nose with hints of tobacco, caramel, and toffee; there are secondary aromas of tropical and dried stone fruit and the finish is long and assertive with traces of spice and oak. 40% ABV