As the children of two of the pioneers of the Priorat D.O., Sara Pérez and René Barbier IV grew up as neighbors, looking on as their fathers, Josep Lluis Pérez of Mas Martinet and René Barbier III of Clos Mogador, boldly worked to tame the wild landscape. Though they had known each other for most of their lives, it wasn't until a trip they took together to Burgundy and Piedmont along with some other young vignerons that their love began to bloom.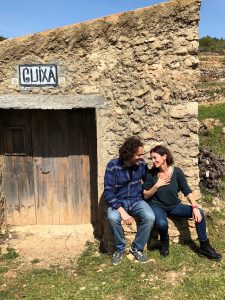 "There were nine of us," Sara remembers. "René was one of them. Drinking the same bottles of wine, we realized that we had the same language, the same tastes. We would talk for hours and hours. When you share a pleasurable bottle of wine with someone, you are so, so close to that person." She had previously thought of René as too much of a wild child and says she had no romantic interest in him until that trip. "One day, we were at a cellar in Burgundy. All the others had gone outside, and René and I were just drinking this bottle. It was from 1990, and it was really great. And then in Piedmont, the same thing happened. So for us, we don't have that song or that movie – we have bottles of wine."
Sara and René are now at the reins of their respective family wineries, but Venus La Universal is their passion project. Set in the somewhat sleepier D.O. of Montsant, Venus is a refuge from the wild vicissitudes of the international market for Priorat and the pressure that comes with the spotlight that shines on the region. They have built something of a rural bohemian utopia just outside the village of Falset, with the cellar standing next to the house that has grown with each addition to their family. Along with their four children –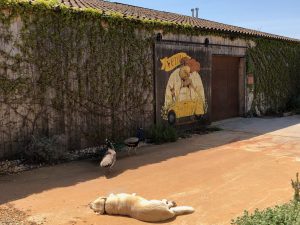 Ariadna, René V, Gaia, and Léon – Sara and René share their property with a veritable menagerie of semi-domestic animals. Sheep, chickens, dogs, cats, geese, turkeys and peacocks roam freely about the grounds, largely indifferent to the comings and goings of the humans around them.
One of the stated goals of the project is to "interpret femininity through wine". Coming up as a young winemaker in a male-dominated and chauvinistic world, Sara often tried to compensate for her gender. She drank her coffee black, smoked hand-rolled cigarettes and cursed like a sailor. The name of the project came to Sara when she saw Botticelli's masterwork at a visit to the Uffizi Gallery on a day off from a wine tasting tour of Tuscany. "When I saw that painting, I said, 'My God! That is the name of my wine.' It was something about beauty, about being newborn, something linked to femininity – all the things that I had hidden during the 1990s, when I was trying to be so strong. All the ideas of femininity seemed to be linked to something weak and fragile, so I tried to appear stronger than I really was, more aggressive, more obvious."
"Hace ya unos años que con René decidimos pasar por este mundo intentando dejar una huella emocional, no material." – Sara Pérez
"Some years ago, René and I made the decision to move through this world with the intention of leaving an emotional footprint, not a material one." This quote from Sara beautifully and succinctly summarizes the stance that she and René take towards human beings' interaction with their environment. Organics and sustainability are not a sales pitch for them, they are a way of life. Over the years, they have been vigilant about analyzing the bodega's impact on the environment and adapting their practices to ensure that they are doing everything they can to minimize that impact. Some examples of changes that they have made include switching from a tractor to a four-wheeler (which uses less fuel) in the vineyard and bottling the wines under a wax capsule or with no capsule at all. They are constantly studying ways in which to turn outputs back into inputs so that they can "close the circle".
The wines here are produced in a hodgepodge of different vessels, including cement tanks, clay amphorae, large foudres, smaller neutral barrels and glass demijohns. They are all certified organic by the Consell Català de la Producció Agrària Ecològica. They ferment with indigenous yeasts and are bottled with a minimum of SO2.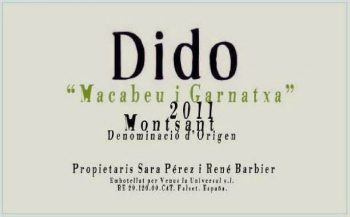 Montsant BLANC, 'Dido', Venus La Universal
50% Macabeu, 40% Garnatxa Blanca and 10% Cartoixà (aka Xarel-lo) grown on various plots of up to 70 years of age on limestone. 20% of the grapes are macerated on the skins for 24 hours and the rest goes direct to press before native yeast fermentation. 30% is aged in 3000L clay amphora and 70% is aged in old wood vessels of 300-4000L for nine months. "Prepare to be seduced," say Sara and René!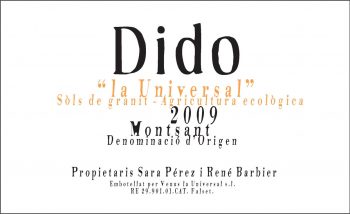 Montsant Tinto, 'Dido', Venus La Universal
A blend of mostly Garnatxa and Syrah with trace amounts of Merlot and Cabernet Sauvignon grown in various plots ranging from granite to limestone throughout the appellation. Aged in a variety of neutral vessels.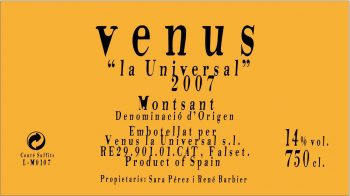 Montsant Tinto, 'Venus', Venus La Universal
"An attempt to interpret femininity and the Earth through a bottle of wine"—Sara Pérez and René Barbier
A blend of mostly old-vine Carinyena with some Garnatxa and Syrah
Aged in various formats of old wood