The ongoing 2022 harvest in France is turning into a remarkable story. After three consecutive years of mother nature throwing every possible challenge at our growers (in the form of frost, hail, drought and more), a generally frost-free 2022 Spring and good conditions during flowering set the stage for a (finally) healthy-sized crop. The season doesn't end in the Spring however, and the summer provided more than enough pitfalls to potentially derail our grower's high hopes for the harvest.
As always, it's difficult to generalize a growing season for an entire country, but the common thread felt throughout France was the hot conditions and almost complete lack of rain from the latter half of June through the end of August. Temperatures were on the high side throughout the summer, including an intense heat wave that hit most of France on July 18th and July 19th. Thankfully, generally cool nights (even cooler than in 2019 or 2020) contributed to keeping the vines healthy and without too much heat damage. Additionally, many growers used farming techniques to combat the heat and prevent sunburn to protect bunches, including keeping more leaves on the vines to provide shade during the hottest days of the summer. Keeping the canopy full brings the increased risk of disease pressure, but the lack of moisture and humidity in 2022 prevented any issues with mildew or odium.
Beyond the warm temperature and dry weather, there were some intense storms in late June that kept everyone on edge, but any hail damage that did occur was very localized (some of our friends were hit), with no widespread or especially devastating issues. There were also the wildfires in parts of Portugal, Spain and the south of France that brought truly sad and horrific images to the screens of people around the world. On the wine side of things, there was minimal damage to vines or fruit in most of France, apart from some small areas of southern Bordeaux and the Languedoc. Smoke taint, which was a problem for many of our friends in California in 2020, was a complete non-issue.
By the end of August, with harvest approaching, it was clear the heat and dry weather were the biggest challenges of the year, as vines could shut down ripening in the most crucial time because of the extreme drought conditions. Luckily for those in most of the Loire and Burgundy, timely rains arrived just before harvest, giving the vines just enough life to finish their phenolic ripening and balance some of the high sugars that were present in the grapes. For most of France harvest began under ideal conditions, with growers in the North generally ecstatic about the quality and quantity. For those in southern France however, it looks as though they will not be as uniformly lucky in terms of quantity. The harvest is of course not done and there are still additional problems that may arise, mainly in the form of rain and the balance of the grapes. But for those with fruit/juice in the cellar already, some of the biggest hurdles may end up being lack of tank space – a welcome problem for growers who haven't seen their tanks or barrels full in many years.
It's clear from early reports across France, that there is every reason to be excited about 2022, both for quality and quantity. Furthermore, top Growers continue to learn and employ lessons from the warm vintages of the last 20 years, finding ways to consistently bring in balanced fruit, take care of it in the cellar and produce balanced deliciousness even in the age of global warming. Not everyone will be completely successful in 2022, with some regions already reporting smaller crops and some heavier wines bound to show up, but on average and for France's top growers there is every potential for a fantastic 2022 vintage.
Below is the latest from our friends in France.
BURGUNDY
CHARLÈNE PINSON
Domaine Pinson
Chablis
9/10:
We finished last Saturday (9/3) at noon and are now fully in fermentation. Things are going beautifully. It was a truly magnificent harvest and my dad and I are really excited about the potential for 2022. We ended up getting just what we needed leading up towards the harvest, including a bit of rain to keep the vines happy. The natural sugars were perfect and the acidity is really nice. We had a lot of fun and the team was great. Having some better yields and delicious healthy fruit made it all something we needed after a tough and tiny 2021. We cannot wait to have you taste the 2022s.
VINCENT DAMPT
Domaine Vincent Dampt
Chablis
9/14:
We began picking on Thursday September 1 with Cote de Lechet and finished the harvest on Friday September 8th. We had a fantastic harvest. The quantity was very good and the quality excellent. We had a little less than normal for Petit-Chablis, which had some hail in June that hurt yields. Despite the hail, the grapes were tiny and the damage was so early in the season that it was no issue at all, except for volume. There is perfect dry and healthy fruit everywhere. Natural sugar levels were excellent, about 12%-12.5% potential on average and the pH and acidity were very good. The trick was harvesting each plot at the right moment to keep freshness and not have too much natural sugar. A cold cellar was again key to prolonging fermentations. Our past experience with warm years keeps paying off in terms of dealing with global warming. We are very happy with the results.
THIERRY PILLOT
Domaine Paul Pillot
Chassagne-Montrachet
9/14:
We could not be happier with the quality and quantity of 2022. More details to follow.
MARC BACHELET
Bachelet-Monnot
Dezize-lès-Maranges
9/12:
Alex and I could not be happier, really great quality and thankfully some good quantity after some very challenging conditions in 2021. We started picking on the 25th of August with our Bourgogne Blanc and some Puligny-Montrachet, before moving onto Chassagne and St. Aubin. On the 1st of September we did our Marange Les Fuissieres Blanc and finished up on the 7th of September with our Hautes Cotes de Beaune and Maranges village. We were lucky with a really great rain of 100 millimeters in late June and then another 40 millimeters on the 17th of August. Both of these rains helped give the vines the drink of water they needed to hold up during what was a very warm growing season. I think we were luckier than some other parts of France in that regard. 
The fruit we got was so clean and healthy, with good acidity, freshness and of course ripeness. On top of that we got better quantity than we've been getting in recent small vintages. For the whites the alcohols range from about 12.2% on the low level wines up to about 12.7% for the Grand Cru. I don't think we could ask for a better balance than that. There's a freshness and structure to the whites that is already impressive. For the reds we range from 12.5% to 13.5% potential alcohol. We did a lot of whole cluster in 2022 because of the beautiful stems. We are very confident that the result is going to be exceptional and the aromatics in the cellar are already entrancing."
ARNAUD MORTET
Domaine Denis Mortet
Gevrey-Chambertin
9/13:
Today we are picking some of our Bourgogne Rouge in one of our beautiful plots up near Dijon that needed some more time as it is further north. The 2022 vintage for us is looking beautiful with perfect grapes and an average potential alcohol that's between 12.5% and 13%. The skins are healthy, with a good acidity that I prefer. I picked my grapes in Gevrey-Chambertin over 12 days, preferring not to push the maturity too far. With the warm growing season I was concerned about overripe fruit and the alcohol getting too high. I couldn't be happier with the balance and freshness that everything we've brought in has. The quantity has been great also, a bit under 40 hectoliters per hectare, truly glorious juice that is aromatically expressive already. The sections of Gevrey that had some hail during the growing season ended up finishing nicely too with smaller quantities, but perfect fruit without any damaged berries ending up in the cellar. We are very happy with the year and can't wait to watch these develop in the cellar.
PIERRE-VINCENT GIRARDIN
Pierre Girardin
Meursault
9/15:
We began harvesting on August 22nd and finished on September 9th. We began after after three weeks of intense dry and warm weather. The vines were actually still in really good shape considering the challenges. The first week we finished the whites and from the 2nd to the 9th of September we did the reds. We stopped briefly between the two to let the stems of our Pinot Noir vineyards to become fully ripe, anticipating a lot of whole cluster for the vintage. Ultimately we used 100% whole cluster for all our reds in 2022.
In general there was a good base of tartaric acid for the whites, but due to the warm temperatures, the malic acid was weaker. It is for certain a warm weather vintage. Balanced overall, with lower acidity and more forward in style. We are very happy with the overall structure of the whites. The alcohols ended up being about 12.2% for the Bourgogne Blanc, and about 12.7% on average for the rest of the lineup. These are not going to be heavy or overripe and we're optimistic that we are going have superb white Burgundies.
For the reds, the balance is also outstanding and we are very happy with the results of the 100% whole cluster vinification. I think it's going to help produce some really outstanding 2022 red Burgundies. The average alcohol for the res is lower than in 2020, averaging at around 13%. Really quite ideal. The aromas in the cellar this year are really something very special.
ALIX MILLOT
Domaine Jean-Marc Millot
Nuits St. Georges
9/15:
"2022 is a great vintage for both red and white, and I don't think I'm alone in saying that. It was a great vintage in terms of both quantity and quality, and my father doesn't think he's seen a vintage like this in 40 years. Maybe 1982 he mentioned. We began the on the 29th of August and harvested over a week. There is a good balance of ripeness and freshness with the alcohol finishing between 12.5% and 13.5% depending on the terroir. Super vintage.
GERALDINE GODOT
Domaine De l'Arlot
Nuits St. Georges
9/16:
Finished red decuvage this morning (9/16). We harvested the from August 26th to August 31st, with around 13% potential alcohol on average. There is a good volume of juice overall, about 40hph on average. The aromas are super fresh from fermentation and the tannins are silky with good acidity, better than we expected. Nothing feels heavy or over the top. It seems like a classic Pinot Noir in our early tastings of grapes and juice. It's a nice change having some good-sized yields, larger than we have had in some time. We can't wait to have you taste them this fall.
CAROLINE GON
Domaine Frantz Chagnoleau
Pierreclos
9/14:
"2022 is a very beautiful vintage with exceptional weather throughout that lasted through the harvest. The few rains we had in August made it possible to unblock the maturation and gave the vines just the water needed to balance the fruit for the harvest. The harvest for us began on August 24, but despite this early start, the maturations were slow without excess and with a nice acid/sugar balance. The degree of alcohol is perfect, falling between 12% and 13.5%. Another big plus we have seen so far is that, although the pH is a little higher than in previous years, we have beautiful total acidity that tends to rise during fermentation.The fermentation aromatics are enchanting us with lots of citrus fruits, white peach, and bright raspberry. There is a very good intensity to the juice and for us it is a bit reminiscent of 2019.  Nice quality and more volume."
VINCENT DUREUIL
Domaine Dureuil-Janthial
Rully
9/14:
We are very happy with 2022 after some very small quantities for us recently. We began on September 1 with our smallest Rully parcels and the fruit was healthy and magnificent. Everything is about 13% on average in terms of potential alcohol, with good balance and aromatics. At this very early stage, I see the vintage as something between 2019 and 2020 in style. A warm, but balanced year with great quality and overall nice quantities, about 45 hectoliters per hectare on average depending on the plot. We will finish tomorrow with Aligoté and Mercurey.
JOSEPH COLIN
Joseph Colin
Saint-Aubin
9/11:
It was an early harvest, with a season full of serious stretches of dry warm weather. Fortunately, we got some very timely and nice rain a week before the harvest that helped the grapes/vines finish up in fine form. We now have perfectly healthy vines and fruit.
We started the harvest on August 24 with Chassagne-Montrachet 1er Cru Vide Bourse and finished on September 6th with our Bourgogne Aligoté.
Overall it is a truly magnificent vintage in both quality and some reasonable quantity. Beautifully ripe fruit and nice acidity. The balance is really quite perfect. A vintage that seems to be very similar in style to 2020. I'm very happy and I feel our vines delivered a vintage of incredible quality.
THIBAUD CLERGET
Domaine Yvon Clerget
Volnay
9/19:
2022 was a super harvest with yields between 35-40hph, which is really perfect. Everything was beautiful and clean with nothing over the top in terms of alcohol. Everything was between 12.8% and 13.3%.  I began on August 27th with Clos du Verseuil and finished on Friday, September 3 with my new Aligoté. It was extraordinarily fun for me to discover all of the new vineyards that I now have from my reach recent acquisition. I love getting to know these new toys. It was a lot of fun and I can't wait to have you taste some of these new beauties.
BEAUJOLAIS
ANTOINE & MAXIME GRAILLOT
Domaine de Fa
Fleurie
9/21:
We began on September 1 in Beaujolais and finished on September 7th.  The vintage quality is really outstanding, and the quantity is good, but not great. We ended up somewhere between 35 to 40 hph. We have very good acidity and balance and considering some of the small harvests of recent years, I feel fortunate with a decent volume and wines that are very aromatic and balanced.
MATHIEU MELINAND
Domaine des Marrans
Fleurie
9/14:
We started harvest on the 22nd of August in Fleurie and finished on 9th of September with our Beaujolais-Villages Lancie. 2022 was another very small crop for us. Our Les Marrans vineyard had about 30-50% less wine due to an intense 5 minute hail storm on June 24th.

T

he dry, warm summer left us with tiny grapes and little juice in our grapes from the granite crus – most yields were between 25-28hph. Our Beaujolais-Villages Lancie (also the vines for our nouveau) have more clay and had a bit higher yields. Overall, we had superbly balanced and lovely fruit. The potential alcohols are between 13% and 13.5%. 2022 will be a very classic and aromatic vintage with a really nice acidity
MICHEL & SYLVAIN TÊTE
Domaine Michel Tete
Juliénas
9/12:
Really superb and balanced year overall, despite the very warm growing season. The old vines held up very well and our granite and clay terroirs produced pretty good yields compared to the previous tiny vintages we've been getting. It's maybe not as abundant as we had hoped, but solid. Our highest site, the Beaujolais Villages Julie, was the only place that was down and got hit with hail at the end of June. There we lost about 50% of the quantity, but the quality was great. In conclusion 2022 is an outstanding year, with balance, great fruit, and alcohols that average about 13%-13.8%.
CHAMPAGNE
CLÉMENT VERGNON
JL Vergnon
Côtes de Blancs
9/13:
We began the harvest on Monday, September 5 and finished on September 13. The 2022 growing season had a good winter and a few rainy stretches before a summer that was very dry with little precipitation. The harvest took place in perfect weather, with just a bit of rain, and as the boxes of beautiful grapes arrived at the winery, it was easy to see it would be a great year for Champagne and Chardonnay specifically. Yields were nice, despite our average vine age being above 55, with the small rains helping plump up the grapes a bit, while maintaining beautiful maturity and tension. All the tanks and barrels are now working, with alcoholic fermentations already started . The first tastings of the juice give us reason to be very excited about the potential for this year.
GUILLAUME DOYARD
Doyard
Côtes de Blancs
9/13:
We began the harvest on September 1 and finished on September 11. It it was a beautiful harvest where the alcohol potential is generally between 11% and 12.4%, and up to 13% on our top hillside parcels. We brought in perfect healthy grapes and the only thing that could be a critique is the slightly lower acidity. Across Champagne there were predictions of some very high yields for houses not concerned with quality. On our side the yields were actually a bit lower than we expected which was great for the balance and maturity. That's the picture for most of the high-level growers. As we all know it was a dry growing season and with a bit more rain it could have been really something historically amazing. We harvested our parcel in Aÿ on the 7th, Avize on the 5th-6th, and Mesnil on the 9th-10th. My father thinks this could be a vintage somewhat like 1976, which was also a dry drought vintage that has aged very well over time. Overall, we're very happy with the results.
JURA
CEDRIC DUCOTÉ
Domaine Rolet Pere et Fils
Arbois
9/13: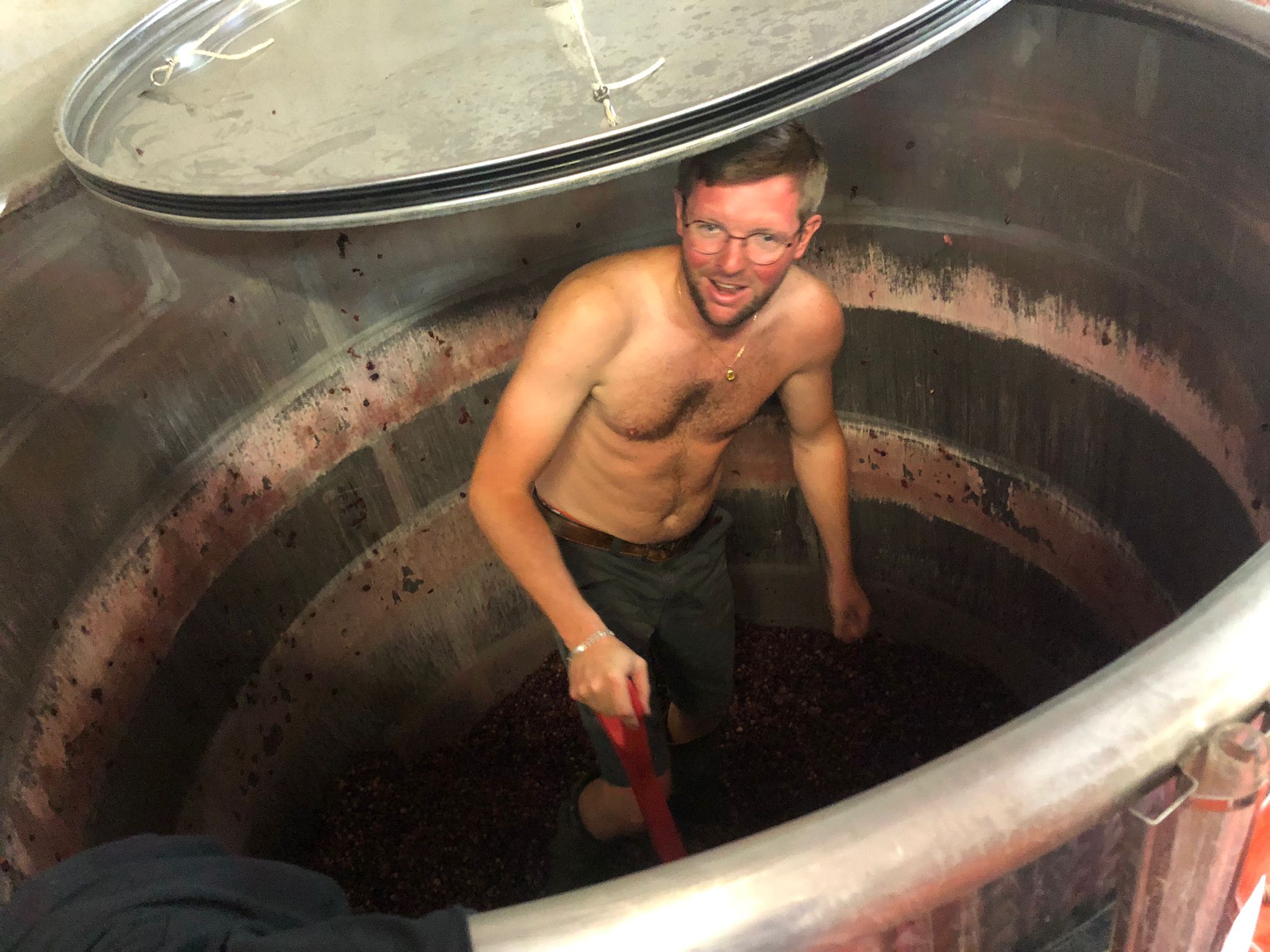 It was late this morning (9/13) that we finished harvesting our last bit of Trousseau. It has been a fairly long harvest that began on the 22nd of August. We had a a bit of a break in the middle, after beginning with our Chardonnay for the Crémant and some Poulsard. I have to be honest that we had a lot of challenges this summer in the Jura, with some severe heat in July and some hail in late May/early June. Poulsard and a bit of Trousseau were especially hit with challenges from Mother Nature and our yields here are going to be very tiny.  However, considering the warm and dry weather, we had overall qualitatively a superb harvest with expressive fruit and aromatics that despite the warm growing season have finished with very nice balance, and lovely PH, if not lower acidity than 2021. I'm very optimistic about that quality of the fruit that our different terroirs gave us in 2022 and look forward to having you taste the wines as they develop.
LOIRE
JACKY & JEAN-PHILIPPE BLOT
Domaine de la Taille Aux Loups & Domaine de la Butte
Bourgueil & Montlouis-sur-Loire & Vouvray

9/14:
It has been about two weeks since we started harvesting 2022. As of today (9/15) we would have never thought it was possible – after the frost, the hail, and the drought – to bring in such a beautiful harvest so far. The vines have resisted the challenges magnificently, definitely due to our organic viticulture, old vines, and the deep ancient limestone of Vouvray and Montlouis. It's really a special place. 
We started with our 95+ year old vine Gamay for the Triple Zéro Rosé and then worked primarily on all our Chenin that go into our bubbles. They all came in perfectly at about 12% to 12.5% potential alcohol. We then began harvesting our single site wines for the dry Chenin lineup.  We have as of September 15th finished half of the white harvest.
It rained 30mm on September 13th and 14th in Vouvray and Montlouis. Normally not a great thing to happen in the middle of harvest, but it has been so dry, that the small rain episodes here are ok so far. Today (9/15) it is sunny and the temperatures are cooling off a bit (it was starting to feeling tropical before). The Bourgeuil harvest will start next week with Perrieres and Mi-Pente first and then the rest section by section over about two weeks depending on the weather. It's looking like super year en route for Cabernet Franc. For the Chenin already in the cellar, it's extraordinary in all ways. For the first time in my life we have done the full harvest that is possible AND they are great! Acidity is good, though it is for sure a year of warm and dry conditions. We had a lot of heat during the growing season, but the limestone saved us. Style is a bit rounder for us, though not high in alcohol. There is more balance than in recent warm years that had higher alcohol.
9/21:
I am really thinking this is turning into a magical year. The weather the last week has been absolutely perfect, with sun and cool nights that are translating into perfectly healthy vineyards. The rain we had early last week was about 60 mm and the soil at the time was so extraordinarily dry, this was both a lot and nothing. The miracle of this rain was that it dropped in a way that did not damage the grapes. It may have helped a tiny bit with the overall balance of the grapes, but with the terrior so dry, it really just soaked in with minimal effect. The grapes already had a decent amount of juice, but some of them were not fully ripe yet. The perfect weather since then has allowed us to slowly continue to pick every parcel with real precision. There are many parcels like Clos de Venise and Clos de Bretonniere where we were able to do 2 to 4 pass throughs. It's amazing how uneven some of these places have been in terms of attaining balance. Clos Michet is typically one of our earliest ripening sites and we still haven't finished harvesting it. We will probably finish tomorrow or the next day.
Today (9/21), we started our Domaine de la Butte Haut de la Butte, and yesterday we did Perrieres and Mi-Pente. Everything we're bringing in regardless of the timing is about 12.5-13% alcohol on average with beautiful aromatics. The wines are very delicious and balanced, with acidity that is not the highest we've seen. We will continue to do the reds over the next week, making sure everything is about 13 and in balance. The other miracle of the vintage is the volumes. This is going to be one of the first times ever in my career we will be hitting the legal limit. We've heard reports from across France and anecdotally that other less serious people will go beyond the legal limits.
VENESSA CHERRUAU
Château de Plainsance
Chaume
9/13:
We are very happy to have started early, with the warm summer, dry conditions, etc., making for a complicated picture so far. We really wanted good acidity and the early start for harvesting our dry whites was key. We're doing Savennières today (9/13) and a few other Chenin sec tomorrow. We got some rain, but probably a bit late to really help for volumes. For whites the yields are very low. We did a bit of Gamay that will be really fun. Now it is onto rouge probably next week. I was lucky to have had enough pickers and a great team. Considering everything we are very happy with quality, but for the volumes, they are challengingly low.
JEAN DE BONNAVENTURE
Château de Coulaine
Chinon
9/14:
We had an important rain (40 mm) about three weeks ago that helped complete the maturation process and refreshed the grapes and vines. We started the whites on September 1st and we just finished. They are 12.5% alcohol on average and 2022 is looking a bit like 2000. The volume is good as well, around 40/45 hl/ha.
For the reds, we began today (9/14) with our Coulaine terroir next to the Chateau. We're seeing 12.5%-13% potential alcohol with good fruit and aromatics and about the same yields as the white. 
The harvest and vines are very healthy and coming along nicely as we plan to attack the rest of our reds over the next few days to keep freshness and balance. Tomorrow we will do the young vines of Picasses, then we will take care of the vines on sandy soils for on our Coulaine bottling.
PHILIPPE ALLIET
Domaine Alliet
Chinon
9/13:
We're beginning the harvest on Thursday (9/15) and are looking at what should be a very good year based on the warm and dry summer and some nice rain the beginning of September, which gave the grapes and vines a nice drink and helped balance the beautiful fruit. We're hoping for both excellent quality and quantity and have our fingers crossed as we start to pick later this week.
LOIC CAILBOURDAIN
Domaine Alain Cailbourdin
Pouilly-Fumé
9/17:
We started harvesting on September 7 and we finished the 16th.
The vines held up very nicely despite the hot and dry growing season. We we're fortunate to have had some decent rain just before the harvest.
In the end, the quality of our Sauvignon fruit was very beautiful, maybe a bit like 2019. It's concentrated, but you feel a beautiful elegance.
The quantities are average, not as big as many seem to be reporting, but good nonetheless.
XAVIER WEISSKOPF
Le Rocher Des Violettes
Rocher
9/19:
We began the harvest on September 8th with our Pétillant Naturel vineyard Le Moulin. This is always one of my favorite places, and despite the warm growing season, the Silex and history here always keeps the Chenin fresh and vibrant with such grip. With the rain early last week we took a pause while the vines took in the water and the ideal weather worked its magic. Our alcohols on average are about 13 degrees with great aromatics and superb maturity. Reminds me of 2018 a bit with good quantity, maturity, and lower acidity. Even still the overall balance is superb and the volume has helped with the overall feel of the juice.
PIERRE MARTIN
Domaine Martin
Sancerre
9/19:
Finishing up today! We began on September 5th And couldn't be happier with the good quantity and great quality. The whites are averaging between 12.5 and 13 degrees with good acidity. We were lucky not to be hit by the hailstorm about 10 days ago it did some serious damage down by the river, but not near us in Chavignol. We are also very happy with the pinot noir which also was between 12.5 and 13 in potential alcohol depending on the site. I think some of the balance and freshness in the wines is due to the terroir of Chavignol, our organic farming and the small rains we had on many late afternoons that gave the vines a tiny drink. In general, they were inconsequential in terms of real water, but probably helped a tiny bit to balance out the grapes. After a very difficult 2021 were delighted with the potential for some volume and a beautiful 2022."
DOMINIQUE ROGER
Dominique Roger
Sancerre
9/19:
We will finish up tomorrow and began on September 6th. You can tell happy I am, we have solid but not over the top quantity and overall our wines are all about 12.5% potential alcohol. The storm that brought hail about 10 days ago only touched one of our vineyards, but fortunately there was no real damage. Checking the grapes recently we were astonished about how low the pH was considering the warm growing season. Overall the balance of the wines it's really beautiful and after such a difficult 2021 we couldn't be happier with 2022 vintage for us here in Bue.
FLORENT COSME
Florent Cosme
Vouvray
9/12:
We started the harvest in Noizay on September 12 in our Champs Rougets parcel. The grapes are golden and perfectly ripe, a bit below 13 degrees of potential alcohol and perfect for a future Petillant Naturel.
With the beneficial rain we had about 15 days ago, our vines and grapes got a lovely drink of water that helped re-ignite the maturation and give the grapes a bit more balance. The weather has been sunny, but fresher the last few weeks, and cooler temperatures were perfect for helping finish the maturation of fruit. This will be another warm year, more in line with 2020 and 2019 than the leaner and higher acid 2021. Later this week we will start to harvest our single site dry whites, the first being La Motte.
NORTHERN RHÔNE
MAXIME GRAILLOT
Alain Graillot
Crozes-Hermitage
9/21:
We harvested the whites between the 24th and 26th of August. The quantity was very good and the quality exceptional.  The reds we picked from August 27th through September 9th. Our rouge is fairly reasonable in alcohol, at around 12 to 12.5%. The stems were drier than we have seen in many years and they tended to absorb a little more alcohol. Even still, we have good acidity and pH.  We are very happy. My dad liked to say that great years are always the easiest to harvest and 2022 was surely an easy vintage in that regard. As we vinify, the reds are showing tremendous aromatics and fruit and I see them as an old-school vintage like 2001, or 2006, or maybe a mini 2020. It is too early to call it a truly great year, but it's a year I really like the raw materials.
LAURENT & CÉLINE FAYOLLE
Laurent Fayolle
Gervans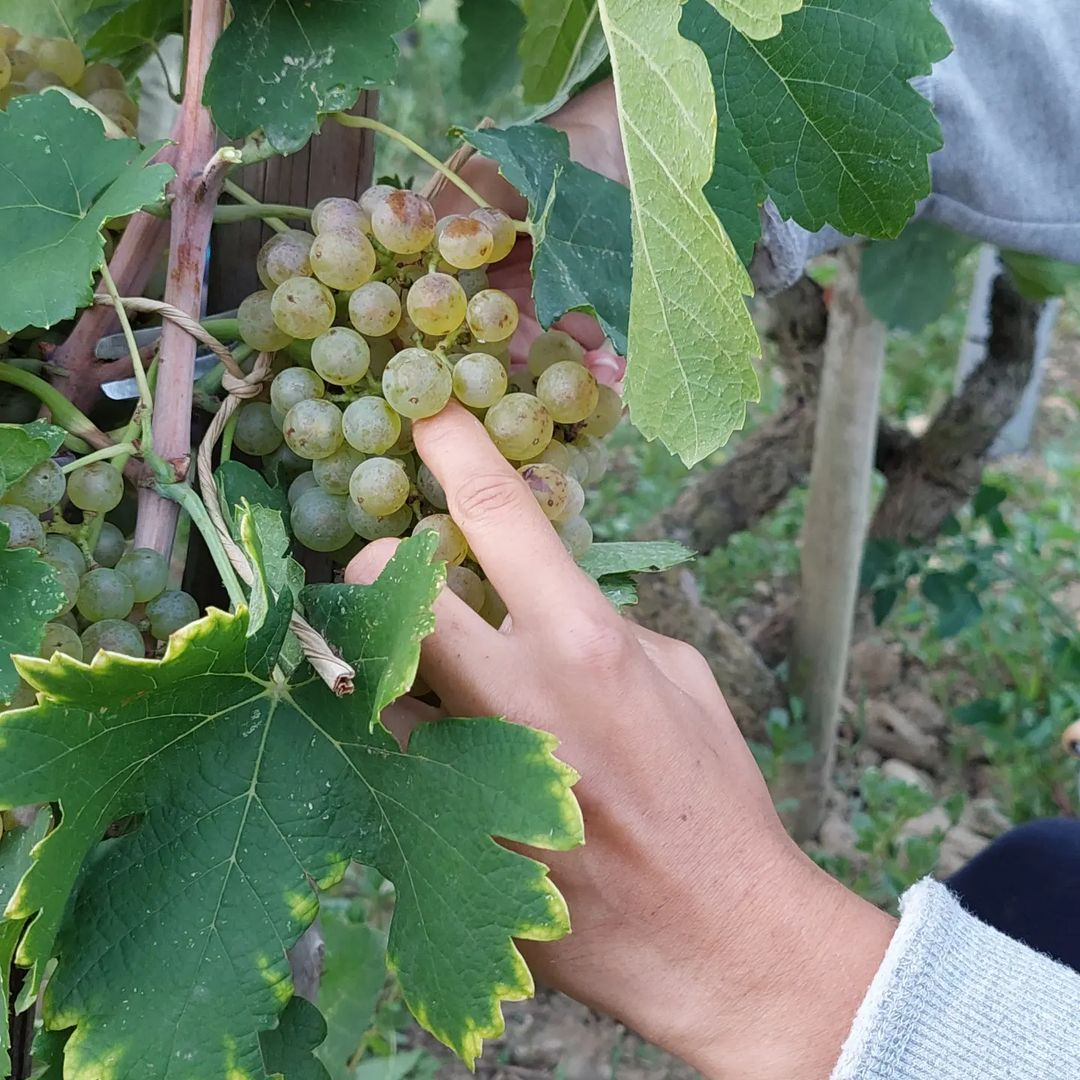 9/13:
We begin the harvest with our Crozes-Hermitage Les Pontaix Blanc on August 24th and St. Peray and Hermitage Blanc on August 25th. For the whites we are very happy with solid yields, really nice acidity, and good balance. It's a good surprise on all fronts considering the tough growing season.
For the reds it's been a little bit more complicated. Syrah suffered a more from the dry and warm growing season and ironically we did not get big ripeness that is expected in a warm year. Our alcohols are around 12.5%-13.5% in general, with great fruit and juicy tannins. Overall in red it is looking like a more balanced and forward style of Syrah. Super aromatics and texture, with the only downside being we have 20-30% less wine. We finished the harvest on the 10th September.
SOUTHERN RHÔNE
OLIVIER KLEIN
Domaine Remejeanne
Sabran
9/13:
The harvest began on August 22 and should end on September 21 if all goes well. The year 2022 has been very dry all season. Fortunately for us, in Sabran we had beautiful rains in mid-August that allowed for a perfect maturity of the grapes without any disease pressure at all, because the skins are thick this year and our windy sites air out very nicely!
Unfortunately, the quantity is small (about 28hl/ha), but the quality is really beautiful. There has been little to sort and the aromatics and fruit are gorgeous. Everything is hitting around 13.5 degrees so far.
I am looking for very fragrant, balanced and complete wines. It reminds me of the 2016 vintage.
ALSACE
MATHIEU DEISS
Domaine Marcel Deiss
Bergheim
9/15:
2022 was a vintage marked by intense heat waves from June to mid-August. There were a few stormy episodes during the summer, which allowed the vines to get through the intense heat, while keeping the foliage in excellent condition. The clay-limestone soils resisted very well to the heat, while the crystalline soils suffered a little more from drought. Some grapes were burnt but not seriously. The weather then cooled down towards the middle of August. At the end of August, the sugar level of some grapes was quite close to their optimum, while the skins were thick and still firm. We decided to wait for the rain which was expected the following week. 
The harvest started at the domaine on September 5th during a slightly rainy (15mm in total) and cooler period, which allowed the ripeness to evolve on many terroirs and the skins to become much softer. We picked a lot of reds last week and again today (9/15): Alsace Rouge, St Hippolyte Rouge, Burlenberg, and Marckrain this morning, but also the Mambourg. The grapes are beautiful, very concentrated, with a lot of taste and freshness. The acidity levels are not very high, but are quite correct. The St Hippolyte has almost finished its fermentation and is already exceptional, close to a Hermitage in power and finesse. 
We'll continue with the whites tomorrow.
CHRISTOPHE MITTNACHT
Domaine Christophe mittnacht
Hunawihr
9/13: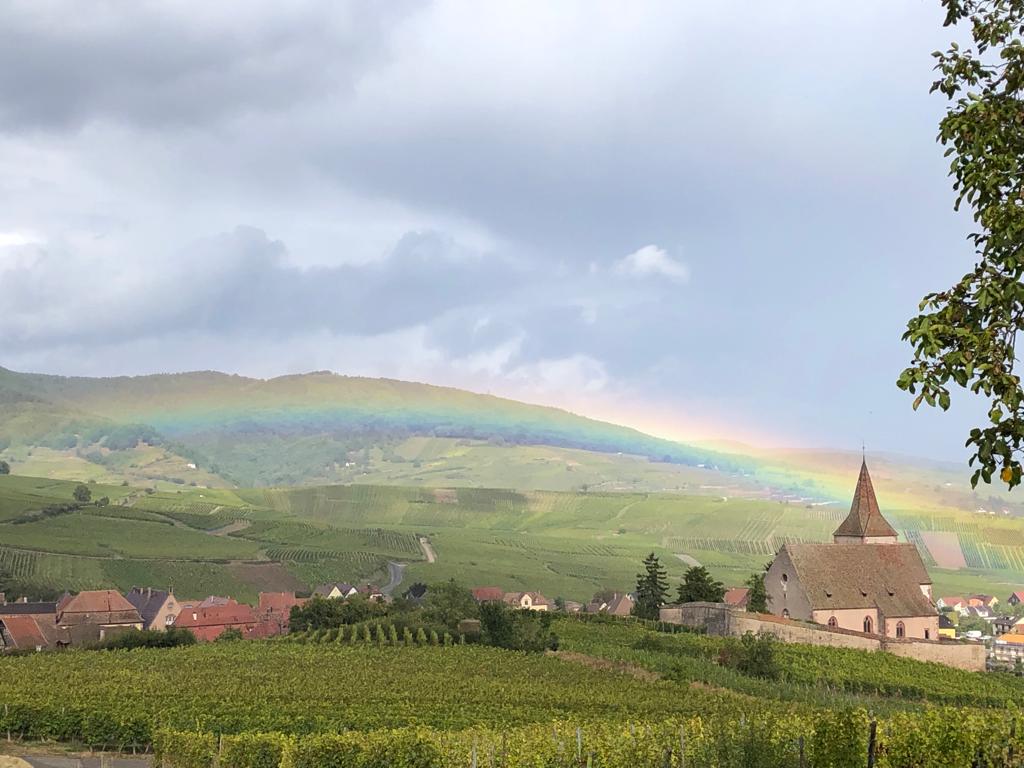 The 2022 harvest is so far looking very good. The well-timed rains at the end of August almost made us forget the scorching summer that led our vines to the limits of stress and potential maturation blockage. This dose of water was just what we needed.
After this life-saving rain helped balance the fruit and did not change the impeccable sanitary conditions, we have been rewarded with a sufficient amount of grapes that are nicely balanced, presenting some very interesting juice. It is our deep terroirs and biodynamic farming that has saved us again.
The Rieslings and Gewurtzraminer are still waiting for the right balance, and the weather in the coming days looks good so far for their success. Stay tuned!
PROVENCE
ALBAN CACERET
La Bernarde
Côte d'Azur
9/16:
The harvest is almost over, still 2/3 days left. We started on 8/25, which is earlier than in previous years. The harvest date was not easy to determine. Indeed, the year was very dry and the summer very hot, which often blocked the ripening of the grapes. Quantitatively, the crop is a normal size and quality is looking good. Will send an update on the style as we taste a bit more over the next week.
EVE CARTIER
Mas De Gourgonnier
Les Baux de Provence
9/15:
We started on August 16
th
, which is very early even for us. We did not have any frost or hail, but we also did not really have much rain at all. Since January we had only 65mm rain to be exact. It has been another super dry growing season for us in Les Baux.  This is somewhat the norm with the warming climate, though I am still very happy with the quality of the wines. We had very varied levels of ripening depending on the sector, finishing on average at around 13% alcohol, which is much less than expected.
In contrast to the super quality, the quantities are small – 30-40% less in general. The acidity is not exceptional, but the wines are nonetheless fresh and balanced, if not very fine-boned. We finished the harvest just before the big storms in the beginning of September, which was very fortunate. The rain was a little late to help the vines, but it made the trees and nature look prettier. Overall we would have loved more wine, but the result is going to be delicious.
BORDEAUX
VALERIE DURAND
Château Saint Julian
Entre-deux-Mers
9/27:
We are now finishing the harvest at Château St Julian. We had 6 days of harvest (instead of 3 in recent years), with a nice yield despite the drought (thanks to our very fresh clay and limestone terroirs). We have an exceptional quality with perfectly healthy organic grapes without any issues. Concentrated and balanced, this is the first step to a great vintage.
For us here in Bordeaux, after all the drama and disaster pronouncements of fires, thankfully we had zero impact. It's truly a year of superlatives: early, generous, really remarkable. It's all happiness after so many difficulties the last few years. The first tastings with the team confirm the beautiful raw material. Big smiles all around.