Arguably, the only thing more essential than your guest list and menu for a day filled with gratitude is your wine list!
---
Whether you'll be hosting this year, or will look forward to being someone else's guest, choosing the right beverages to pair with the brisk November air and the roasted, rich, and varied flavors that make Thanksgiving special is one of our favorite annual exercises. 
We've challenged ourselves in defining Thanksgiving food and wine pairings year-after-year — focusing our contributions by course in 2020 and 2021 — and today, our Portfolio Managers are coming to the table with two separate themes in mind:
Choosing a BTG wine with charm; something that we would pour for all of our guests that is balanced and buoying, able to sail through the meal without being capsized by any single flavor.
A more specific contribution, focused on captivating someone at the table… like your cute-but-kinda-annoying aunt, the in-laws you're hoping to impress, the inevitable person who 'hates sweet wine' (who, by this announcement, has just unwittingly challenged us as wine lovers – you can leave or we can debate), and more.
Check out some of our recommendations below!
CAMILLE ELGUERO, USA ASSISTANT PORTFOLIO MANAGER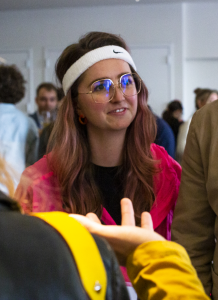 BTG PICK
Syrah 'Crunchy Roastie', Stolpman — The perfect Turkey Day BTG! It's juicy, crunchy, fun, and I could drink it all day long. Part of Stolpman's carbonic 'So Fresh' line, they harvest early while the Syrah is still 'crunchy' with high acidity and low potential alcohol.
WHAT TO BRING FOR YOUR AUNT WHO WILL INEVITABLY ASK 'WHEN ARE YOU GETTING MARRIED?' AT THE DINNER TABLE
Chardonnay 'Russian River', Ramey Cellars — It's a simple fact, but worth repeating; you can't talk while you're drinking wine. With that in mind, putting this bottle in front of your 'just curious' aunt is the ultimate roadblock between her questions and your entire extended family's ears. The perfect balance between richness and delicacy will keep her coming back for seconds with no time to give you the third degree.
CODY STEPHENSON, WORLD PORTFOLIO MANAGER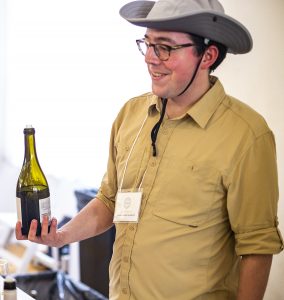 BTG PICK
Pinot Noir, Huia Vineyards — Whether you're more focused on the turkey or the side dishes which accompany it, lighter-bodied reds are versatile enough to work with it all and I can't think of a more classic variety which fits this description than Pinot Noir. Winemaker Claire Allan at Huia in Marlborough (NZ) farms all the vineyards she works with organically and isn't afraid to let her wines age in barrel or bottle before release – 2016 is the current vintage and it's still expressing incredibly vibrant red fruit despite six years of age. A steal for the price too! 
WHAT TO BRING FOR THE CHEF
Riesling, Best's Great Western — The chef needs something to sustain them all day while they prepare dinner. For whomever may be cooking at your Thanksgiving, we would have to recommend a saline, thirst-quenching white like Best's Great Western Riesling 2021, which also happens to be lower in alcohol. Just don't judge them for drinking the entire bottle.
MAX WORKING, GREECE, SPAIN, PORTUGAL & CIDER PORTFOLIO MANAGER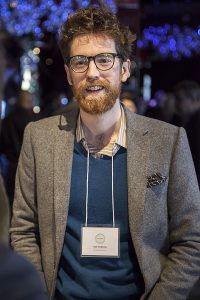 BTG PICK
Rioja Crianza, Vina Real, CVNE — Like a familiar face in the crowd, nothing puts guests at ease like a name on the bottle that they already know and love—and there ain't nothing like Rioja for that. Take an honest entry-level wine from a great producer like CVNE and you've got a bottle that appeals equally well to casual drinkers with thirst and those self-professed 'wine people'. 
WHAT TO BRING FOR THE HOST
Port 'Colheita Tawny', Kopke – Nothing hits like a birth-year bottle. With dozens of vintages of Kopke Colheita port in stock or on arrival across several decades, there's a good chance your host's covered here! 
JAMIE GRAVES, JAPAN PORTFOLIO MANAGER & LOK YAN LI, ASSISTANT JAPAN PORTFOLIO MANAGER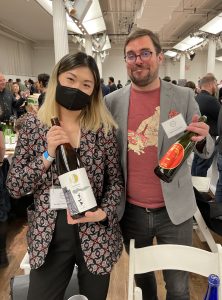 BTG PICK
Nama Junmai Ginjo Sake, '#14' Brooklyn Kura – With so many different dishes and flavors on the table a truly dialed in wine pairing for Thanksgiving dinner can be tricky, so why not try a clean and versatile bottle of American made Brooklyn Kura sake? Their Number Fourteen Junmai Ginjo is crafted from 100% American grown rice, appealing fruity with a soft finish that pairs easily with anything on the table, from roasted root vegetables to tart cranberry sauce and of course: turkey with gravy. – JAMIE GRAVES
WHAT TO BRING FOR YOUR OLD SCHOOL OLD MAN
Tokubetsu Junmai Sake, 'Omachi 53 – Pride of the Seashore', Isojiman – My father is a traditionalist and likes to drink only premium Junmai Daiginjo when it comes to sake. I'd love to bring Tokubetsu Junmai Sake, 'Omachi 53 – Pride of the Seashore', Isojiman to change his mind! This is one of my favorites, milled to 53% using Omachi sake rice (also one of my favorite sake rices) and their Konbu house yeast. This sake is dry, clean, smooth, lush and layered. Full of umami and body with a dry finish with a touch of salinity. It would paired beautifully with what we usually have at our Thanksgiving dinner; hotpot. Cheers! – LOK YAN LI
DAVID HINKLE, FRENCH PORTFOLIO DIRECTOR & ILYA SMOLENSKIY, FRENCH PORTFOLIO MANAGER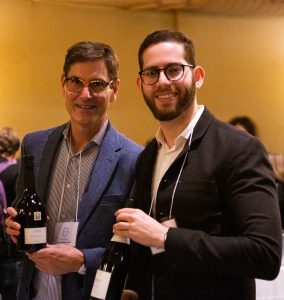 BTG PICK
Fleurie 'Les Marrans', Domaine des Marrans – No Thanksgiving table is complete without great Beaujolais, and the ridiculously elegant Fleurie from Domaines des Marrans is the perfect one. The 2021 vintage is perhaps the finest we have ever tasted from owner/winemaker Mathieu Melinand, with its silky, juicy, and mineral-accented flavors of red currant, cherry, wild raspberry, and freshly cracked black pepper. When served with a slight chill, it will steal the show from many a fancier bottles on the table. 
WHAT TO BRING FOR YOUR INLAWS YOU WANT TO IMPRESS
Saint-Joseph 'L'Olivaie', Domaine Coursodon – There may be no more versatile wine for Thanksgiving than Northern Rhône Syrah. For those looking to impress their loved ones or their loved one's loved ones, the 2020 Saint-Joseph "L'Olivaie" from Domaine Coursodon will turn heads at the table. Like all of the Coursodon wines, this single site Syrah is grown on old granite terraces in the original heart of Saint-Joseph, directly across the Rhône River from Hermitage. L'Olivaie is one of the highest vineyards in the appellation, a terrifyingly steep and terraced lieu-dit overlooking the village of St Jean de Muzols. It has everything you want from old-school Syrah, showing its granite origins with heaps of black fruit, smoked meat, black pepper, and a vein of crystalline minerality. 
DESIREE RUSSO, WORLD ASSISTANT PORTFOLIO MANAGER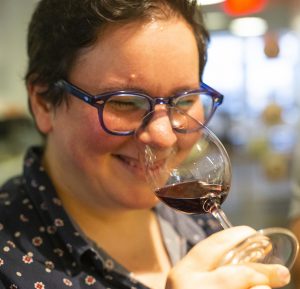 BTG PICK
Cinsault 'Imaginador', Pedro Parra – Move over Pinot Noir and Gamay, Cinsault is where it's at! The Imaginador is the ultimate chillable red that shines with juicy red fruit and a touch of spice, which makes it perfect to wine pairing at Thanksgiving. From roast turkey to stuffing, the 'Imaginador' is the perfect bottle to accompany you on a marathon of feasting with friends and family. 
WHAT TO BRING FOR YOUR UNCLE THAT SAYS HE HATES SWEET WINE
Tokaji 'Aszu', Kvaszinger – Simply sublime liquid gold and the perfect choice to put a stop to any sweet wine slander because of its sky high acidity that holds the sweetness in place and its versatility in food pairing. From canapés to cheeses to spiced apple pie, this Aszú (which clocks in at 6 Puttonyos) is an epic first adventure into Tokaj, the wine of kings and king of wine. One sip and your Uncle won't want anything else!
AMANDA ELDER, SPIRITS CONTENT AND EDUCATION MANAGER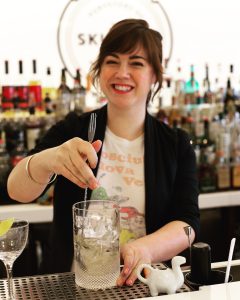 BTG PICK
Aperitivo di Vino, 'Stellare Primo', Antica Torino – Thanksgiving is the perfect setting for a cozy aperitivo hour—a light and easy Spritz makes guests feel welcome without overwhelming their palates (or the multi-tasking capabilities of the host). With notes of dried strawberry and bright citrus zest, Stellare Primo offers a pleasing, low-ABV preamble to the main dining event. Garnish each Stellare Spritz with a piece of star anise and an orange slice studded with clove to lean into the autumnal mood. 
WHAT TO BRING FOR YOUR 'TREAT YOURSELF' FRIEND
Cognac XO, 'Limited Edition (Lunar New Year – Year of the Rabbit)', Cognac Park – Few spirits exude dining at its finest like a beautiful glass of brandy. This Cognac, made from Ugni Blanc grown in the finest cru, the Grande Champagne, was aged a minimum ten years, allowing the grapes to evolve into beguiling layers of apricot, toffee, and cocoa. Bottled to celebrate this year's Lunar New Year, the Year of the Rabbit, this expression embodies the celebratory and optimistic spirit of holidays year-round, making a thoughtful gift or after-dinner sipper that feels lavish but won't break the bank. 
GABE CLARY, CHAMPAGNE, GERMANY & AUSTRIA PORTFOLIO DIRECTOR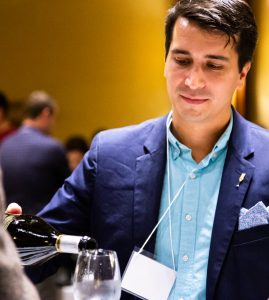 BTG PICK
Johanneshof Reinisch Gumpoldskirchen Pinot Noir – The Gumpoldskirchen Pinot Noir from our new producer in Thermenregion, Johanneshof Reinisch, has landed just in time for the turkey. Limestone-grown and full of character, this village wine is perfect for the holiday table. It's a foil for the bird and gravy, and a perfect match for homemade stuffing. This hard to pronounce, but delicious red is a crowd-pleaser. If you can say "Rumpelstiltskin" you can say "Gumpoldskirchen"! 
WHAT TO BRING FOR YOURSELF!
A Champagne Magnum – During the holidays, a cold magnum of Champagne should never be too far away. Whether you've tucked away a bottle of Gimonnet Cuis 1er Cru to energize you for another round of dishes or you need a very special first release of Marc Hébrart's "Rive Gauche-Rive Droite" in magnum to smooth over a family argument, these big bottles make the most difficult parts of the holiday better.
SHADIA ALAME, ITALIAN PORTFOLIO SALES AMBASSADOR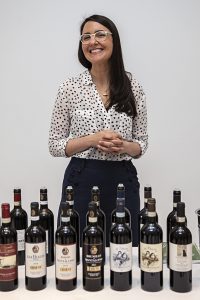 BTG PICK
Brachetto 'Mate' [Dry-Still], Sottimano – Of all the delights off the beaten, this dry Brachetto from the Barbaresco region of Piedmont sits at the top of the list. This wine leaps from the glass with bright juicy reds fruits, purple flowers and rose petals, all finished with a hint of cracked pepper and a surprisingly dry palate to hold the fruitiness of the wine in check. A Thanksgiving has never gone by without this wine on my table, as it pairs gloriously with a mélange of dishes. One of the wine world's greatest hedonist pleasures!
WHAT TO BRING FOR THE WINE NERD!
Tintilia del Molise 'Settevigne', Claudio Cipressi – There isn't anything a true wine nerd loves more than getting introduced to a grape they've yet to meet. Enter: Claudio Cipressi's Tintilia. Grown off the coast of the Adriatic Sea in Molise, Claudio has been the ultimate champion of this little-known grape that, because of him, we now know today is indigenous to his region. Deeply and darkly aromatic, this wine has a savory edge and a peppery finish, with fine-tuned acidity and lift to balance the chewy center. Pair with anything on the Thanksgiving table and Jancis Robinson's book, Wine Grapes.