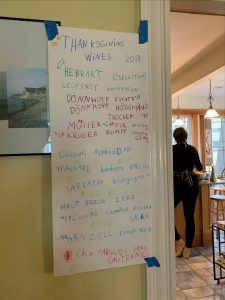 The major holidays that make a meal the centerpiece and reason for celebration are our favorites. While this years' holidays are likely going to look different at all of our houses next week, there will always be wine.
Thanksgiving, with its warm, roasted flavors, heavy with plenty of cream and richness of all kinds, asks for wines that are a foil for those flavors and textures. It calls for wines to contrast the rich, umami flavors that make Thanksgiving dinner. Wines with charm and flexibility that don't wear down the palate. 'Charm' is not a synonym for simplicity but for wines that are balanced and buoying. Wines with vibrant acidity and liveliness rather than baritone gravitas.
I spend an excessive amount of time planning the progression of the meal and the wines for this holiday. By now, everyone who comes to Thanksgiving at our house expects more wine that we could possibly consume and a certain order to the wine side of the meal. I've even recruited my kids to make Thanksgiving Wine signs, listing everything, so people know what to expect and the order in which the wines will appear. I know, I know.
This year will be a smaller celebration but the traditions will remain.
To start
A good place to start is with is something bracing and bubbly. Champagne is something we all deserve this year, but a bottle of excellent Sekt is always welcome. A cold bottle, dripping in an ice bucket in the heat of the kitchen makes cooking and serving easier.
I also try to keep a good magnum of Champagne open during the meal too, as it helps revive the palate and the spirit if you've indulged in too much oyster stuffing or went heavy on the gravy on your first helping at dinner. You can always read the "where'd that big bottle of bubbles get to" look on diner's faces and the relief a glass of sparkling brings. It makes anything heavy, even beyond food, feel lighter.
White wines with Dinner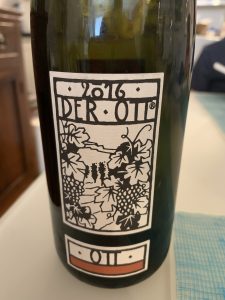 Turkey, stuffing, and mashed potatoes call for lifted medium reds and richer whites. Red wines that don't wear you out and white wines that refresh. Chardonnay is excellent, of course, but a great single vineyard Grüner loves roasted brussels sprouts and GG Riesling cuts through creamed anything like a sharp Sabatier.
Red wines with Dinner
Pinot Noir, Syrah, lighter reds are on the table for the turkey, followed by excellent dry-ish and fruity Rieslings.
Rieslings to keep us sane
A superb bottle of Kabinett has the same lifting-of-the-spirits-effect that that magnum of Champagne had before it was consumed by thirsty guests. It's a perfect refreshment.
Auslese to finish
Drinking a wonderful Auslese, on its own, after the savory part of the meal is done, is pure, relaxing pleasure.
Spirits and Pie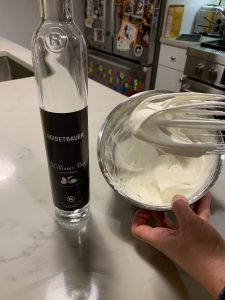 Pies call for coffee or something stronger. The earthiness of Hans' Reisetbauer's singular carrot eau de vie works sublimely with pumpkin pie. A bit of apple brandy or excellent whisky and pecan pie is as good as it gets.
Champagne for the cleanup crew
A stashed bottle of champagne makes doing the dishes less of a chore and might win you a helper or two.
Other Picks from Thanksgivings Past
This article was written by Gabe Clary, Vice President of Skurnik's Germany, Austria, & Champagne Portfolio.