This year, our classic June Tour, where we showcase latest releases from our German and Austrian growers, will look a little different!
---
We are partnering with The German Wine Collection to produce a tasting like no other. For the first time, selections from the German Wine Collection and Skurnik's German and Austrian portfolios will be poured together under one roof, and growers from both portfolios will be present to answer all of our questions.
On June 26th in LA and the 27th in San Francisco, forty-one of the best producers in Germany and Austria will stand side-by-side to showcase the widest range of Teutonic selections we've ever offered at a single tasting. You'll be able to taste von Winning next to Rebholz, Dönnhoff next to Schäfer-Fröhlich, and Eva Fricke next to Spreitzer, plus dozens more! Marking this first-of-its-kind collaboration, our ambition is to truly champion this category and the benchmark growers within it – plus, we can think of no better way to kick off the season!
---
THE PRODUCERS
STRONGER TOGETHER: SKURNIK + GWC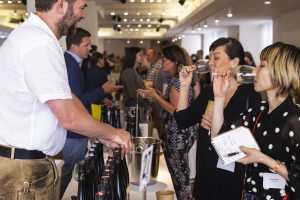 The German Wine Collection was founded in 2020 by Jenna Fields with one singular purpose, to keep premium German wine estates together under one portfolio into the next generation. Jenna found her passion for German wines under the tutelage of Rudi Weist. The GWC was originally founded to maintain the German portfolio Rudi had introduced to the US upon his retirement. While their portfolio has grown, this focus remains. In a meeting with potential investors, when Jenna was asked how they would sell wines that aren't German, she responded, 'We won't'.
Gabe Clary manages the Austrian, German and Champagne Portfolios at Skurnik Wines. Originally, these wines from different areas came together under Terry Theise Estate Selections, Imported by Skurnik Wines and who Gabe worked alongside for a decade. It was important to keep these growers together and like The German Wine Collection, while the portfolio has grown, the core of producers has remained the same.
In many ways German and Austrian wine are still a niche category; perceptions are changing, but there are still misconceptions about these wines. One of the reasons we're entering this collaboration is because we believe we as importers are stronger together. Both Skurnik and The German Wine Collection approach the business from a place of education first, and sales second.
The more knowledge and understanding there is around German & Austrian producers the more demand there will be for these incredible wines. This collaboration and tasting series is our declaration that you don't just need one cool climate red or dry Riesling, or German Sekt on your list, you need multiple!
And we figured, who better to deliver this message than Gabe & Jenna themselves?
---
HOW DID SKURNIK AND GWC DECIDE TO COLLABORATE ON THIS EVENT SERIES?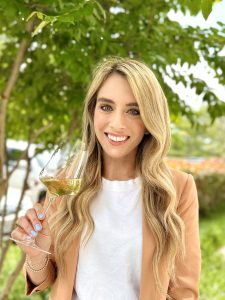 JF: Gabe and I fell into our respective roles at the helms of these portfolios literally at the same time at the start of 2020, which is kind of crazy. I was in New York and reached out to Gabe and we thought we should meet up for a cocktail. Just because this is a crazy thing that had just happened to us both, and at the time we had no intention of collaborating. As we were talking, we both realized the responsibility at hand of carrying these portfolios into the next generation. German wine is still unnecessarily niche and misunderstood, and we decided there that we could work together to build the category so that there are more opportunities for the growers that we represent.
GC: We talked a lot during the pandemic about what the future was going to look like for German wine. German and Austrian wines are such a mainstay on fine dining wine lists. They're a category of wine that really sing with food but needs educated wine professionals, sommeliers to provide context. The names can be confusing and we're less comfortable saying 'Spätlese' than we are 'Sancerre'. When restaurants closed we saw an immediate effect on these wines and wondered what we could do in the short term to help our growers and in the long term what the landscape might look like. We started to see the kind of pressure that wine professionals were under when restaurants reopened – wine professionals were now becoming restaurant managers as well as being responsible for the biggest profit centers in restaurants. It made us think about how to work on educating people who were already strapped for time and it made sense to talk about doing it together.
JF: Historically, both these portfolios have done national tours within weeks of each other. And in this post-pandemic environment, it's more important than ever to make it as easy as possible to taste these wines. People's time has never been more valuable. As Gabe mentioned, buyers are now doing the jobs of five different people, so to get out and go to a tasting is precious. We wanted to make it possible for people to comprehensively taste German and Austrian wines at the top level and the way to do that is to put all of the top growers in one room.
---
YOU MENTIONED GERMAN WINE IS A NICHE CATEGORY, COULD YOU EXPAND ON THIS?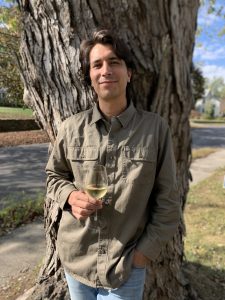 GC: German wine was always compared to an arthouse film rather than a blockbuster movie, the notion that it "wasn't for everyone" is still pervasive. Riesling as a grape can be polarizing for some people and we're taught from when we can drink wine that "dry equals good and sweet wines are unsophisticated". We've been working against that fallacy, but in the last twenty years, dry Rieslings from Germany have become more and more important. Today they're recognized as some of the finest white wines in the world, but we're also seeing outstanding red wines: Pinot Noir, Lemberger, Trollinger, not to mention excellent white wines that are not Riesling like Pinot Blanc, Silvaner, Chasselas, Sauvignon Blanc, Pinot Gris, and Chardonnay. It's an incredible time to be working with Germany and Austria and a privilege to be showing these wines to a new generation of wine drinkers in the US.
JF: On my first visit to Germany, fifteen years ago, everyone kept saying, 'Oh, Americans, they love sweet wine,' and that's because the history of German wine in the United States was always with sweet bulk wine. Our predecessors, like Terry & Rudi, had to start somewhere. They entered this market and their job was to shift the conversation away from the sweet crap to "there's actually quality sweet wine coming from Germany". I think the responsibility now is to build an understanding of what is actually going on in Germany. On that trip, over 80% of what was poured for us was bone-dry. I didn't understand why we weren't seeing these wines in the United States. So, you've seen the shift in both of these portfolios to have a better representation of what's being served in restaurants, poured at wine bars, on retail shelves in Germany, and bringing that to the US.
What we hope to do with these tastings is to get the US consumer to understand that, Germany is the third largest producer of Pinot Noir in the world behind France and the US. They're the second largest producer of Pinot Gris behind Italy, and the second largest producer of Pinot Blanc behind France. People don't know this and it's because they haven't been exposed to it. Building a more comprehensive understanding of German & Austrian wine is the responsibility of this generation of importers.
---
THIS TOUR COINCIDES WITH THE 20TH ANNIVERSARY OF GROSSES GEWÄCHS AND THE VDP'S DESIGNATION SYSTEM. COULD YOU SPEAK TO THE IMPORTANCE OF GROSSES GEWÄCHS IN THIS CATEGORY?
JF: Fundamentally Grosses Gewächs, or GGs, is the coming together of site, soil, grape variety region, and grower to really show a sense of the grower, the winery, and region. The big significance of the designation system – that really parallels our efforts – is the coming together of the top growers in Germany to create a classification system to differentiate these wines at the top level from anything else in the world. It was taking the idea of classification of sites that the French developed and elevating it to another level. It is the most intensive regulatory process in the world for top wines. No other system requires hand harvest and selection from a top site, from a certified top producer, and then has it go through a tasting panel to see if it can be included and have GG on the label. So GGs, to me, represents world-class wine at the top level, unlike anywhere else in the world.
GC: GGs represent the pinnacle of quality for German wines. Started by the VDP, this designation and classification have been so successful that the German government has created a new Wine Law to be implemented over the next few years. They have followed the VDP's lead and are fundamentally changing the wine law, which has been in place for the last 50 years, to follow the idea of "Herkuft" or "origin" classification rather than the prädikat system of ripeness as an indication of quality. It has been a huge success and has shifted the entire wine culture in Germany. It is not just VDP producers who have been promoting the idea of classification and of origin; the knowledge of these great sites has been documented for hundreds of years. The VDP was instrumental as a group to promote these ideas and to get everyone thinking about reimagining some of the mistakes that were made when the famous "1971 Wine Law" was put into place.
JF: The GG category exists because of the collaboration of top growers. The collaboration between Skurnik and GWC just mirrors what our growers are doing in Germany for us here in the United States.
---
RSVP WITH YOUR LOCAL SKURNIK REP
And get ready for the event by creating a Trade Resources account and following us on Instagram. You can learn more about GWC's producers on their Website. If you'd like to place an order with them, please reach out to info@thegwc.com.
---