Hirsch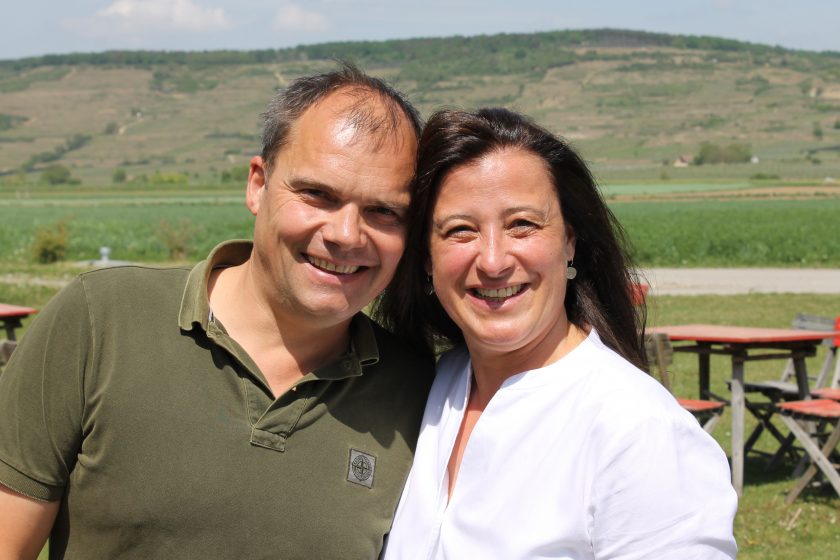 Johannes Hirsch (31ha)
Kammern / Kamptal / Austria
"The answer to climate change is healthy soils" – Johannes Hirsch
If wines reflect the winemaker, Johannes Hirsch's collection of Rieslings and Grüner Veltliners are full of energy and vitality.  In the 1970s, 'Hannes' father started organic farming and in 2006, he was one of the founding members of Respekt – a new biodynamic certification started as an alternative to Demeter, which was then the only certification. Respekt has branched out from Austria and now covers "German speaking areas" including Northern Italy and Germany. Respekt is an independent organization and takes a holistic view to Biodynamics;  the charter that members sign onto is a set of criteria which is certified twice per year by Lacon – it is not a "certification by way of an honor system" as some naysayers have suggested.
In the vineyard Hirsch uses biodynamic preparations and follows the lunar cycle for vineyard work. Eighty five percent of his holdings are in the slopes in the villages of Zöbing and Kammern, home to the Heiligenstein and Gaisberg Riesling vineyards as well as Lamm, Grub, Renner and Kammerner Gaisberg for Grüner Veltliner, though he is quick to note that "the grape variety is just a way to transport terroir. One hundred years ago, you might just find the village name on the label or the vineyard and no mention of the variety; it was not so important."  A full two thirds of his holdings are in classified, Erste Lagen vineyards.
In addition to bio-dynamic practices, Hirsch utilizes soft pruning, a method he learned in Alto Adige to minimize the amount of cuts and thus lessening the amount of tissue exposed to disease and old wood near the pruned area. In the vineyards, manure from celebrated cheese maker Robert Paget's water buffalo and goats, grazing in the pastures in front of the vineyards, are used.
At harvest, a rigorous selection is made in the vineyard and clean grapes harvested by hand, without botrytis are placed in small bins. The winery is located in Kammern, a short distance from the vineyards, so the fruit is pressed a very short time after it's picked. Yields here are very low, especially for the single vineyard wines, which are between 35 and 40 hectoliters per hectare. Grapes are always whole cluster pressed without crushing. 'Hannes favors a long pressing rather than a short one, echoing fellow respect member Bernhard Ott's feeling that the stems are "part of the wine too".
The basic wines and and village wines are normally fermented and matured in stainless steel while the Erste Lage wines are done in a mixture of steel and oak, depending on the vintage. In a warmer vintage, for example, more stainless steel may be employed.  Fermentations are done with ambient yeasts and always without temperature control.  "One of the plagues of modern wine is uniformity. Cooling is one of the worst things you can do, in this regard." says 'Hannes.
Hirsch doesn't allow malolactic and avoids botrytis with a rigorous selection as he works with longer lees aging, though again, nothing is done by formula. "I like when we leave the wines on the lees until late Spring, racking the wines in June, for the first time. I also believe in maturation in the bottle – my wines need time for development and in 2002, when we switched entirely to screwcap (the first winery in Austria to do so by the way) we were already a year later than may of our neighbors in release. Now we are pushing two years" remarked Hirsch on a recent visit.
 Vineyard area: 31 hectares
Top Sites:


Zöbinger Heiligenstein – Terraced south and southwest facing slope with sandstone with a high feldspar content, and volcanic conglomerates- fossilized plants, gravel and rhyolite.
Zöbinger Gaisberg – Southwest facing hillside at the foot of the Manhartsberg mountains. Soil is non-calcarous, silt, sand and brown earth over mica schist bedrock.
Kammerner Lamm – One of the warmest sites in the Kamptal, this is the bottom south eastern slope of the Heiligenstein hill. Calcareous and loam soil with loess underneath. Erosion from the Zöbing formation of silt and sandstone are also present, in the higher parts of the vineyard.
Kammerner Renner – Below the Zöbinger Gaisberg. Calcareous sandy silt with loess and erosion from crystaline rocks – amphibolite, gneiss and mica schist.

Grape varieties: 60% Grüner veltliner, 40% Riesling,
Hear Johannes Hirsch talk about his estate and history on Levi Dalton's 'I'll Drink to That' podcast here.
Farming Practice:
Certified Biodynamic