Meet Paul Girard, Quentin & Marine Vincey, and Marianne Gamet, the next generation of producers taking over one of the most historic wine regions in the world, Champagne.
---
Champagne is a region where patience is a necessity. Plans are made on a different timeline, counted in years rather than seasons. Even moving at this seemingly slow pace, the landscape in Champagne is constantly shifting. The last twenty years in Champagne have seen more change than the previous hundred years. Grower producers transformed the narrative in the region from a celebratory luxury product to a distinctive wine from varying terroirs, made by great vigneron.
On our trip to Champagne earlier this year, the number of first-released wines from new growers we saw in restaurants and shops was staggering. There is a whole generation of new, young people, spurred on by the success of growers like Alexandre Chartogne, Cédric Moussé, Sébastian Mouzon, and many others. These new, young growers have taken the leap and are producing their own Champagnes. Tasting with a grower is always exciting but finding someone just at the beginning of their journey, taking back their family's land slowly, untangling their vineyards from legal contracts with big houses, is fascinating.
Over the last few years, we have been talking with three young growers who have taken over their family domaines. Paul Girard started farming a small portion of his family's twelve hectares in Les Mesnil and Oger in 2018. He founded Champagne Girard-Bonnet to bring together the vineyards from both his mother's and father's sides of his family. Quintin and Marine Vincey started to take back some of their family holdings in Oger in 2014, starting their own winery, Domaine Vincey, in 2018. Marianne Gamet returned home to her family estate in Mardeuil in 2018, immediately producing a trio of single-parcel wines to showcase the different terroirs she farms.
These growers represent a new era in the region, which pays homage to the pioneering young growers that came before them, expanding the possibilities in what was a very conservative region, controlled by big firms rather than growers.
GIRARD-BONNET
Les Mesnil-sur-Oger | Côtes de Blancs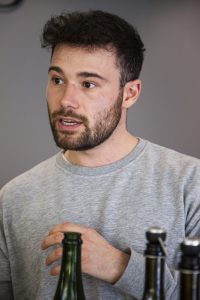 Champagne Girard-Bonnet is a new estate, located in the Grand Cru village of Les Mesnil-sur-Oger, in the heart of the Côte des Blancs. Owned by Paul Girard, a young and passionate vigneron (born 1995) connecting his father, Philippe Girard's holdings in Les Mesnil, and his mother, Dominique Bonnet's holdings in Oger. The twelve hectares of vineyard land is split almost evenly between these two revered Grand Crus. Paul returned home in 2018, after studying viticulture and enology in Avize, followed by a double master's degree in Wine Management and Business in Bordeaux, and immediately began work on this new project.
Like many of his generation, Paul is interested in organic viticulture (certified 2023) and is Demeter certifying his vineyards this year, having started the process four years ago. "My father stopped herbicides 22 years ago and since I am home, we are working in a different way," Paul said. The first step is the viticulture, bringing the excellent holdings in top terroirs into balance. Exceptional old vineyards are the heart of the domaine; the average age of the vines is 50 years with some plots over 100 years old.
After pressing, the must goes into barrels for stainless steel for fermentation and elevage, depending on the wine. Fermentation is with natural yeasts and during élevage, the wines are kept on the full lees, protecting them from oxidation. Paul checks and tastes the barrels constantly: "For me, I am not against sulfur, but, when your wine is on lees, you don't need it. This is why I keep the wine in contact with the lees until five days before the bottling. I taste every barrel and every tank a lot. If the tank is taking the wrong direction, then I can give some SO2 and I can work with it. Every barrel, every tank is different, so you must work with this precision."
As the wines stay in barrel for a long period without SO2, malolactic happens naturally, but not in every barrel. "For me, I like to wait for bottling, very late. Normally I bottle in the start of August. It is a good time for me."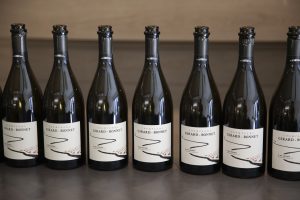 For now, the production at this address is small, as Paul invests and grows organically. Currently, he sells a majority of the fruit he farms, but production is growing each year in his new (finished 2023) cellar. 
Paul's first bottling, Mi-chemin ("Halfway between my parents – my path") is a non-vintage wine; half Oger and half Les Mesnil, "just like me," Paul says. The wine is excellent, matching the plush, florality, and ripe fruit of Oger with the saline and rigid structure of Les Mesnil. Paul is experimenting, producing several non-vintage wines as well as a number of very exciting parcellaire wines from exceptional holdings in Les Mesnil & Oger. We are proud to introduce this rising star, forging his own path in the Côte.
DOMAINE VINCEY
Oger | Côtes de Blancs
Located in Grand Cru village of Oger, in the Côte des Blancs, Domaine Vincey is a new domaine run by a young couple, Marine and Quentin Vincey. Quentin returned to his family domaine in 2014 and Marine joined in 2018 after they met in Champagne (Marine is from Reims).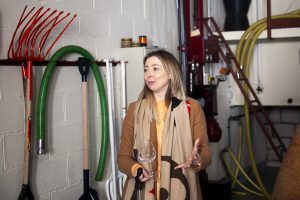 Quentin and Marine are young and ambitious but understand just how much time it takes to create an exceptional domaine in Champagne. As with many young domaines, the vineyards are the primary focus. They farm eight hectares in total, most of which is in the same village as the winery, the Grand Cru of Oger. There are a few parcels in Les Mesnil and Vertus, but the heart of the estate is in the old, selection massale parcels in Oger.
Vincey is certified organic and Demeter certified biodynamic as of 2022. When it was unclear if Quentin would be able to purchase the current location of the domaine in Oger, he bought a 17th-century Chateau in Villeneuve-Renneville called the Chateau de Renneville, nine minutes from Oger, just south and west of the village. The Chateau serves as a working farm, and many of the biodynamic preparations are made there. Renneville is also used as a place to meet and to exchange with other biodynamic producers; Quentin and Marine count the De Sousa family in Avize, a pioneering biodynamic estate, as friends and mentors. The production of wine at Vincey remains small for now, Quentin and Marine are farming and selling a majority of the fruit. In the future, they will keep the very best parcels and expand production.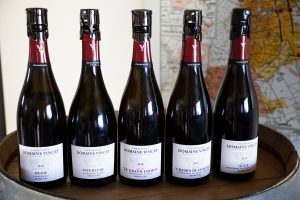 In the cellar, grapes are pressed in traditional 4,000-kilogram basket press, completely without sulfur. After pressing and a short sedimentation, the must flows by gravity directly into the cellar. The vaulted cellar, pictured on the label, is quite cold and deep underground. The wines are fermented naturally and raised in French oak barrels from classic 250-liter barrique to 500-liter tonneau.
In late Spring, the wines are tasted often, a busy time in the cellar. "We are checking and seeing where the development is headed. Intervention is not the plan here but seeing how each cask will fit into a larger blend and the particular character of each wine is important." Says Quentin. Some wines will go through malo, others don't. Some casks develop flor, a la Selosse, and Chartogne. This biological aging is allowed to continue with the decision about how to make the blends for secondary fermentation in summer. Normally, the wines are bottled in late July or August. At Vincey, the wines spend quite a long time on lees before remuage by hand and disgorgement.
These are excellent champagnes, unique in their interpretation of the terroir of Oger. The wines of Vincey are energetic and have a profound density, skillfully balanced between savory concentration and delicious drinkability.
CHAMPAGNE GAMET
Mardeuil | Vallée de la Marne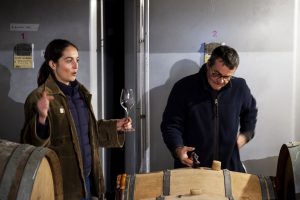 Since 2018, Champagne Gamet has been led by fourth-generation Marianne Gamet. Champagne Gamet is a grower-producer, with vineyards in eight hectares in three villages – Mardeuil on the left bank and Fleury-la-Rivière and Damery on the right bank. Marianne's brother, Jean-François, a trained enologist currently working in Bordeaux, travels back home to assist his sister and parents with harvest, blending, and bottling, but the estate is run by Marianne. "The philosophy of François, my grandfather, was the philosophy of the recoltant manipulant, and this has been the philosophy from that time," says Marianne. "We are still and for always recoltant manipulant. For us, this gives us the ability to control the entire production from A to Z, from the vineyard to the vinification to the cellar".
Here, all three major grape varieties thrive on different soils. The subsoil is chalk, with various depths of clay, marl, and silex. The vineyards in each of these three villages face different directions, giving different characters to the wines even though they are less than a few miles from each other.
In addition to tending grape vines, Marianne also produces excellent ciders from eight different old apple varieties. The production remains very small but will expand slightly in the future, with several single-plot ciders in addition to the delicious Champagnes in the range.
"The idea is to continue working on the Champagne side, as something artisanal, to keep the philosophy of recoltant manipulant, improving techniques in vinification and the cellar, but we also continue to develop on the farm side, since we were farmers from the beginning," says Marianne. "We continue on this side with cider, honey, and cereals. The idea is to become closer with nature and change to do more in the vineyards to protect the environment and the expression of terroir."

THE WINES