The name "Fio" means "thread" in Portuguese.
This estate is a joint venture connecting two families: the Kettern family, who have been making wine in the Mosel for several hundred years, and the Niepoort family, led by Dirk Niepoort.
The Niepoort name is famous in Portugal and now across the world for Dirk's pioneering work making dry table wines from the Douro River valley, an area best known for fortified Port wine.
---
Dirk Niepoort is also known for his different collaborations and work with winemakers across the globe. In addition to his travels in Spain, France, and Italy, he had traveled to the Mosel in his youth and befriended the late Wilhelm Haag, who passed away earlier this year. Wilhelm was an iconoclast and taught Dirk that "great wine didn't have to be powerful and rich to be wonderful."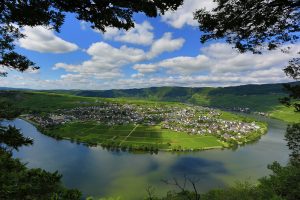 Dirk and his sons Daniel and Marco had been searching for a project in the Mosel when they met Philipp Kettern of Lothar Kettern in Piesport. The two families shared a common vision for what the wines of the Mosel could be: old school wines made in a classic and slower style, using time as the element missing from many wines which they felt rushed to market today.
The Niepoorts had spent time at wineries across Spain, Portugal, South Africa, and France, including Roulot in Burgundy, Matassa in Roussillon, and Jean-François Ganevat in Jura. It was their time in the Jura that has had the greatest impact.
"Time is what we learned," says Marco and Philipp:
Oxidative and yet fresh … how does it work? In the Jura, the climate is like here on the Mosel. We were impressed with the long aging in old barrels; how the wines can still be so fresh after so much time? The thought kept us awake many nights. A long storage of the wines without the addition of sulfur – this is not new but forgotten in the modern way of life. So, we just go back to the beginning, "back to the roots" or "back to the future."
The wines are all grown on steep slopes in the villages of Piesport and Leiwen. It is not just cellar work that harkens back to a pre-modern mode, but viticulture too. No herbicides, pesticides, or chemical fertilizers are used. Sheep graze in the vineyards to control weeds and a hands-off approach is taken. Old vines, trained on single poles like the Douro or Côte Rotie, are prized and used not just for the top wines, but for all quality levels.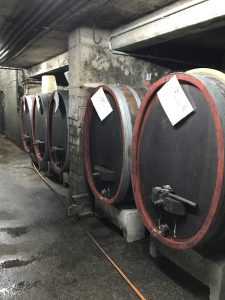 In the cellar, the wines are naturally fermented in very old Mosel fuder barrels and without sulfur. The ferments can take a long time to complete, but here, nothing is rushed. Most of the wines in the range are fermented completely dry and spend between one and three years in barrel, on the full lees before being bottled, unfined and unfiltered. SO2 is used at bottling and in low levels. The wines are released "when they start to taste really good" says Marco. This of course means that there are a variety of different vintages on release at any one time. "We admit we are not sales guys," says Marco. "We want to taste and release the wines when they are ready, not before."
The wines from Fio are certainly very different from much of what is made and currently imported from Germany, but they are also astonishingly delicious. These are "Natural" wines in the sense that they tick all the boxes (practicing organic viticulture, no SO2 during winemaking, minimal SO2 at bottling) with inventive, Daliesque labels. The quality of the wines is rooted in old vines, steep slopes, and great vineyard material from Göldtropfchen, Josephsberg, and Falkenberg, all top sites in Piesport. Fio is producing avant-garde wines without pretense for everyday drinking.
THE WINES:
(Listed in order of how they should be tasted.)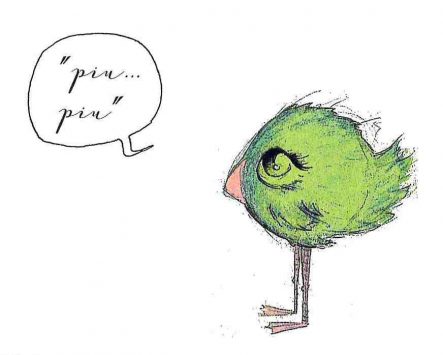 Piu Piu Pét Nat is an original, a pét nat made from Riesling, but not from a single vintage. In this current release, there are wines that are four to five years old, which were held in stainless steel in a very cold part of the cellar without sulfur. The wines are blended and brought to a warm area where the remaining sugar ferments in the bottle.
50% stainless, 50% fuder and doppelfuder, from the 1940s and 1960s; native yeast ferment, SO2 is used only a bottling.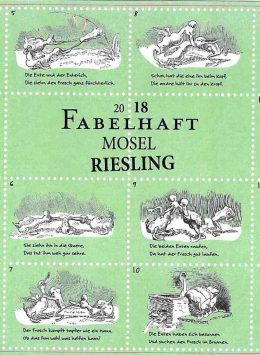 Fabelhaft means both "fabulous" and "containing fables". The label is of a German fable in which a pair of ducks fight over a frog for dinner, only to be captured by a chef themselves. The wine is a blend of all the different estate vineyards to showcase this part of the Mosel. Only Riesling from steep slopes is used, and grapes are hand-harvested and naturally fermented.
70% stainless, 50% fuder and doppelfuder, from the 1940s and 1960s and on the lees for 10 months. SO2 is used only at bottling.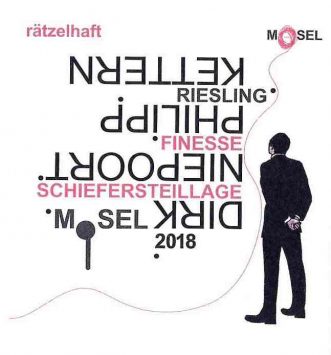 Rätzelhaft means "to riddle" and originally the idea here was to use long lees contact, a specific blending of vineyards, and age in bottle to remove the imprint of the grape variety, posing a riddle for the taster. The blend is from the steep slopes of these hallowed vineyards: Günterslay, which gives an herbal character, Goltröpfchen, which gives the power of a south-facing site. Falkenberg which gives a yellow fruitness, and Freudenberg, imparting lightness and freshness.
100% naturally fermented in fuder and doppelfuder, from the 1940s and 1960s and on the full lees for 2 years. Only SO2 is used at bottling.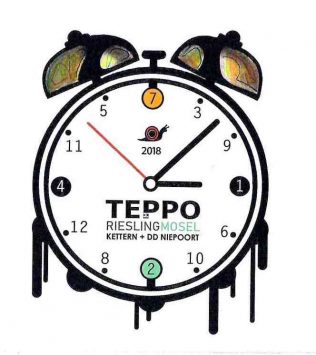 Teppo can be translated as "tempo" or "time". This is Riesling that shows the importance of waiting, referenced on the label by the clock. Entirely from Goldtröpfchen, this is a charming wine and not always 100% dry. This release is a feinherb with around 10 grams of RS.
Like Ratzelhaft, it is fermented naturally and aged 100% fuder and döppelfuder, from the 1940s and 1960s and on the full lees for over a year and then in bottle for a year. SO2 is only used at bottling.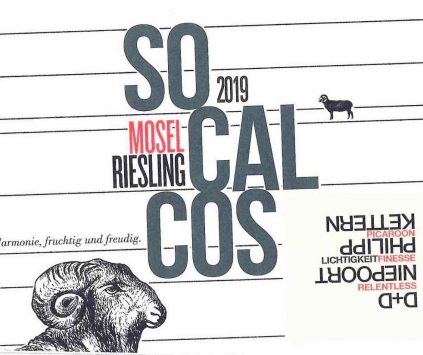 Socalcos comes from Portuguese word for "Terrace". This wine comes entirely from stone terraced vineyards in the Leiwener Josefsberg. "It looks like the Douro" says Marco. This wine, while fermented fully dry, has excellent fruit and freshness.
It's naturally fermented 100% in fuder, though this is of the youngest, freshest wines in the range, which sees only 11 months in barrel and an additional 6 months in bottle before release. SO2 is added only at bottling.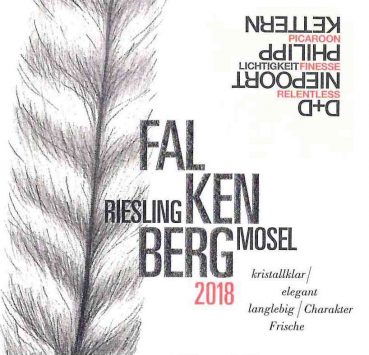 Falkenberg – On Dirk's first trip back to the Mosel in many years, Phillip and Dirk stopped for lunch at a fine restaurant. Dirk asked the proprietor for the best dry Mosel in the house. They were served a 1997 Auslese Trocken from Fritz Haag. Wilhelm Haag, the winemaker and a legend in his time was the mentor of Dirk, and this wine became the blueprint for what they wanted to create with Falkenberg. Philipp says "After having this wine, we decided to make that kind of style of wine. We see this as a Mosel GG – we can show structure and power and viscosity with time, not alcohol. We like people thinking about this wine as a GG, but our style, without the alcohol you get from GG wines normally."
The current release is 18 months on the lees and then aged in bottle for a several years, but the timing of the release is by feeling, though typically a minimum of two years.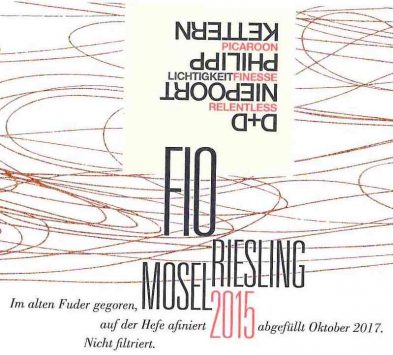 Fio is Portuguese word for "wire" or "thread" and this wine is the connection, bringing the practice and the philosophy of the winery together in its fullest form. Marco says "In 2012 we visited Ganevat, and he showed us a wine ten years on the lees and without any disturbance. It was a perfect wine. He is just bottling wines when they are ready." This is a Jura style Mosel wine with low PH soils, like in the Jura, and aging in the barrel for a long time.
Fio spends a minimum of two years on the lees and sometimes three or four years before racking and is kept topped up. Fio is then aged in bottle for a minimum of two years before release. "We don't want to copy; we want to take influence from other places and then apply what we have learned about process and build a bridge in the wine world," says Phillip. This is a unique wine, and while production is small it will create a following for anyone who tastes it.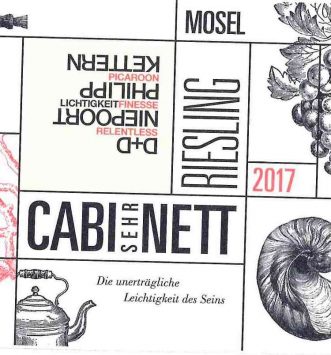 Cabi Sehr Nett – "We have to have one more classic Mosel style wine classic wine in the portfolio," says Marco. "This is our super top Mosel; a unique wine, no one can copy." This is a "Cabi Very Nice" an old-fashioned Kabinett, harvested early with low alcohol and high acidity aged in a barrel with native ferment.
Marco says, "It's our repair wine. It doesn't tire you out and a good, sweet wine has to be dry to be good." 1 year in old fuder from the 1960s, on full lees, bottled minimum 2-3 years, low SO2 at bottling