Eaux-de-vie are ghosts.
Hear us out.
---
You stop at a roadside stand that's selling pears. These aren't the insipid grocery store fare you indifferently pass while running errands on your way home from work. These are the perfect pears that surface in the mind when the noun is spoken but are rarely experienced in real life. Your hand lingers over a particular one, and its purchase is a foregone conclusion. Undulating facets of indulgent yellow—canary, flaxen, citrine, goldenrod—are painted on its rugged but sinuous form and the flesh gives ever so slightly as your teeth press in with unflinching trust that this pear will not disappoint.
This moment is not just about the pear, of course, but about the stage on which you stand—costumed in your favorite sneakers in a dusty roadside tableau of tall grass and bright sun while you smile at the sound of strangers, or the faces of loved ones, and juice runs down the side of your hand. You will never again be this person, this age, in this place in time, eating a flawless pear and viewing the world through this distinct lens.
Had you stopped here the day before or the day after, your experience would've been different. Perhaps not better or worse but changed—if by nothing else—the flavor of that pear a day younger and underripe or older and starting to bruise. A shift, a corresponding variation of sensorial experiences would've followed, perhaps minute or perhaps cascading into an entire pivot of thought or mood.
But you are not here a day before or after. This is your now, and the moment you've encapsulated in one, perfect bite.
SO WHAT DOES THIS HAVE TO DO WITH GHOSTS, YOU ASK.
Experiencing time as we do, in a linear fashion, this moment imprints itself in memory but will never again be revisited in its tactile form. And memory is a fickle kind of ghost, blurring the particulars over time, stubbornly rooting itself in a single detail, or fading into the subconscious altogether. When this ghost visits—if it visits—truth becomes subjective. You observe the moment in your mind's eye and wonder—was it quite as sunny as you recall? Was that pear so delicious? For that matter, was it even a pear? Now that you think of it, perhaps it was an apple or a plum after all.
Then, one evening, removed from that moment on the roadside by days too many to count, you find yourself at dinner with friends. During dessert, a round of drinks is ordered for the table—what or by whom you did not note in the flush of conversation—and a delicate, stemmed glass of diminutive size is set before you. The liquid in glass is crystal clear and placid as winter water. When you raise the glass and breathe in its aroma, something in you stirs—a tug, an uncanniness that sparks and shimmers. But it's not until the pear eau-de-vie touches your tongue that the ghost appears. Not the faded negative of your day at the roadside haunting the attic of your memory, but the soul of that perfect pear itself—vivid, present, made corporeal once again in flavor and texture—and the part of you that only existed in that one place in time responds in kind, materializing from your very DNA to live the moment once more.
Some may argue that the fermentation and distillation of a seasonal fruit for later drinking is a practical concern, a traditional means of utilizing excess agricultural bounty that would otherwise spoil. To be sure, an eau-de-vie can be quantified this way, but the unquantifiable act of uncorking a bottle to encounter something gone and yet not gone, ephemeral but given form—this is the stuff of fiction, poets, and a realm beyond the here and now. What else can we call it but a conjuring, when a sip of well-made eau-de-vie transports us to a season long spent, a version of ourselves unlocked only by a past-lived experience made present, or even more mind-boggling, an experience we have yet to live?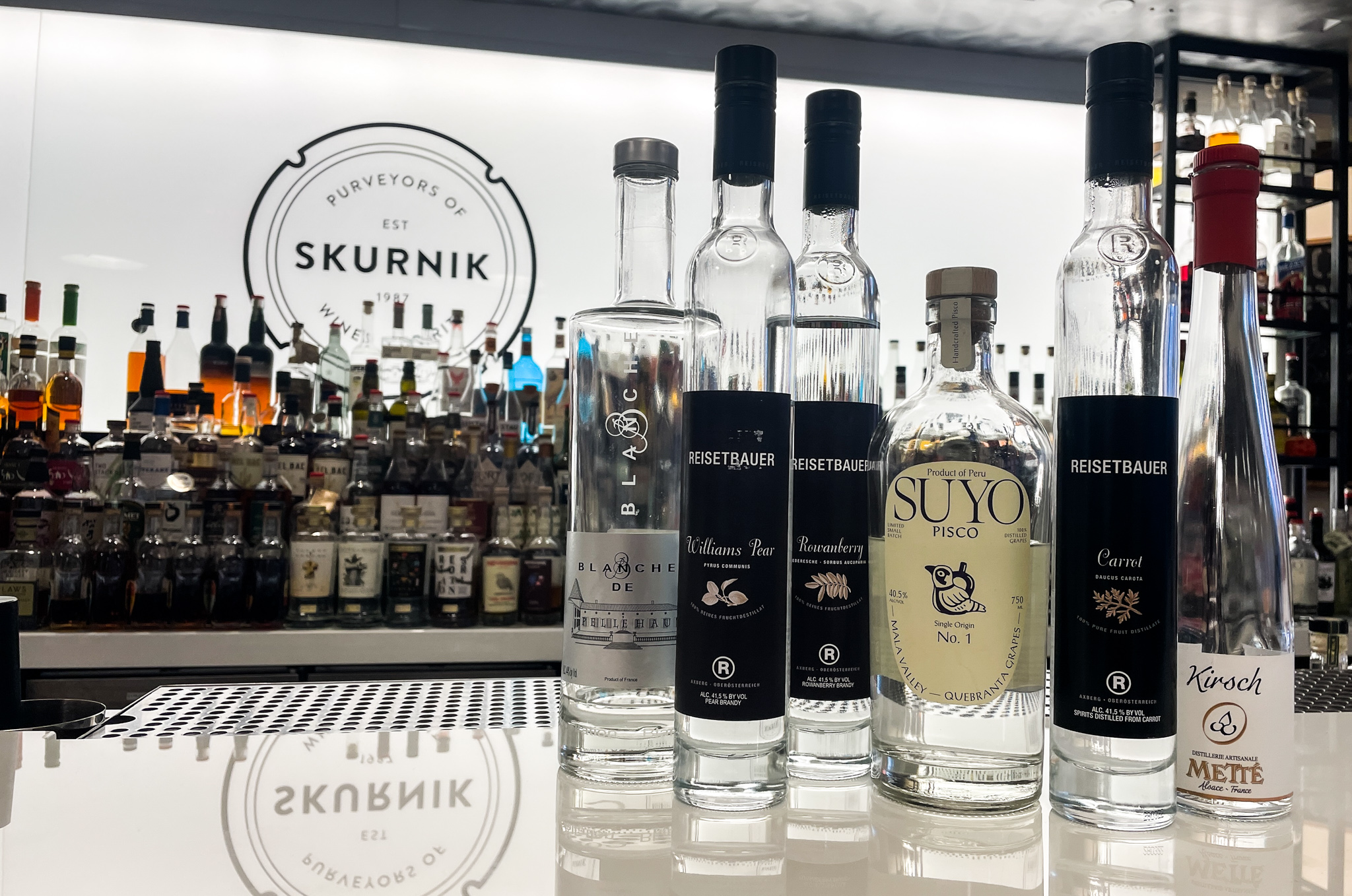 A FEW OF THE ETHEREAL EAUX-DE-VIE OF THE SKURNIK PORTFOLIO: