The last year or so has been a difficult one for us all. This has also been the case for our friends in France for what was an incredibly challenging growing season that is culminating with the 2021 harvest that is underway, almost a full month later than in 2020. Having just returned from a week visiting with growers in Burgundy, we saw firsthand the short crops in the vineyards. As expected, quantities are disturbingly low for Côte de Beaune and Côte Chalonnaise whites, with grapes unusually hard to spot as we walked through the vineyards. The Côte de Nuits was more fortunate and largely spared the worst of it, with most growers saying they hope to get a relatively nice yield.
This was a more classically cool growing season, that at times has seriously tested the stamina and patience of growers, with historic mildew and odium pressure due to the incredibly wet June and July. Many friends said they had to spray ten or more times over the season to keep the fruit clean. As with all frost vintages, uneven ripeness among clusters on the same vine is a challenge, along with nailing the harvest date, and being prepared with a full crew of trained pickers (COVID has remained a factor in planning harvest teams this year).
Despite the hurdles, some gorgeous fruit is already in, that early reports suggest are fresher, more aromatic, and with lighter alcohols than in recent warm years like 2018-2020. For whites, some are talking of 2010 or 2014 as potential references for similar vintages! It's too early to be sure but many are very optimistic for a great qualitative year, both for red and white. Weather is always a wild card and rain is a factor this year, with heavy precipitation coming down on the Côte d'Or in the last 24 hours or so. Some have said they may increase the speed of picking, as the rain may pose a problem for grapes depending on the site and the fragility of the fruit. Below is the latest from our friends, with more to follow in the days ahead.
BEAUJOLAIS
MATHIEU MELINAND
Domaine des Marrans
Fleurie
9/27:
I finished my harvest yesterday (9/26) and despite a very small crop, we had superb balance and lovely fruit. The potential alcohols are between 12 and 13. Very classic, well-balanced, with a really nice acidity. First tastings show juice to be very fruity, silky, and textured, but with a nice concentration due to the very low yields.
BURGUNDY
MARC BACHELET
Bachelet-Monnot
Dezizes-les-Maranges
9/20: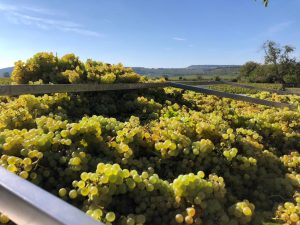 We started Saturday (9/17) in Puligny-Montrachet 1er Cru 'Les Referts'.
The April frost, especially in Premier Cru and hillside sites, has left us with very low yields in the worst hit sections.
Lower lying village sites are looking much better in terms of quantity. Everything has been complicated this year from the start but, despite low volumes, the good news is the quality is looking superb overall.
Our 'Les Referts' came in gorgeously at almost 25 hectoliters per hectare, with fresher fruit more in line with 2010 or 2014. Hoping the rain we had has not done too much to set us back.
9/22 UPDATE:
We finished up on the weekend (9/18-9/19) with all of our premier Cru whites and Batard Montrachet that came in with beautiful balance between 12.7 and 12.8 alcohol. There was not much, but it was gorgeously fresh and aromatic. Yesterday (9/21) and this morning (9/22), we picked most of our Chassagne village, Bourgogne Rouge and Pommard Chanlins. Everything is coming in at about 12 – 12.5 potential alcohol. Late today (9/22), we're starting to harvest some of our Maranges. With the small volumes, were able to pick selectively where the fruit is perfectly balanced and ready. We expect to finish whites by Saturday (9/25) and the reds probably next Wednesday (9/29) if all goes well. We certainly wish there was a lot more fruit, but what we're bringing in is looking good.
THIERRY PILLOT
Domaine Paul Pillot
Chassagne-Montrachet
9/20:
Rained a lot all day yesterday (9/19).
I started on Friday and Saturday (9/17 and 9/18) with the Chassagne-Montrachet, Bourgogne Rouge and Blanc, and part of the 1er Crus. As for quality, very promising, but the quantity is less than perfect. I'm also a bit worried about rot. The harvest will likely go fast now, but we're very happy with what we took in so far.
CAROLINE MOREY
Caroline Morey
Chassagne-Montrachet
9/27:
Good quality and balance overall, but it was stressful this year staying on top of all the issues including the frost and complicated weather. In general, we are very pleased with everything, but the volumes that are so low.
JOSEPH COLIN
Joseph Colin
Saint-Aubin
9/20:
We're started on the 9/18 and I am thinking with the weather that we need to harvest sooner rather than later or it's gonna be a problem with the fragility of the fruit. Very little white from St. Aubin this year as you saw when we visited the vineyards together last week.
9/22 UPDATE: 
Yesterday (9/21) I finished Puligny Garenne and Trezin and Saint Aubin Champlots. So small, but so good. Average alcohol is 12.5. With all of the rain that we got Sunday (9/19) and Monday (9/20), I felt it was important to bring everything in fast before there was a chance for rot set in. And is turns out, the fruit has looked perfect.  This morning (9/22) I picked my Bourgogne Blanc that came in perfectly at 12.2 potential with lovely acidity and balance, though not very much unfortunately. Today (9/22) I will finish my Saint Aubin Chateniere. Looking around, it looks like a lot of people in the Côte de Beaune have had the same idea and are trying to pick fairly rapidly. I certainly wish there was a lot more quantity, but the quality is really outstanding. Fresher and more in line with a classic burgundy vintage.
9/27 UPDATE: 
Finished harvesting Saturday (9/25) and we are extraordinarily happy with the quality of the vintage. In general, the balance is perfect and it will be a much brighter and crunchier Bourgogne vintage. It was a superb, fast harvest where I lost about 60% due mostly to the severe spring frost in the Premier Crus and hillsides.
VINCENT DUREUIL
Domaine Dureuil-Janthial
Rully
9/20:
We took a good hit of rain across Burgundy Sunday (9/19) evening and this morning (9/20). This was not welcome for any of us. Our 'La Combe' parcel in Puligny-Montrachet was looking perfect (Chardonnay and Pinot Noir), but this much rain could pose some issues.
Either way, we will begin harvest on Tuesday night (9/21). At least the quantity in Puligny-Montrachet is looking good. Not the same story in Rully, where we have significantly less fruit.
CHARLÈNE PINSON
Domaine Pinson Freres
Chablis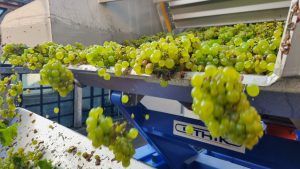 9/20:
I started this morning in our Premier Cru 'Mont Du Milieu'; seventeen hectoliters per hectare, which is not a lot of fruit, about half that of a normal year.
12.5 alcohol and perfectly ripe fruit with good acidity.
With the bit of rain of yesterday (9/19) and this morning (9/20), we held our breath. For now we still have perfectly healthy fruit and rain is not in the forecast for the next few days. Just not a lot of grapes to harvest.
Tomorrow we finish 'Mont Du Milieu' and start on the neighboring Grand Cru 'Les Clos'.
VINCENT DAMPT
Domaine Vincent Dampt
Chablis
9/27:
This has been a rapid harvest. The volumes are very low, with some places showing not fruit at all. In the village of Fontenay for example, we only did yields of 8hl/ha. Luckily for us, in our hometown of Milly, things were a bit better. We were among the first group of growers to harvest, starting on 9/17 all alone, which was a bit strange. Things happened so fast, and it took everyone a bit of time to realize the rapidity of the evolution of the grapes and the dangers the rains presented. At the end of the day I was able to harvest my Côte de Lechet et Vaillons at about 12° potential alcohol, with a nice balance and acidity. Next, we did the Chablis and Petit Chablis on 9/21, finishing on the 24th just before the weekend rain hit. There was a serious threat of rot if we were not careful, and I feel fortunate we got very healthy grapes. The temperatures in the morning were cool with the fog, and the afternoons were warm, allowing us to get fresh juice into the cellar. This certainly will be a more classically chiseled and fresh vintage than in recent warm years.
RÉMI JOBARD
Domaine Rémi Jobard
Meursault
9/22:
I plan to start Friday (9/25) with what will be the smallest ever harvest in the history of my domaine. With so little fruit I've been able to micromanage all the fruit that remains. Stay tuned.
ARNAUD MORTET
Domaine Denis Mortet
Gevrey-Chambertin
We will finish harvesting Tuesday (9/28) and today (9/27) picked our Fixin parcels. This afternoon we'll be doing our Bourgogne Rouge and Marsannay. Been an insanely fast pace this year.
GERALDINE GODOT
Domaine de L'Arlot
Nuits. St. Georges
9/22:
After all of the rain we've had last week and beginning of this week, Tuesday (9/21) was finally a beautiful day. We harvested our 'Clos du Chapeau' on Tuesday (9/21), and have begun 'Clos de l'Arlot' and 'Clos Forets'. As expected, small quantity, but the fruit is looking balanced and fresh.
CHAMPAGNE
GUILLAUME DOYARD
Champagne Doyard
Côte des Blancs
9/20:
I may start with Pinot Noir in Ay at the end of the week (9/24), depending on how the grapes are tasting in the next few days. We're waiting to hit it perfectly, and the Chardonnay is looking like it needs a bit more time. Weather is also a factor. Quantity is going to be down about 20%, but with quality very promising if the weather holds.
LOIRE
JEAN DE BONNAVENTURE
Chateau de Coulaine
Chinon
9/27:
We are starting harvest tomorrow (9/28) with the Cabernet Franc around the Château. This is going to be a fresh vintage and I'm looking at alcohols around 12 to 12.5.
LOIC CAILBOURDIN
Domaine Alain Cailbourdin
Pouilly-Fumé
9/20:
We will begin on September 27th. Right now we have truly beautiful, healthy fruit, with more freshness and aromatics. Alcohol levels are in better balance than in some of the recent warm years. Maybe something like great the 2014 vintage if all goes well.
We have loved recent harvests, but 2021 should have more tension than the last three years.
Unfortunately, there will be little fruit this year due to the frost in April, and also hail at the end of June. For these two reasons we will be lucky to get 50% of our normal harvest in our 'Les Cris' parcel.
JACKY & JEAN-PHILIPPE BLOT
Domaine de la Butte & Domaine de la Taille Aux Loups
Montlouis-sur-Loire and Vouvray
9/20: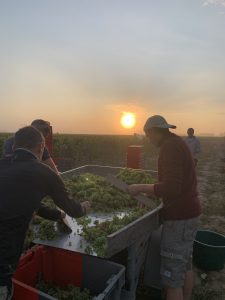 We began the harvest on Thursday September 16th next to the 'Clos de Mosny' a parcel in Montlouis-sur-Loire called, "Derrière Chez Paulette".
Of course, Paulette lives next door! These early days are for the Triple Zéro Chenin, and this lieu dit is one of the rare spots where we have a decent amount of fruit still on the vines.
The growing season was challenging to say the least. In April, the frost, rain, and then later outbreaks of mildew, all took a lot of fruit. Our overall yield of Chenin will be about half that of a normal year. The alcohol potential is a perfect 12.5 and we have great acidity. The fruit was magnificent, with the classic balance of a cool year. There is plenty of freshness and vibrant aromatics. With some risk of rain in the next few days, the remaining grapes are in danger for gray rot, so we're keeping our fingers crossed. We will next attack 'Clos Michet', 'Clos de Mosny', and the other small areas of Triple Zéro micro plots.
The Bourgeuil Cabernet Franc looks amazing for now, with great acid levels. These grapes at Domaine de la Butte were not hit by the April frost. We're at least two weeks out from harvest in Bourgeuil and so much potential for another stunning year.
9/22 UPDATE:
Had a little bit of rain at beginning of the week (9/20), but it wasn't much of a problem. We are still harvesting the parcels that go into Triple Zéro, and the fruit coming in has a potential alcohol of around 12.5. We harvested a tiny bit of 'Clos Michet' and 'Clos de Mosny' that were ready, and we will start going into the other sections of the vineyards over the next few days.
The good news is the quality is amazing, with high acidity and tons of freshness. It will be a tremendous year. Yields overall look to be around 20 hl/ha, which is not great but not as bad as we feared.
9/27 UPDATE:
We are still working on Chenin today (9/27), mostly in Clos Mosny, Les Hauts de Husseau, and Clos Hochet. Tomorrow (9/28) we will do our Clos Venise and Clos Bretoniere in Vouvray. Alcohols have started to go up a bit, to about 12.5-12.7 potential. We are also starting to need to do some triage for small bits of rot in some sectors, though not a big issue currently. Yields remain very low.
9/28 UPDATE:
Another beautiful day in the full sun of Vouvray. What a pleasure to be in the Clos de Venise where we harvested part of the Clos that was ripest TODAY.
We still have a part that was a little less ready along the woods (cooler); and we will be back in a few days to check on this part.  Luckily, We also were excited to find a few more grapes than we expected!  Not normal volume, but really a decent amount and the grapes were so beautiful.
We also started in the Clos de la Bretonniere, also in Noizay, where we started picking the most mature sections of the Clos.  We are back in this area tomorrow!
END OF HARVEST UPDATE:
We finished the harvest in Montlouis on October 1st just before the rain, a real stroke of luck. Afterward we attacked the reds from October 7, as the ripeness between Chenin and Cabernet Franc were a little shifted this year. 'Perrieres' was the first site to be harvested, and it was magnificent. Then on October 8 and 11, we picked 'Mi-Pente', which had beautiful fruit though starting to show very small yields.
We are not discouraged because we know that 'Mi-Pente' is always the "leanest" part of the hill. On Monday and Tuesday, October 11th and 12th, we picked 'Haut de la Butte', which required more sorting, but the grapes that came in were superb. We ate a lot! Wednesday October 13 was the day for 'Pied de la Butte' and Thursday October 14th was 'Coteaux du Levant'. Fortunately the lovely sun and a very nice team of pickers helped us to almost forget that there were not many grapes.
THIBAUD BOUDIGNON
Thibaud Boudignon
Savennières
9/20:
Starting on Wednesday (9/22) in Anjou and on the 27th, 28th, and 29th in Savennières.
 Anjou is looking great with lot of acidity and good balance. 
Magnificent outlook for our Savennières despite a lack of water during much of our growing season, unlike much of France.
I am s
o proud of our team and looking forward to a superb and healthy harvest.
We were able to manage the April frost which was not a big factor due to our protective measures; five of us spent each night in the vines with candles to protect the vineyards. Anjou was less fortunate and we project about 60-70 % loss. Savennières will be much closer to normal with all the efforts of the team.
So far I feel this is lining up as maybe my best vintage ever. Each time I taste the grapes it looks to be a super classic year in comparison to these recent, warm vintages. Aromatic, balanced, super mineral, and fresh with acidity and alcohols that are between 12.5-13.
NORTHERN RHÔNE
LAURENT & CÉLINE FAYOLLE
Laurent Fayolle
Gervans
9/20:
We started today (9/20) in our Crozes-Hermitage 'Les Pontaix' with old vines Marsanne.
By taste, the wines are looking like they'll have great aromatics, acidity, and balance, w
ith the 
alcohol hitting close to a perfect 13%. It's looking like a great year for Northern Rhone, with both whites and reds so promising.
The key for our Syrah is going to be lower yields. It was very important to do some green harvest in all areas that did not have Mother Nature do some natural pruning with the frost of April. The key is going to be threading the needle to get proper ripeness, balance of fruit, and yields. We're looking to harvest the Syrah around the last week of September or beginning of October. For now I feel confident that what we have left to pick is looking very good. I will send more photos soon.
9/27 UPDATE: 
We are taking the day off today (9/27) and beginning again tomorrow (9/28) with our Hermitage Les Dionieres and Crozes-Hermitage Monopole Clos des Cornirets. The very small crop (about 50% down) is looking fresher, lighter on its feet, with much more minerality and aromatics, than in recent warm years. The whites are simply amazing and are already in the cellar.
JÉRÔME COURSODON
Domaine Coursodon
Mauves
9/20:
We were not as hard hit by the spring frost as some others, but the moisture this summer has kept things "interesting".
As of Sunday (9/19) I am looking to commence maybe Wednesday or Thursday (22nd or 23rd) depending on the grape tasting I do on Tuesday. Stay tuned, things could change.
REFLECTING ON THE VINTAGE:
After a very dry, warm 2020 vintage, the water tables regained some better balance in December 2020. The winter was rather mild and dry, and the beginning of spring was hot and very dry. The vines budded very early and quickly at the end of March and the beginning of April. On April 8, a historic black frost hit all of France. After a few days of observation we noticed that the communes of Mauves and Tournon were mostly spared and that the communes of Saint Jean de Muzols and Glun were only slightly affected.
During May and June the weather alternated between rainy episodes (very beneficial) and sunny weather. The flowering took place in very good conditions. July and August were quite humid, which greatly complicated the task of vineyard health – we had to be vigilant. Fortunately, a hot and dry period set in between August 20 and September 10. A final leaf removal and sorting of each vine before harvest was done to promote perfectly clean fruit and optimum maturity.
The first grapes picked were in the historic lieu-dit Saint Joseph on the morning of Wednesday September 22nd, followed by 'Paradis'. From then on it was important to do a triage on the terraces and have everything in the cellar by October 2 to avoid moisture and risk of rot. The great news is that the result is exceptional both in a normal quantity and in a classically chiseled vintage with great balance and acidity, with alcohol between 12.5 and 13.2. I can't wait to watch 2021 develop over the years. It could turn out to be one of the truly superb Northern Rhone vintages for Mauves in some time, without the excess sun that we've been used to recently.
SOUTHERN RHÔNE
OLIVIER KLEIN
Domaine Remejeanne
Sabran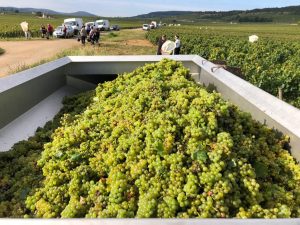 9/20:
2021 is a very late vintage for us in Sabran. This summer was not very hot (recall that we are much cooler than most of the Southern Rhone) and we started the harvest early last week (9/14). We haven't started this late since my grandfather's time. We are lucky to have escaped any frost thanks to our terroir and top of the hill altitude.
The yields were very good for Syrah, but look rather low for Grenache. Unfortunately, the flowering of Grenache did not go very well because of the cold spring we had. This week are picking the Cinsault and then the Grenache. For the moment, what I taste in my vats looks like a fresh vintage, with aromatic explosiveness and balance. More soon.
9/22 UPDATE: 
I finished my Syrah and overall it's beautiful, with good quantity, tremendous aromatics, and more chiseled and less massive than some of the recent warm vintages. The average alcohol is about 12.5 with really good acidity. Overall it's a cooler year that for us ended with a mostly dry lead up to the harvest. I really love the freshness and explosive aromatics. I'm picking the Cinsault tomorrow (9/23).
ALSACE
MATHIEU DEISS
Domaine Marcel Deiss
Bergheim
9/20:
We will start the end of the week. Stay tuned with more details to follow.