ABOVE: Brandon Doughan and Brian Polen.
---
Perhaps no internationally enjoyed beverage is identified as closely with one country as sake is with Japan. While whiskey may have roots in Ireland and Scotland, those traditions are now just as firmly rooted in the US and Canada, (and yes, Japan!). Wine and beer are made in practically every country on earth, and recently we see variations on gin popping up everywhere, employing local botanicals and ingredients. So why hasn't sake made the leap?
---
While certainly much of that is the difficulty of making craft sake (like wrangling, for one, the unfamiliar process of growing koji on steamed rice), there has also been a certain mystique to the process that Japan has cultivated. But the fact is sake, like beer, is brewed from grains, and with enough know-how and decent ingredients, could theoretically be made anywhere. Over the past decades sake from outside Japan has been creeping up here and there, mostly as experiments by adventurous beer brewers, but recently we've seen a small but growing trend of US-based breweries devoted entirely to sake.
Japan has about a 1500-year head start, with intimate knowledge of water, rice, and the infinite tiny variables that can turn a batch from sublime to soapy, but there's no reason great sake can't be made outside of the country. The new wave of American sake makers like Brooklyn Kura are starting to prove that.
New York State's first sake brewery was first conceived, naturally enough, over a chance encounter drinking sake in Japan; founding partners Brian Polen and Brandon Doughan were in the country for a mutual friends' wedding in 2013, and quickly bonded over an appreciation for the quality and variety of sake they had encountered on their trip. Having seen the craft beer explosion in the US they naturally wondered, "why not sake?".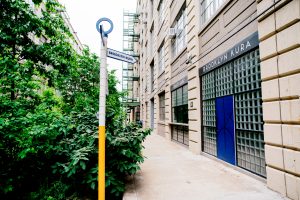 When Brandon and Brian returned, they started to experiment with home-brewed batches on improvised equipment. Initially, they experimented independently, still living on opposite sides of the US. When the two did have the opportunity to taste together, Brandon's years of home beer making and understanding of fermentation, stemming from his work in biochemistry, was evident. And once the yields from their self-taught, home sake operation reached a level that they were happy with they took the leap in 2018, raising money to open their brewery and taproom in Sunset Park, Brooklyn.
They learned quickly that Japan doesn't just have centuries of sake-making experience, they also have a robust industry supporting sake breweries, with makers of specialty rice steamers, presses, and koji-making equipment. Importing any kind of traditional gear wouldn't be cheap or easy, so they had to turn to ingenuity, repurposing a wine press, having a rice steamer custom fabricated by a Brooklyn metal worker, and even designing a table that could adjust temperature and airflow to make elegant koji.
We've visited their brewery countless times, often in the company of visiting sake craftspeople from Japan who are a little awed by the creativity employed to overcome the lack of equipment and resources… and who are also naturally skeptical of how good the sake can be. It never gets old to watch their eyes go wide as they taste what these two Americans have been working on and see what they have accomplished in just eight short years.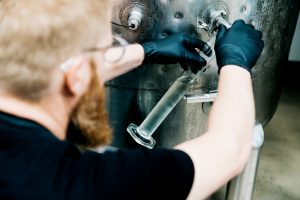 Brian and Brandon want Brooklyn Kura to stand up next to the best Japanese sake on its own merits, and so they've avoided the fruit infusions and flavorings that some other American sake makers have used to draw in consumers. Their #14 Junmai Ginjo and Blue Door Junmai are both lean and crisp, aiming for a classic, clean flavor of light fruit and steamed rice. There is no room for error in these styles; they possess a clarity, focus, and depth of flavor that's impossible to achieve any other way.
While they have experimented with limited-run batches exploring traditional styles like Yamahai, Kimoto, and Junmai Daiginjo (as well as a gorgeously restrained dry-hopped sake), their focus is to continually refine their two classic offerings, which puts them in line with just about every great sake maker in Japan.
We're excited to partner with Brooklyn Kura, to bring their efforts to a wider audience and share with everyone just how great American-made sake can be. Thirty years ago, American beer was a joke internationally, but now American craft ales are coveted around the world, with American versions of European styles challenging their continental ancestors. Is American sake far behind?
THE SAKE

It was on their fourteenth recipe for Junmai Ginjo that Brooklyn Kura knew they had something special: delicate and aromatic with layers of tropical fruit to explore. The "#14" is now their flagship sake and stands proudly next to some of the best sake made in Japan.
Light bodied, delicate structure, soft aroma of flower and apple, notes of tropical fruit.
Calrose and Yamada Nishiki rice milled to 60%
Serve chilled and enjoy soon after opening
Pairs well with lighter dishes: fresh seafood like steamed halibut and raw oyster or an array of soft cheeses.
15% ABV
SMV (measure of dryness): 0

Named for the iconic entrance to the Brooklyn Kura taproom, the 'Blue Door' is fermented slightly warmer than their ginjo sake making it stout, earthy, and dry. It is left unpasteurized (nama) giving it life and vibrancy.
Full-bodied, earthy, dry, umami-laden with subtle notes of banana and ripe melon.
Calrose and Yamada Nishiki rice milled to 70%
Serve chilled and enjoy soon after opening
Pairs well with richer dishes like grilled tuna steaks, smoky cheeses, or steak frites. (Or even just frites!)
SMV (measure of dryness): +3
 17% ABV