Pictured Above: Harvest at Domaine François Mikulski.
2020 has been another complicated, warm, dry growing season across France. You have to go back some 500 years to find an earlier harvest… yet even with the new norm of hotter weather, this year has been somewhat of an anomaly with COVID throwing all kinds of added virus-related challenges in terms of commerce and keeping families and teams safe.
Still, our favorite grape farmers are mostly optimistic about what looks to be another superb harvest that began in earnest last week. Spring frost, which is now an annual danger, was less of a factor this year and spirits are running high with conditions looking good to exceptional in most places.
For many this will be the earliest harvest since 2003, but today great growers are more prepared than ever to harvest and vinify these warmer vintages. Despite the early harvest date for most in 2020, growers like Arnaud Mortet in Gevrey-Chambertin emphasized this year is very different from 2003.
As he puts it,
… this vintage will have absolutely nothing in common with the results in 2003. In 2003 the heatwave started in April and it was scorchingly hot and dry all summer. By August the vines were suffering, with many leaves withering and grapes not handling the heat. It's important to note that despite 2020 being warm and dry this summer, it did not have the excessively hot nights that were a problem in 2003. We also had some good rains in June and July that helped with the water reserves. Even the small drops from last week have helped.
This is all in addition to the adaptations and improved tactics we have implemented in the vineyards to help with warmer and warmer vintages. We now stop plowing earlier and we treat less as the summer progresses. This year I decided to keep my team two weeks longer to cut each leaf by hand that had some odium starting. This allowed us to not do a treatment of sulfur that would have further stressed the vines – I have seen the effects of what a final treatment would have done in other vineyards. We also have been training our vines higher for some time now, with hands-on leaf management to create extra shade for the bunches. We are happy to report little to zero sunburn in 2020.
This is just one example of some of the lessons learned from years like 2003, 2009, 2015, 2018, and 2019 that pushed growers to find creative and effective solutions in the vines and the cellar to deal with global warming and its effects on viticulture.
The early reports from the growers paint a picture of 2020 as somewhat of a unique vintage with ripe fruit, HIGH acid, and potentially lower alcohol than 2019. Some growers are uncharacteristically optimistic as the first grapes have started coming in. Quantities in general look to be average, with some sunburned grapes depending on the sites.
Here are some notes and reflections from many of our growers across France:
BURGUNDY
MARC & ALEXANDRE BACHELET
Bachelet-Monnot
Dezize–lès–Maranges
We started Thursday (August 20th) in Puligny and Pommard. Friday (August 21st) we finished Batard and began harvesting in Chassagne. Saturday (August 22nd) we continued in Chassagne and Sunday (August 23rd) we finished the Maranges 1er Cru Fussieres Rouge. The small rain early Saturday was of very little help for the reds, but helped a bit for the whites. The Fussieres Rouge came in at 13.5% with great acidity but very little juice.  Small quantity, but very high quality for the reds.
Today (August 24th) we are harvesting the Bourgogne Blanc and Puligny and tomorrow (August 25th) will be Maranges 1er Cru Fussieres Blanc and Puligny. The overall yields on whites are better than the reds and the potential is about 12%-13% depending on cuvee , with tremendous acidity. Quality will be very very high.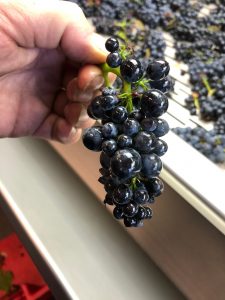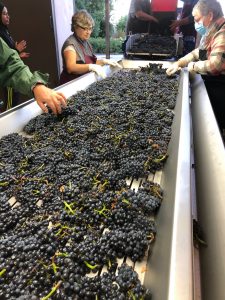 ---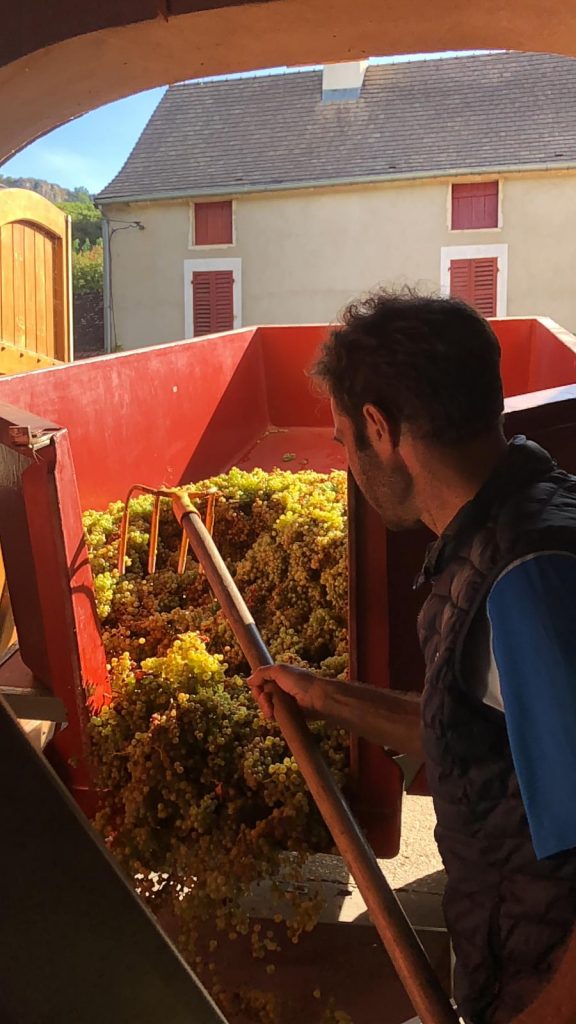 JOSEPH COLIN
Joseph Colin
Saint-Aubin
The harvest is going superbly! We began on August 15th with St. Aubin 1er Cru En Remilly. On the 20th and 21st we did Chassagne-Montrachet 1er Cru Cailleret, 'Vide Bourse', Les Chenevottes, and Bourgogne Blanc. We will start again today, the 24th, with Chassagne Village and more St. Aubin 1er Crus.
The balance between ripeness, phenolic maturity, and acidity is truly magnificent. Everything is beautiful and clean.
---
FRANCOIS MIKULSKI
Domaine Francois Mikulski
Meursault
We harvested Volnay, Pommard, and Bourgogne Rouge Thursday through Saturday (August 20-22). The bit of rain that happened Friday night was too late to help the reds. There was very little juice in the red grapes and the alcohol is about 13.5% with good acidity.
Today (August 24th) and the rest of week we will finish Bourgogne Blanc and Meursault. The rain did help a bit for the whites to gain some juice and will add to the overall balance. Alcohol for the whites are between between 13%-13.3% with great acidity.
---
THIBAUD CLERGET
Domaine Yvon Clerget
Thibaud Clerget started his harvest on August 21st, and on August 25th attacked his Clos de Vougeot. Pictures below!
---
PIERRE-VINCENT GIRARDIN
Pierre Girardin
Meursault
We started harvest in Puligny-Montrachet Folatieres on Friday (August 21st). Saturday (August 22nd) we began in Meursault. Everything has gone very well so far and the quality is looking to be superb – stay tuned!
On August 25th, harvest began at Meursault Narvaux:
---
THIERRY PILLOT
Domaine Paul Pillot
Chassagne-Montrachet
I started harvest on August 20th with my Bourgogne Blanc and the 21st with Chassagne Blanc 1er Cru Clos St Jean. So far so good!
---
ARNAUD MORTET
Arnaud Mortet & Domaine Denis Mortet
Gevrey-Chambertin
We are ecstatic about the potential of the vintage. This is the earliest we have harvested since 2003, but this will have nothing in common with that vintage except for the early harvest date (explained above). I will likely start on Wednesday (August 26) with the southern Gevrey-Chambertin parcels, then will probably do the Grand Crus over the weekend, and finally the northern part of Gevrey-Chambertin the week after.
The vines are in amazing condition. We've had some tiny bits of rain that have been just enough to give the grapes and foliage a boost. 2020 will have great acidity and balance to offset this ripe year. I think both 2019 and 2020 will be fresher and tighter than 2018.
---
CYPRIEN ARLAUD
Domaine Arlaud
Morey St. Denis
We got a bit of needed rain, about 15mm, early Saturday (August 22nd) and it was a helpful dose for all of us in the Côte de Nuits. So far the year looks to have great acidity, with normal yields overall. We will start our harvest with Nuits 1er Cru today.
---
GERALDINE GODOT
Domaine de L'Arlot
Nuits. St. Georges
We started Friday (August 21st) with a small parcel of Nuits St. Georges Blanc 'Gerbotte' that sits above Clos de L'Arlot. It came in beautifully at about 13% potential alcohol with good acidity.
Tomorrow (August 22nd) we are starting in Clos des Forets. The small rain late Friday was very helpful, though we still have very little juice in the grapes. Quality is very promising and it looks like a light extraction is going to be key.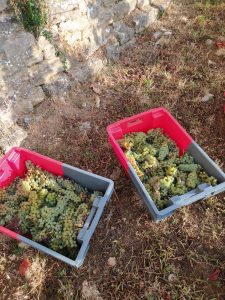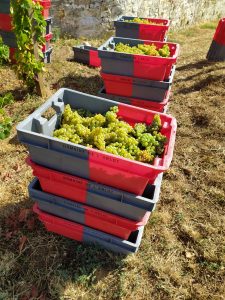 ---
ALIX MILLOT
Domaine Jean-Marc Millot
Nuits St. Georges
I started harvest today (August 24th). Not completely delighted with the phenolic maturity, but the rain on Friday night did help a bit. As was the story with others, we have been affected by the drought and some sunburned grapes, but we are still optimistic for the quality.
---
VINCENT DUREUIL
Domaine Dureuil-Janthial
Rully
We checked each site last week and over the weekend to see exactly where and when we should begin. All signs point to a likely start date of tomorrow or Wednesday. The grapes are all looking beautiful with great acidity and freshness.
---
FRANTZ CHAGNOLEAU
Domaine Frantz Chagnoleau
Pierreclos
The harvest is looking to be very positive in the Maconnais. We are very excited to begin using our newly renovated cellar to bring in the 2020 fruit!
---
DOMINIQUE LAFON & CAROLINE GON
Les Héritiers du Comte Lafon
Milly-Lamartine
The season was very dry, but a saving rain Friday night (August 21st) was a big help at adding balance. Despite the warm and dry summer, we see a very promising harvest ahead as we begin Monday (August 24th).
---
CHARLENE PINSON
Domaine Pinson Freres
Chablis
We are very excited about the quality of the 2020 finish to the season. We were very careful to leave a lot more leaf coverage this year to protect the bunches from sunburn and excessive heat; this was key for everybody in 2020. The small bits of rain we've had recently, followed by sun and the heat, has accelerated the maturity and harvest start. We're going to begin in Les Clos and Mont de Milieu this Wednesday (August 26th).
The pH and acidity are superb, quantity looks solid, and the alcohols are between 12.5% and 13%. Because of COVID restrictions, we will only have 30 and not 45 harvesters this year – this is going to be an issue for many. The pictures are from Les Clos on Friday (August 21st).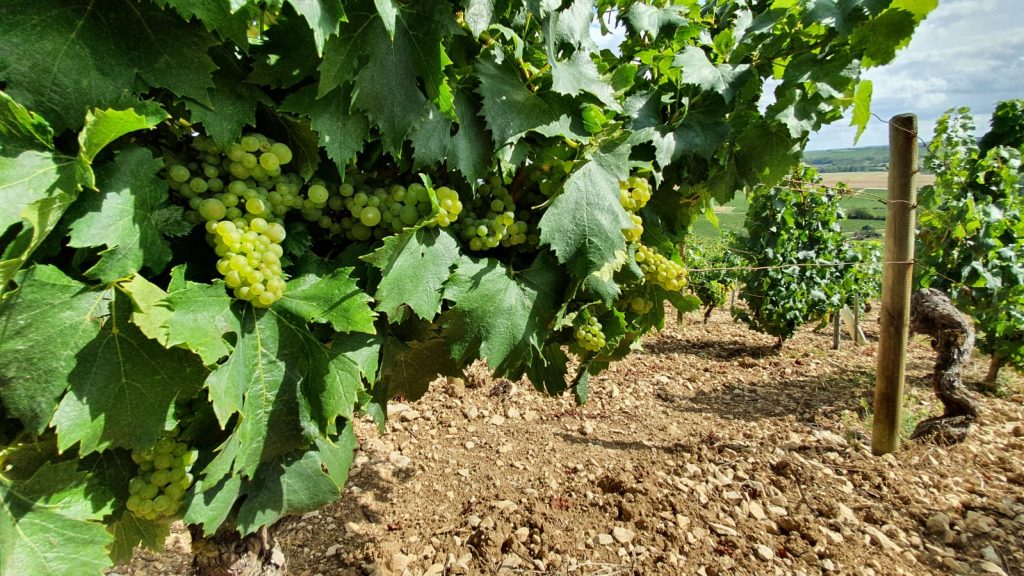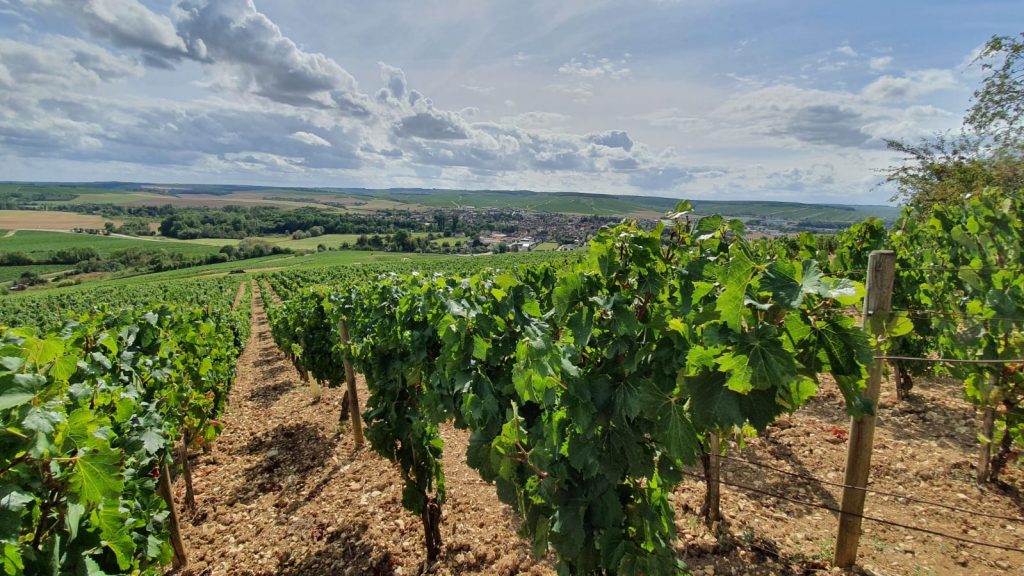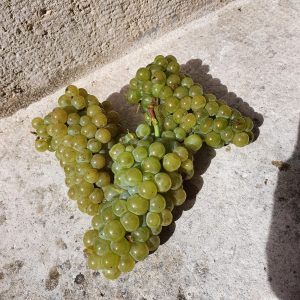 BEAUJOLAIS
MAXIME & ANTOINE GRAILLOT
Domaine de Fa
Fleurie
We will begin in about 7-10 days. Our high altitude is a big help to slow things down for our Beaujolais. Lower elevation sites in the area are suffering a bit with heat and those harvests are starting this weekend (August 22-23).
---
MICHEL TÊTE
Domaine Michel Tete
Juliénas
With cool sites and more profound soils in and around Juliénas, it has helped with the lack of rain this summer. We are looking to start the harvest around the 1st of September. The higher amounts of clay and resulting yields should be a help in attaining better balance. Beaujolais-Villages La Roche is the coolest site and will be last as always.
---
MATHIEU MELINAND
Domaine des Marrans
Fleurie
We've had a bit of brulage with a very hot August and not a lot of juice. Acidity remains good and may save the balance (13-14+%). We had to wait for complete maturity and it will surely be a year to do a super lighter extraction, more an infusion at cold temperature. In Beaujolais in general, it is looking closer to 2003 with much better acidity. Our vines in Fleurie were stressed, with the soils not being very profound.
CHAMPAGNE
GUILLAUME DOYARD
Champagne Doyard
Côte des Blancs
We are starting next Thursday (August 27th). So far the potential looks very promising.
JURA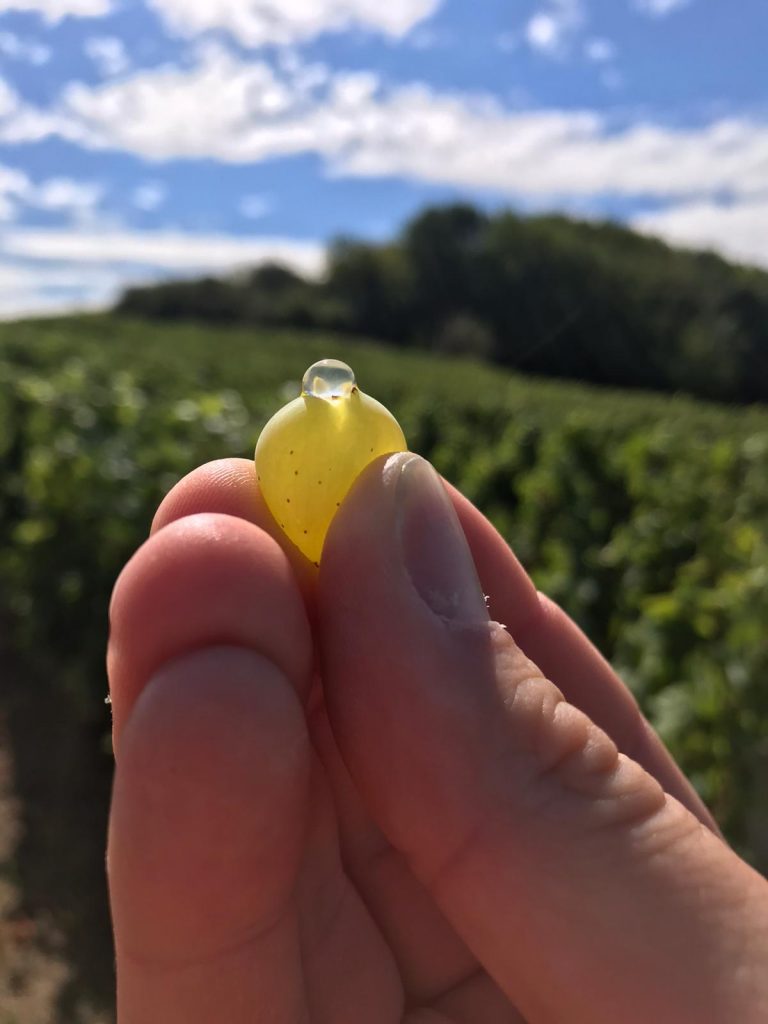 CÉDRIC DUCOTÉ
Domaine Rolet
Arbois
We started with Crémant on Wednesday (August 19th). Timing is complicated this year, with some areas needing a lot more time than others.
The good news is that drought has not been a real factor this year as it has in other regions of France.
LOIRE
JACKY & JEAN-PHILIPPE BLOT
Domaine de la Butte & Domaine de la Taille Aux Loups
Montlouis-sur-Loire and Vouvray
We are very encouraged by the harvest, but not yet sure of the exact date. We thought perhaps September 1st, but that may change. So far it looks to be another great year similar to 2019. Again we have had virtually no water during the growing season. Vouvray and Montlouis both look superb.
---
THIBAUD BOUDIGNON
Thibaud Boudignon
Savennières
I'm feeling very good about the harvest. We're looking at solid yields for a change, with great balance in the fruit. We are looking to begin harvest on August 31st.
NORTHERN RHÔNE
LAURENT & CÉLINE FAYOLLE
Laurent Fayolle
Gervans
We are starting on Tuesday August 25th with Crozes-Hermitage Les Pontaix Blanc, followed by the Hermitage Blanc Les Diognieres later in the week. Crozes-Hermitage Rouge from the south will lead off next week, before we do the reds in the North near and around Gervans.
---
ALAIN GRAILLOT
Domaine Alain Graillot & Equis
Crozes-Hermitage
We finished our Crozes-Hermitage Blanc on Friday (August 21st). All the grapes came in below 13% and are superb with good freshness! Our Crozes-Hermitage Rouge started on Saturday (August 22nd). We also at the same time finished harvesting our new parcel in the northern sector of Crozes-Hermitage. We don't have a name yet for the wine, but it will be a new addition to our lineup that we are looking forward to. On Sunday (August 23rd) we harvested a part of the St Joseph. Today (August 24th) we took another pass through the Crozes-Hermitage Rouge and will continue there and in our other small parcels the rest of the week. The overall quality is very exciting.