BURGUNDY
MARC & ALEXANDRE BACHELET
Bachelet-Monnot
Dezize–lès–Maranges
Tuesday, September 8th:
We finished on September 3rd with our Hautes Cotes de Beaune and Maranges parcels that are for the Bourgogne Rouge. All of our reds came in between 13 and 13.5% alcohol with very low yields and uniformly outstanding acidity. We will not make a lot of 2020 Rouge, but it is going to be another outstanding red vintage, very close to 2019.
2020 for white is also a very good vintage with tremendous raw material, better quantity than for the reds, and superb acidity. Similar in many ways to the 2017 whites with alcohols ranging from 12.5-13.2%. We are surely very lucky these last three years with the quality, but much of that success is the result of our enormous efforts in continually improving the farming for the last 15 years. The soil and vines are so healthy, and the balance found in the fruit/wine is a true testament to all that hard work.
This was in many ways a very easy vintage to vinify and by weeks end most of the reds will be devatted. We needed to do very little extraction in 2020, as things happened very naturally from the start. We also decided to do some tests of 100% whole cluster on a small part of Maranges 1er Cru La Fussiere Rouge. Overall we did about 25% whole cluster on the reds. We can't wait to taste these three recent vintages side-by-side in the future!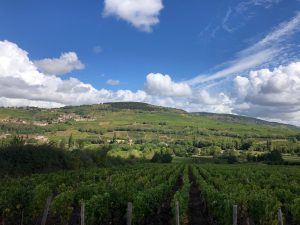 ---
FRANCOIS MIKULSKI
Domaine Francois Mikulski
Meursault
Tuesday, September 8th:
Our Aligote and St. Aubin vineyards are developing much more slowly and we're looking at waiting another eight days or so before harvesting to improve the overall balance of the fruit. Stay tuned.
---
THIBAUD CLERGET
Domaine Yvon Clerget
Sunday, September 6th:
We are completing the devatting. I'm am very happy with the quality and the quantity of the harvest, as it is a bit more than I expected. I'm already in love with the style of 2020 – everything about the vinification so far has been natural, with an easy extraction – it really wasn't necessary to do any pigeage.
---
THIERRY PILLOT
Domaine Paul Pillot
Chassagne-Montrachet
Wednesday, September 9th:
I was a bit nervous before the harvest, but things went very well, much better than I expected. Both colors look astonishingly promising at this point. We still need to wait for the fermentations before truly pronouncing the early results of 2020, but for now the whites especially look notably beautiful.
The balance is solid with natural alcohol between 12.5 and 13.5% with beautiful acidity. Considering the very dry and warm growing season, I'm very happy with how things have turned out. We had about twelve millimeters of rain just before the harvest that really helped certain sites to come into balance. The reds are a bit more precocious because of the very tiny yields. I need a little bit more time to see how those progress.
---
ARNAUD MORTET
Arnaud Mortet & Domaine Denis Mortet
Gevrey-Chambertin
Wednesday, September 9th:
My mother, Clemence, and I could not be happier with the 2020 harvest! Another magnificent year. We trusted our farming, our old vines, and have taken our time.
We did not have any sunburn (canopy management and avoiding our last sulphur treatments of the vines were crucial) and the bunches were super healthy approaching the harvest. The very beneficial rains on two successive Fridays, the August 28th and September 4th, helped bring things together a bit.
Only our cooler, very northern Bourgogne Rouge sites on the plateau of Dijon were not yet ready yet and we will finish those on Friday September 11th.
Overall, and considering the warm summer, we are delighted to find alcohols that are lower than 2018-19 – they are perfect really. The levels should finish somewhere between 13-13.3. The quantity is average to low. We can't complain as we are particularly pleased with the acidity, (great tartaric acid), PH, and general balance. All these different indicators point to a superb vintage for us. This is exactly the type of vintage I love. It's too early to say with certainty, but maybe like 2012 or 2010? I am not a fan of super ripe years and am so happy with the ultimate results of the 2020 harvest. I believe that 2018-19 will surely be considered among the great vintages in the long term, with real aging potential. 2020 is going to give us a third tremendous year in a row, but with perhaps better overall balance at the end of the day.
I decided for the first time to do some whole cluster even on the Bourgogne Rouge – about 60-70%. The Marsannay and Fixin are closer to 60%, Gevrey village 30% seemed ideal, Premier Crus around 30-50% depending on the acidity and individual parcel, and the Grand Crus around 30-40%. It's never scientific, but rather based mainly on feel and how the sites have reacted to my experiments with whole cluster over the last ten years.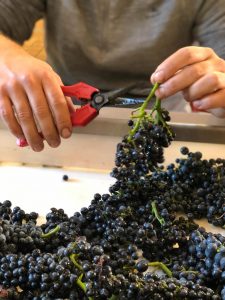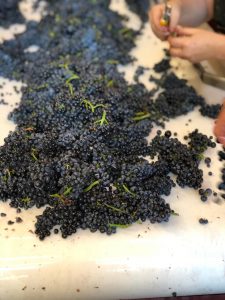 ---
ALIX MILLOT
Domaine Jean-Marc Millot
Nuits St. Georges
Thursday, September 10th:
We are devatting the 2020 Passetoutgrains tomorrow (September 11th). It is very balanced with very good acidity to go with the beautifully ripe fruit. Overall the volumes are not fantastic, a bit like 2019, but I was worried it was going to be worse. It really is an amazing vintage. Quality is outstanding with good acidity across the board that helps offset the very small quantities.
---
GUY BALLAND
Domaine Balland-Curtet
Puligny-Montrachet
Wednesday, September 9th:
We finished on August 28th with better yields than I expected for the Chassagne and Puligny. Overall the whites are very promising, with dense fruit, good balance, and solid acidity! Can't wait to watch these develop.
---
VINCENT DUREUIL
Domaine Dureuil-Janthial
Rully
Wednesday, September 9th:
I finished last Friday (September 4th) except for the Aligote. The alcohols for both colors are all between about 12.6 and 14% with very good acidity. The whites will end up on average around 13.3%, with lots of crunchy acidity. It may turn out to be like 2014 if all goes well. There is a lot of tartaric acid.
The reds are also looking good with lovely color and ripeness, but with nothing finished in terms of fermentations, I need to wait a bit to give a look at the overall style for the reds.
Friday, September 11th
Finished with 35 year old Aligote today about 13 potential alcohol. Truly magnificent! Golden and perfect…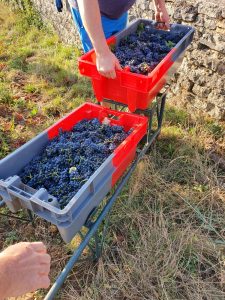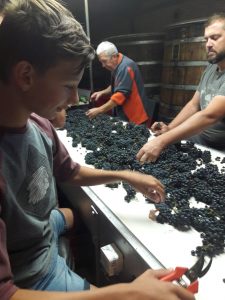 ---
CHARLENE PINSON
Domaine Pinson Freres
Chablis
Wednesday, September 9th:
We took a pause on Sunday August 30th and were thankful for a tiny bit of rain the day before in the afternoon. On Monday August 31st we started the old vines of Les Clos, and finished the remaining Clos and Mont du Milieu the next day. The overall quality is nothing short of extraordinary, with perfect balance. Very good acidity and the potential alcohol between 12.6-12.8%. It is almost impossible to hope for a better result than that.
The rest of the week we attacked the left bank parcels and finished on Friday September 4th. The quality and style is truly special and maybe something like 2017, if not quite comparable to the remarkable 2010 vintage. Beautiful balance and the fermentations are off and running.
LOIRE
JACKY & JEAN-PHILIPPE BLOT
Domaine de la Butte & Domaine de la Taille Aux Loups
Montlouis-sur-Loire and Vouvray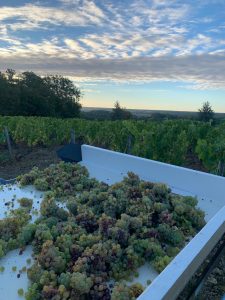 Thursday, September 10th:
This harvest has really progressed under perfect conditions. It will be the seventh consecutive year with perfectly mature grapes. I am worried we're going to end up like the Bordelais with every year being the vintage of the century – haha!
We began last Wednesday, September 2nd!  (A RECORD EARLY HARVEST GOING BACK TO 1556!) with our first team attacking the Triple Zero parcels. The balance of sugar and acidity was literally perfect! The alcohol is between 12.5 and 13.5%.
On Friday September 4th we had a second team begin in the always precocious Clos de Mosny – one of the earliest parcels we harvest. The alcohol was great and acidity just enough. On Monday September 7th, we had a total of three teams working, continuing Clos de Mosny, Clos Michet, and more parcels of Triple Zéro.
September 8th we started in Vouvray with Clos de Venise (see the photo to the right) and part of Clos de la Bretonnière. Our Vouvray are extraordinarily early this year. At the end of the week we will surely be starting Les Hauts de Husseau, Clos du Hochet, and the end of Bretonnière.
For the moment everything looks beautiful, the harvest is absolutely healthy with magnificent fruit, but we need to go very quickly. Any delay, as with recent warm vintages, would result in a serious drop in acidity and balance. Things are looking very good for all of our Chenin in both Montlouis-sur-Loire and Vouvray. For the Reds we have some time, likely about 10-14 days. By that time we should be finished with the whites and ready to harvest at Domaine de la Butte in Bourgeuil. Our Cabernet Franc looks very promising too!
---
FLORENT COSME
Florent Cosme
Noizay
Wednesday, September 9th:
I began on September 3rd and today I'm harvesting our Vouvray La Grosse Pierre parcel. The overall quality is magnificent, but the yields are tiny and we have to go quickly to keep the balance and acidity from getting out of control.
---
FABIENNE BRUNET
Domaine de l'Enchantoir
Saumur
Tuesday, September 8th:
We started the Chenin harvest today and it will take place over 10 days or more with multiple levels of maturity depending on the exposition and parcel. Maturities were 2.5 weeks behind schedule.
The Cabernet Franc is not expected before the end of September and everything looks very good in volume and quality with probably lower alcohol levels than the last 3 years. We'll send you a report and photos next week for the Chenin!
---
LOIC CAILBOURDIN
Domaine Alain Cailbourdin
Pouilly-Fumé
Wednesday, September 9th:
Yesterday we harvested the first part of Les Cris. The grapes are gorgeous and the juice perfectly balanced. Great start to our 2020 Pouilly-Fume Les Cris. Looking like another super year.
---
THIBAUD BOUDIGNON
Thibaud Boudignon
Anjou & Savennières
Friday, September 11th:
I began last week Wednesday through Friday (September  2nd – September 4th) with my parcels in Bonnezeaux and Saint-Lambert-du-Lattay for my Anjou Blanc. This week I finished harvesting in Les Gats on the hump of Saint-Lambert-du-Lattay for my Anjou Blanc 'á Francois(e)'. The grapes were so perfect. I also harvested Savennieres Clos de La Hutte and Clos de La Hutte Franc Pieds, a new cuvee of 300btls to be aged in a 220 liter glass globe. The fruit for this came in at 12% potential alcohol and perfectly ripe!!! Monday September 14th we harvest Savennieres Clos de Fremines, Tuesday more of Clos de La Hutte, and Wednesday Savennieres Les Vignes Cindres. The rain we had in mid-August has allowed me to go slowly and come in with alcohols between 12-13% with great acidity and a finesse in the juice that is remarkable. The skins have been fine and elegant and the aromatics entrancing. I am very happy so far!
---
JEAN DE BONNAVENTURE
Château de Coulaine
Chinon
Friday, September 11th:
We began on Wednesday September 9th with the Chinon Blanc. Tiny yields, but happy with the freshness to balance the ripe and concentrated fruit. Everything is looking very healthy. For the reds things are looking great and we will start on the sandy, limestone and gravel sites in about ten days, followed shortly by the single-site wines on clay and limestone. We need to be patient to let the tannins and balance come together. It has been very dry and warm this summer and we're looking at doing very gentle extractions to preserve as much freshness and balance as possible.
CHAMPAGNE
GUILLAUME & YANNICK DOYARD
Champagne Doyard
Côte des Blancs
Thursday, September 10th: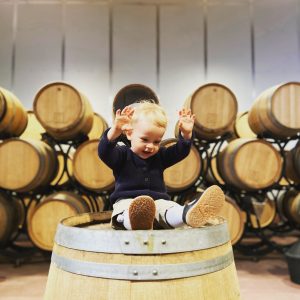 We began last week on Monday through Saturday (August 31st – September September 5th), and re-commenced Tuesday September 8th with Les Coteaux. The acidity is average, the fruit is beautifully healthy, and we're taking our time to harvest each parcel at its peak potential.
So far everything we've harvested is between 10.8 and 11.8% in the cellar. It is crucial to be patient. It's probably going to be a notch below 2019, but lovely nonetheless. We will be doing both a Coteaux Champenois Rouge et Blanc in 2020! With good quantity this year we're only keeping the very best and most beautiful fruit. We're doing a severe triage that will ultimately  up the quality of 2020.
---
CLEMENT VERGNON
JL Vergnon
Mesnil-sur-Oger
Thursday, September 10th:
We began the last Monday with Premier Cru Gaumes in Vertus, 30 plus years old (Murmure cuvee) and finished today with Chemin de Flavigny which is a single site 45-year-old vines for the OG Grand Cru harvested at 11.8 with good acidity… overall good quality and very nice quantity.
Perfectly clean and beautiful fruit from start to finish. The dry summer was a serious factor, but by waiting a couple of days we ended up with a perfect balance in the fruit from 10.4-11.8 alcohol, with bit more juice and solid acidity, enough juice and lovely aromatics coming together beautifully during the week….
BEAUJOLAIS
SYLVAIN & MICHEL TÊTE
Domaine Michel Tete
Juliénas
Thursday, September 10th:
A truly beautiful harvest and we're finishing tomorrow (Septmeber 11th). I can't say there's high acidity, except for Beaujolais-Villages La Roche which is always high and super fresh. The alcohol levels range between 13.2 to 14.5% and our yields are good considering the warm summer. My dad and I are so happy with another success in a string of really great vintages.
ALSACE
CHRISTOPHE MITTNACHT
Domaine Mittnacht
Hunawihr
Thursday, September 10th:
The photo below is from today's sunrise in Hunawihr. Start of the harvest is at 7:00 AM with the perfect freshness of the morning and everything set for a perfect day for the pickers and the grapes!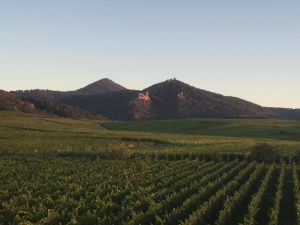 JURA
CEDRIC DUCOTÉ
Domaine Rolet Pere et Fils
Arbois and Côtes du Jura
Friday, September 11th:
Today we are harvesting some gorgeous Savagnin from the Leuvrin plot in the village of Montigny les Asures. The alcohol is 13% with a lovely spicy note as I tasted a few grapes – I love that in Savagnin. Yesterday (September 10th) we harvested one of our Arbois Chardonnay plots in Montesserin that came in at 12.8% and with excellent freshness. 2020 is looking like a super vintage overall for us in terms of quality, if not all the quantity we would like.
PROVENCE
ERIC DE SAINT VICTOR
Chateau Pibarnon
Bandol
Friday, September 11th:
The start of harvest this year is one of the earliest ever and, most importantly, we have harvested more fruit earlier than usual. We began the on August 22nd through August 25th with Rolle and Marsanne on the north-facing cooler terraces for the Bandol Blanc. These had beautiful acid and fruit. The Clairette was harvested on August 31st through September 7th and we still have the Bourboulenc to bring in around September 15th through the 25th.
For the reds, we have followed the terraces of Grenache day-by-day starting on August 24th through yesterday (September 10th). All averaging 14-14.5% alcohol with superb fruit and color. During this time we also did our tiny bit of Syrah on August 24th though August 31st for the Bandol Rosé. With the impact of global warmiing, this is now vinified together with the Grenache to help with the overall balance of the cuvée that eventually blends gorgeously with the Mourvedre (harvested starting September 3rd). From August 25th to September 5th we also slowly harvested some gorgeous Cinsault.
Every other day we decide what is ready. The fruit is beautiful overall, it has rained a bit the last few days that is helping round the Mourvedre into top form (just like a marathoner that needs some water along the route). The next days of harvest will resume on Monday September 14th, due to rain. I'm looking for the skins, tannins, and seeds to come into play. Mourvedre is always super slow driver and takes its time, which we love. We will actually finish at the same time as last year despite the early start.
We are still waiting for maybe some more rain, which will likely end up giving us the perfect blend of fruit overall from the start of the red harvest until the end. It was dry here this summer, but not too dry. Being organicm we love the rain that comes during the harvest to slow things down and help extend the Mourvedre to ripen perfectly, which loves more hang time on the vines.
We will probably finish towards September 23rd if all goes well. So far the year is rounding into a very fruit-driven, darker fruits vintage, with good acid and very fine and ripe tannins. A vintage with sensual fruit and all the ingredients that make our Bandol a wine that is seductive young, and always stands the test of time.