Ferruccio Biondi Santi is widely credited for having "invented" Brunello, but very few people are aware that his first vineyard dedicated exclusively to "Sangioveto e Brunello," planted in 1877, was not at his renown Il Greppo estate on the slopes south of Montalcino. The actual location, in fact, was in Scarnacuoia (pronounced scar-nah-KWOY-ah), just to the west of Montalcino, precisely where the Scopetone vineyards are now located.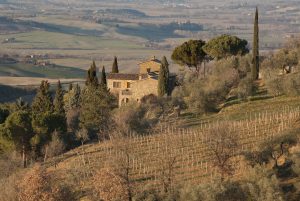 In the late 1970s, Federigo Abbarchi had an insurance agency in Brescia. Born in Borgo San Lorenzo in Florence, Federigo was of Tuscan stock and had a budding passion for agriculture. Returning from a vacation with his wife, Angela Corioni, they stopped in Montalcino to visit some friends. It was love at first sight and they decided to abandon Brescia for the rolling, sunny hills of Montalcino.
At that time, expertise in Montalcino rested with just a few names, and among them was our very own Enzo Tiezzi. Tiezzi had, quite literally "written the book" on Brunello, having dedicated his doctoral thesis to the wines of Montalcino while he was the enologist and director for the Col d'Orcia estate. Tiezzi led Federigo to purchase Scopetone in 1978 in the heart of Scarnacuoia and gave him a hand getting organized.
The new estate was tiny, even for Montalcino standards, but it immediately became a cult sensation. After Tiezzi played his part in the first years, Giulio Gambelli shepherded the estate though the 1980s, eventually passing the torch to his student Attilio Pagli in the 1990s. Throughout the years, Scopetone became a beacon of quality to lovers of classically styled wines around the world.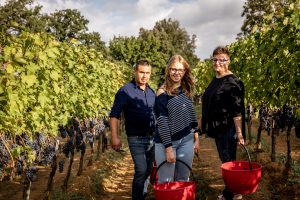 When Federigo passed in 2009, it seemed that the love story born at Scopetone would end. But by luck (and maybe providence!) one of Scopetone's caretakers was related to a young Montalcinese couple looking to start an estate of their own. Loredana Tanganelli and Antonio Brandi were keen to lease the historic Scopetone vineyards. And Angela, knowing Federigo would be pleased to know that the story of Scopetone would continue, agreed on one condition: they could farm her vineyards as long as they bottled their wines under the Scopetone label.
Loredana and Antonio accepted immediately, and in order to maintain the classic style for which Scopetone had become famous, they availed themselves of the enologist Maurizio Castelli, one of Tuscany's true "sangiovesistas." The estate has grown to 5 hectares, including the original hectare planted by Federigo and Tiezzi in 1978, as well as some newer parcels planted by Loredana and her husband in 2011 and 2016. They also have a small plot of vineyards across the Orcia river, which is the primary source of their IGT Sangiovese.
And of Scarnacuoia – what makes it so special? Well, Tiezzi says that this area has some of Montalcino's oldest soil, which has volcanic influences thanks to the extinct Monte Amiata close by. Silt, sandstone, limestone and very high elevations – from 380 to 500 meters above sea level – make this the perfect terroir for bright, perfumed Sangiovese, light in color but with a brilliant capacity to age and faithfully express the original terroir of Brunello.
THE WINES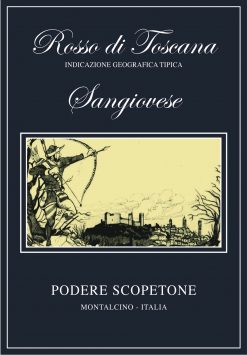 Toscana Sangiovese IGT 2018, Scopetone
20% of the fruit from this wine is declassified from the estate's Montalcino production, while the rest comes from Porrona (just over the Orcia River which forms the southern end of the Montalcino appellation). This wine showcases the fresher, fruitier side of Tuscan sangiovese. The elevation in Porrona is lower (250 – 300 meters above sea level) and the soils here are more dense than in Scarnacuoia, with galestro but also clay. Fermentation and maceration last about 20 days, and then the wine is aged only in stainless steel.
This is the estate's calling card, and of the 2018, Loredana readily admits it's her favorite vintage of this wine in recent years! 800 cases are produced annually from 3 hectares.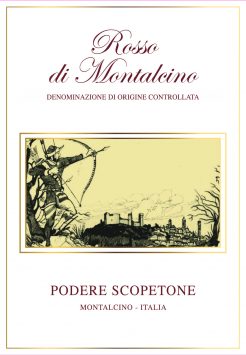 Rosso di Montalcino 2016, Scopetone
Scopetone's vineyards in Montalcino are all able to produce Brunello, so her Rosso di Montalcino is always declassified Brunello. She tends to use the younger vines, but otherwise the Rosso does the same fermentation as the Brunello with a month on the skins in stainless steel, and then aging 6 months in 33hl casks. 325 cases produced annually.
The 2016 Rosso di Montalcino is very pretty, understated and very delicious. Readers will find a soft-spoken Rosso that is all about persistence, delicacy and class. The 2016 is not an obvious wine, but it is compelling. Sweet floral and red cherry notes perk up the brilliant finish in this light to medium-bodied Rosso from Scopetone.90 Points, Antonio Galloni, Vinous
And of the 2017 Rosso di Montalcino…
Good pale red color. Fresh and medium-bodied, this boasts noteworthy precision to its strawberry, blood orange and floral aromas and flavors. Harmonious acidity provides remarkable clarity and cut. Finishes with an impressive mineral edge and outstanding length. An excellent Rosso di Montalcino that was released late and that manages to stay light and lively despite the very hot vintage. Well done.92 Points, Ian d'Agata, Vinous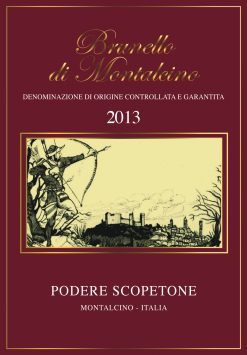 Brunello di Montalcino 2013, Scopetone
The 2013 is perfect to drink right now. The extra time in the bottle has really tamed some of the wines youthful exuberance, and I think it shows exactly what Antonio and I are trying to achieve.
Loredana Tanganelli
Bright red. Very perfumed floral nose of red berries and minty herbs. High but harmonious acidity lifts and extends the strawberry, orange peel and mineral flavors on the long, vibrant back end… I love the floral perfume, very juicy strawberry flavors and mineral edge that give this wine a unique personality among Montalcino's greats.92 Points, Vinous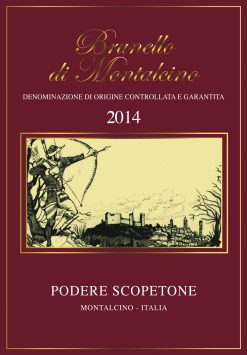 Brunello di Montalcino 2014, Scopetone
2014 was really a challenging vintage. But we did five separate harvests, and in the end made 2,500 bottles – less than half of our usual production. I'm proud of this wine, and it's classic Montalcino.
Loredana Tanganelli
Bright red. Perfumed, penetrating aromas of sour red cherry, coffee, flint and wild herbs. Then at once savory and sweet, with a strong mineral overlay to the red fruit and spicy herb flavors. Finishes saline and vibrant. Another lovely Brunello from Scopetone, one of Montalcino's most underrated producers.92 Points, Vinous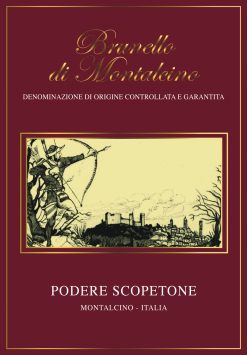 Brunello di Montalcino 2015, Scopetone
2015 is a beautiful vintage, and unlike some of my wines on release, it's ready to drink now. A crowd-pleasing Scopetone!
Loredana Tanganelli
Luminous pale red. Classic Sangiovese aromas of red and dark berries, violet, blood orange and red licorice. Juicy and fresh, offering vibrant strawberry and candied violet flavors, with a jolt of liquid minerality on the back. Gains sweetness on the floral, long finish that features repeating blood orange notes.91 Points, Vinous
---
Skurnik is proud to represent the new generation at Scopetone in California, New York, New Jersey, Connecticut, Pennsylvania, Ohio, Kentucky, & Indiana.
---