While Japanese whisky in particular has deservedly received a lot of attention in the past few years as some of the finest on the planet, the vast world of sake brewing covers the entire Japanese archipelago and has a rich history stretching back at least 1300 years. Just as we've been doing for years with wine, we're excited to carry a variety of small batch whisky, premium sake, and shochu from family producers, many with histories stretching back a hundred years or more, and introducing them to the US.
We're excited to announce an expansion of our offerings in Ohio & Kentucky, in particular, and have put together a fancy Japanese Portfolio Guide which details each Producers and SKU that we now offer in these markets– more information on where to find those are at the bottom of this post.
Beyond these two new, in-depth guides, we wanted to also offer our focused favorites– five choice sake from four different producers:
KUROSAWA Junmai Kimoto & Nigori Sake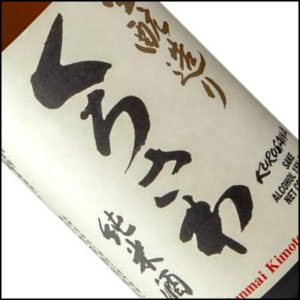 Started in 1858, Kurosawa Shuzo is a brewery rooted in the agriculture and traditions of the high mountain prefecture of Nagano. Famous for excellent produce, deep miso seasoning and hearty fare, Kurosawa makes stout sake suited to this rich mountain cuisine. Currently run by fifth-generation president Kazuo Kurosawa, with his younger brother Yohei serving as brewmaster.
ABOUT THE JUNMAI KIMOTO (TOP)
Earthy and nutty with a terrific sharp acidity from the kimoto method, this is a classic Kimoto Junmai, A terrifically dynamic food sake, excellent chilled or warm, and able to pair with a range of cuisine but particularly good with heartier fare. Locally grown rice milled to 65%.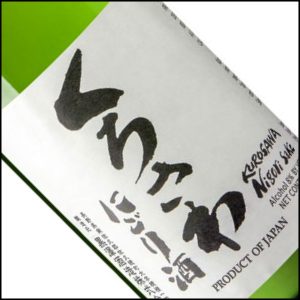 ABOUT THE NIGORI (BOTTOM)
Nigori
('cloudy') style sake is meant to remind you of trying raw sake straight from the tank. Retains rice in the liquid for texture and a pleasant sweetness. Locally grown Nagano rice milled to 70%.
KIRINZAN 'Classic'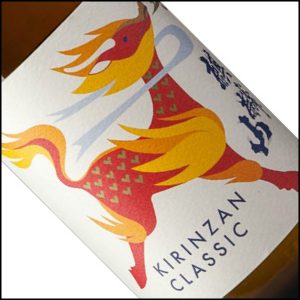 Founded in 1843, Kirinzan Shuzo lies beneath the majestic Mt. Kirin in the northern prefecture of Niigata. The beech trees, Mt. Kirin and the Tokonami River that surround the brewery provide the perfect filtration system for the local water to become soft. In the production of sake, soft water allows for a long fermentation and this creates the delicate, elegant style of sake for which Kirinzan is known. In order to ensure the best quality of rice for the sake, in the summer months the toji (brew master) at Kirinzan works in the local rice fields with his team members and in the fall brews the rice he has cultivated. The brewery is committed to using the finest local rice in order to support their local agricultural community.
While breweries love to showcase their premium ginjo styles Kirinzan take immense pride in their entry level 'futsu-shu' meant for everyday drinking. They use Gohyaku Mangoku and Koshi Ibuki sake rice polished to 65%, beyond requirements for even the premium honjozo grade. Made in the house style, it is dry, clean, light bodied, well balanced. Notes of hazelnut and toasted rice that makes it excellent both chilled or gently warmed.
MIZUBASHO Ginjo Sake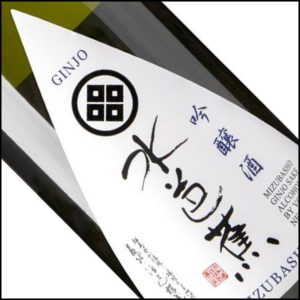 ABOUT NAGAI SHUZO
Founded in 1884 by Shoji Nagai, the Nagai family continues to make high-quality sake at their namesake brewery to this day. They are located at the very northern edge of Japan's central Kanto plain, right where it meets the foothills of Mt. Hotaka. In recent years the brewery has pioneered a distinctive "Nagai style" of sake, marked by purity of flavor and clarity of structure. In addition to making beautiful Ginjo grade sake, they make supremely elegant sparkling sake and superlative vintage releases of dessert sake.
While unfortified Junmai sake are all the rage these days, the Mizubasho Ginjo makes an excellent case for the elegance a touch of distilled alcohol can bring to sake. In this case it gives a silken texture and bit of weight to an already clean and laser-focused sake. Beautiful pairing for oysters, sashimi and delicate salads. High-quality Hyogo-grown Yamada Nishiki rice is milled to 60%.
KENBISHI Honjozo Sake, 'Kuromatsu'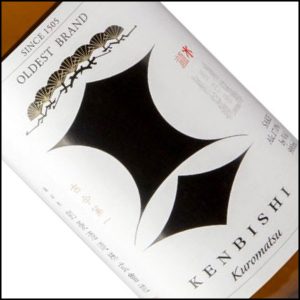 ABOUT KENBISHI
One of the oldest continuously active breweries in Japan, Kenbishi has been making bold and rich sake in Hyogo since 1505. Their iconic diamond logo can be seen in 16th-century illustrations of samurai drinking sake from a barrel for courage before battle. Despite the size of the brewery it adheres to many unique and time-honored methods. All their koji is still made by hand, their entire production with the time consuming yamahai method that produces depth and richness, and every release is blended from a mix of 2-to-8-year- aged sake.
ABOUT THE SAKE
This is the taste of old school sake: deep, rich, bursting with umami, sweetness and acidity. Pairs beautifully with oysters, sea urchin, tempura and even dry-aged steak. Made from locally Hyogo-grown Yamada Nishiki and Aiyama milled to 60% and a touch of distilled alcohol to add weight and enhance the dank aromas.
THE FULL JAPAN PORTFOLIO GUIDE
Head to the Trade Resources page (login required) to access the full Japan Portfolio guide for Ohio & Kentucky, equipped with information about each producer and SKU that we currently offer, with pricing, a quick guide to help you navigate the portfolio, and a full glossary of terms that are helpful to understanding sake.