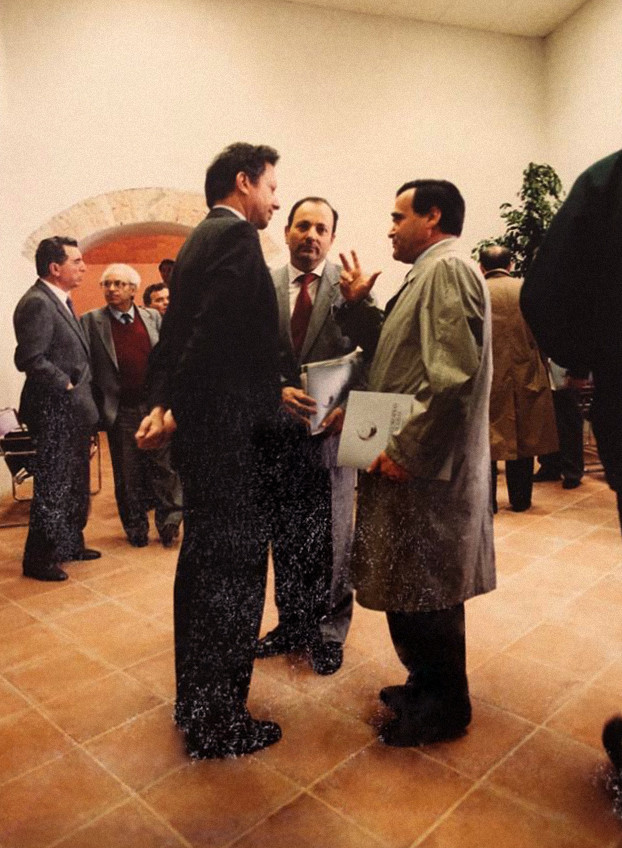 In 1978, Enzo Tiezzi looked into a glass of Brunello and saw the future! He had been the full-time director for the Col d'Orcia estate in Montalcino since 1973 and was studying at night for a degree in enology. His graduate thesis, which earned him his Dottore title, Brunello di Montalcino and Its Prospective Future, laid out a roadmap to the success of the appellation. In it, Enzo described how best to promote Brunello, its necessary passage from DOC to DOCG, and the creation of the Rosso di Montalcino DOC, which was then a vino da tavola known as Vino Rosso dai Vigneti di Brunello.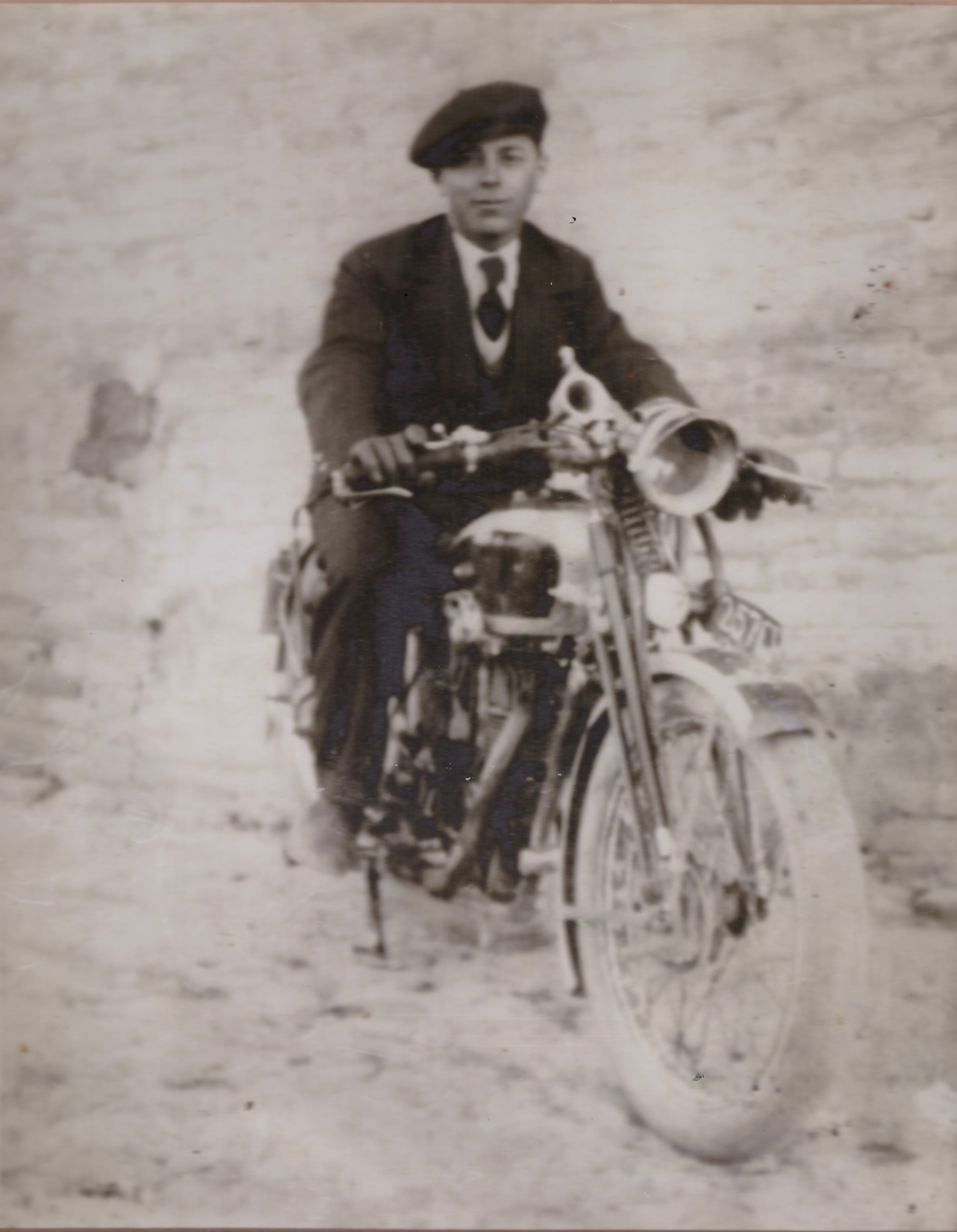 Considered to be the èminence grise of Montalcino, Tiezzi turned 80 years old last November 2019. But he was a tender nineteen years old in 1958 when he was put in charge of Poggio alle Mura in the southwestern corner of the appellation. His top qualification for the job? Luckily, his father Piero had a passion for all things motorized and taught him how to drive a tractor, rather a prized skill at a time when mechanization was very rare! It was Enzo's responsibility to modernize 1,600 hectares of vineyards, orchards, grain, and husbandry at the estate, which were in a medieval state of disrepair.
In 1973, Tiezzi left Poggio alle Mura to run the Col d'Orcia estate, which was also a mixed-use farm at the time, with grain, olives, and tobacco as the main crops. The new owners, the Cinzano family, who already had a burgeoning spirits business in Turin, were keen on investing in Montalcino's wine. They increased the hectares of vineyard to 70 by the 1980s, and also purchased the Argiano estate, which Enzo Tiezzi also oversaw.
In 1983, Tiezzi, who had dedicated his life to Montalcino, was elected president of the Consortium of Brunello producers, an office that he held until 1988. It was during this time that Tiezzi essentially executed his thesis: Brunello had been exalted to DOCG, and the DOC of Rosso di Montalcino was created. The latter was a major undertaking for Tiezzi because never before in Italy had it been possible to make two wines from the same vineyard with a choice of classifying them DOC or DOCG. But by Enzo's persuasion, and many trips to Rome, the Italian minister of agriculture reorganized Italian law to allow for the pyramid classification of wine that we know today, with DOCG at the top of the pyramid, DOC underneath, followed by IGT, and finally, vino da tavola. In a country where the law is byzantine at best, this is a crowning achievement for a tractor-driver-turned-Sangiovese scholar!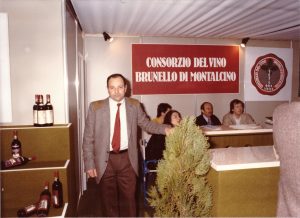 For Doctor Tiezzi, there is only one way to make Brunello. Tradition is gospel, so his wines have always been quintessentially old-school. In 1989, after leaving Col d'Orcia and Argiano, he purchased his first vineyards for his very own estate just outside of the town of Montalcino. Michael and Harmon Skurnik discovered the wines in the early 1990s at VinItaly, and little did they know it would lead to a thirty-year collaboration.
But perhaps Doctor Tiezzi had already foreseen all of this—in a glimpse of his ruby-red Brunello di Montalcino back in 1978.
THE VINEYARDS
The Tiezzi estate is comprised of four holdings: "Il Cerrino," "Cigaleta," "San Carlo," and "Soccorso." With a combined total surface of around ten hectares, these parcels are located in diverse zones of the Montalcino territory and include 5.5 hectares of Sangiovese da Brunello and three hectares of olive trees. The Cigaleta and Cerrino vineyards are approximately three kilometers northeast of Montalcino at a height of 350 meters above sea level.
The heart and crown jewels of the estate are the historic Soccorso and San Carlo vineyards, within which the cellars are now located. Situated just outside Montalcino's old city walls built in the 1300s, just steps away from the city square and next to the Madonna del Soccorso church, the Soccorso and San Carlo vineyards are approximately 530 meters above sea level and exposed south-west.
THE WINES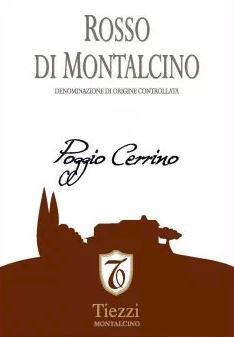 Tiezzi's Rosso di Montalcino is declassified each year directly from the production of the Poggio Cerrino Brunello di Montalcino. It is produced with the very same grapes that go into the Brunello, fermented in the same way, just aged 18 months instead of the usual 44 months for the Brunello. The 2016 Rosso is truly a window into what we can expect of our forthcoming Brunello releases in 2021—don't miss this glance into the future!
TECH NOTES:
Grapes ferment spontaneously on their skins in upright oak fermenters for about 3 weeks without temperature control
The wine is then transferred to Slavonian oak casks of 10 to 40 hectoliters for an aging period of 12 to 18 months
Unfiltered and unfined
About 800 cases are produced annually.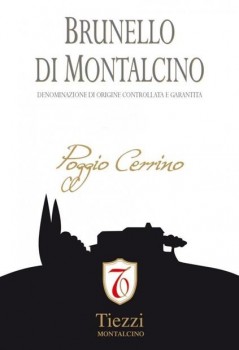 The Poggio Cerrino Brunello is made with grapes from both the Cigaleta and Poggio Cerrino vineyards, north east of the town of Montalcino. Cerrino's vines are about 40 years old, while Cigaleta's are around 25. The soil here is sandy clay with schists and Galestro. The finished product is the essence of Brunello, a wine that gives pleasure now, but can withstand long aging. In fact, in 2012 Antonio Galloni, tasted wines Tiezzi had made at Col d'Orcia in the 1970s and 80s and repeatedly called them "a revelation" as well as "a remarkable achievement… fabulous."
TECH NOTES:
Spontaneous fermentation with indigenous yeasts in the classic upright oak fermenters without temperature control
Long aging (nearly four years!) in large Slavonian oak casks of 10-40 hectoliters
The wine is rested six months in bottle before being released
Unfiltered and unfined
About 900 cases are produced annually.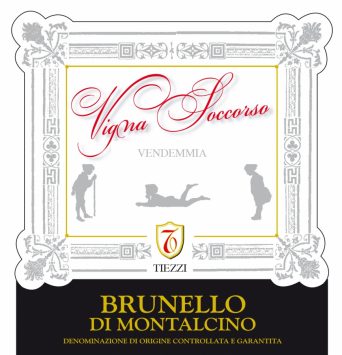 The Vigna Soccorso was most notably the property of Professor Riccardo Paccagnini, credited as the first producer to put the word "Brunello" on his labels in the 19th century. Paccagnini was an agricultural scholar who won multiple awards for his Brunello in expositions in Paris, Bordeaux and Marseilles between 1904-1905, but he abandoned Montalcino in 1917. The property was essentially a ruin when Doctor Tiezzi acquired it in 1999. He renovated it entirely and built his cellar there. The label of this wine is a reproduction of Professor Paccagnini's first labels from the wines that won him international acclaim. 530 meters above sea level, the vines were planted in 1999 to sandstone and volcanic soils with silt, sand and clay. All vines are bush-trained as they would have been in Paccagnini's time.
TECH NOTES:
Spontaneous fermentation with indigenous yeasts in the classic upright oak fermenters without temperature control
Just under four years of aging in large Slavonian oak casks of 10-40 hectoliters
The wine is rested six months in bottle before being released
Unfiltered and unfined
About 625 cases are produced annually
Medium dark red. High-pitched aromas of red cherry, redcurrant and marzipan. Supple and sweet on entry but with very good tension to the cherry fruit and underbrush flavors. Harmonious acidity and a firm tannic backbone give this wine a well-delineated character. Closes extremely saline and long.Vinous, 92+ Points
---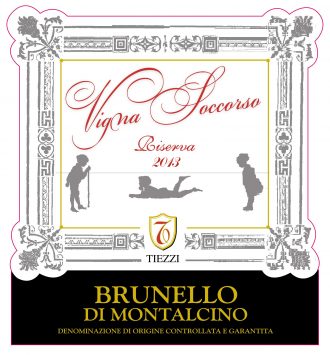 Only produced in the best vintages, 2006, 2010, 2012 and 2013 among them, the Vigna Soccorso Riserva is Tiezzi's rarest gem. It's a selection of the best fruit from the Soccorso vineyard, and only 83 cases were produced. Skurnik was allocated 24 bottles for all of our markets. According to Dr Tiezzi, it's his wine most suited to long aging.