Think of this as our monthly answer to, 'so what have you been into lately?' — fresh updates from Portfolio Managers with unfiltered intel on why we're drinking what we are.
---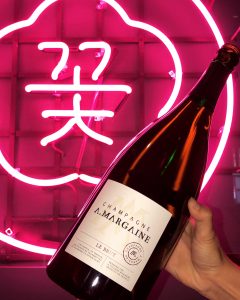 There was a time during pandemic where half-bottles were a practical alternative to a full bottle, for those of us that were flying solo during lockdown or attempting moderation– a practice that was already notoriously difficult in this industry, but especially so during a year like 2020.
Then we evolved — or devolved(?) — back to our 750s. "Maybe I'll drink the bottle over a few nights, or identify some safe friends to share my Riesling with."
Fast-forward to today, when the buzz and positivity for a new post-pandemic reality is being felt all around us. More people? More parties? More formats. After a significant stretch of worry and uncertainty, we can't think of a better way to welcome summer.
And so, in the spirit of people being able to see their people for the first time in a hot minute, and the necessary celebration that comes with it…
It's time to drink some magnums.*
*All suggestions pair well with food, friends, and merriment. If you need more of an incentive to seek out these BFGs, see the bottom of this post.
WE'RE SHARING: