Starlight Distillery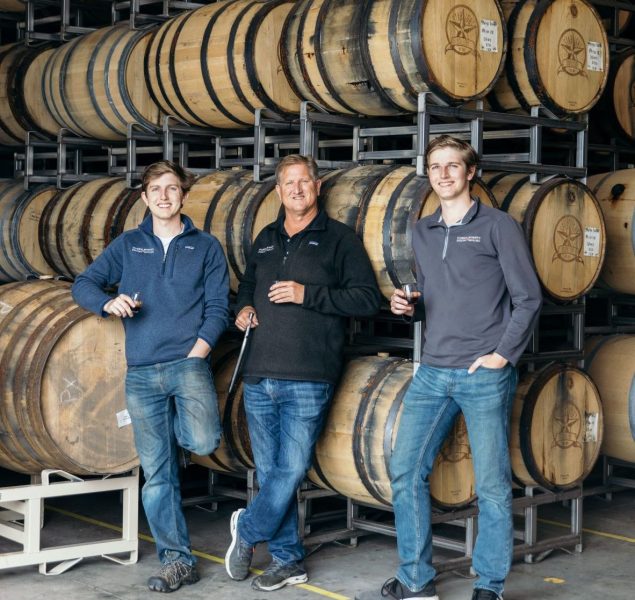 Located at Huber's Orchard, Winery, & Vineyards in the small, unincorporated town of Starlight in southern Indiana, Starlight Distillery calls upon a foundation of family history to craft fine American spirits. Seven generations of Hubers have sustainably operated the now 850-acre family-owned estate established in 1843 by German immigrant Simon Huber, a farmer and wine maker. The family has been producing exceptional agricultural products for over 179 years!
Named for the town, farmers, and community of Starlight, Indiana, Starlight Distillery was established in 2001 by Greg and Ted Huber to distill spirits as their ancestors did in the 1800s. Their first commercial brandy was released in 2004 and since then, this family affair has grown leaps and bounds, crafting award-winning brandy, rye, bourbon, and more.
Prioritizing quality and sustainability, everything from apples to blackberries to non-GMO heirloom corn varieties are grown on the estate—the largest sustainable fruit farm in Indiana—to curate craft spirits that highlight the family's focus on local agriculture. The majority of Starlight's agricultural ingredients are grown on the Huber farm or sourced from neighbor farms, and the distillery publicly shares yearly agricultural reports to underscore the transparency and sustainability of its distilling processes.
As one of the few American whiskey producers utilizing sweet mash fermentation rather than sour mash, the Hubers are dedicated to overseeing every step of production, from the growing of raw material to the meticulous, labor-intensive method of fermentation. While production takes place every day of the week, the distillery operates in a truly small-batch fashion with brandies distilled in an 80-liter Christian Carl copper pot still and grains distilled in a 500-liter Vendome brass and copper pot still.
Distillation is performed by several Master Distillers, including Ted and his two sons, Christian and Blake, with each distiller utilizing their own mash bills, fermentation methods, and distillation techniques to create spirits which are then aged and meticulously blended by the entire team to create a consistent house style. Single barrel bottlings note the Master Distiller, while the blended releases note the distiller who acted as master blender. Trust and a common goal are paramount in operating a distillery with Starlight's approach, where fermentation, mash bill, and distillation methods are done communally, by hand and by taste.
Maturation takes places in the distillery's seven aging warehouses on the Knobstone Escarpment, a limestone bluff 900 feet above sea level overlooking the Ohio River Valley. Just 20 miles north of Louisville, Kentucky, the climate lends comparable maturation conditions, while the elevation and proximity to the river result in rapid temperature and barometric pressure fluctuations ideal for barrel aging.
Starlight spirits are divided into four portfolios: Carl T. Huber (bourbon), Old Rickhouse (rye), the Finishing Cask (Signature Series and Limited Releases), and the Brandy, Gin, and Vodka portfolio. With a wide range of whiskeys and apple brandy, and a robust single barrel program, Starlight Distillery is a crown jewel in the stable of Skurnik Spirits' American distillates.